Photos of Wigan
Photos of Wigan
Album Contents
Album Contents
Wigan Album
Walker Bros. Drawing Office
11 Comments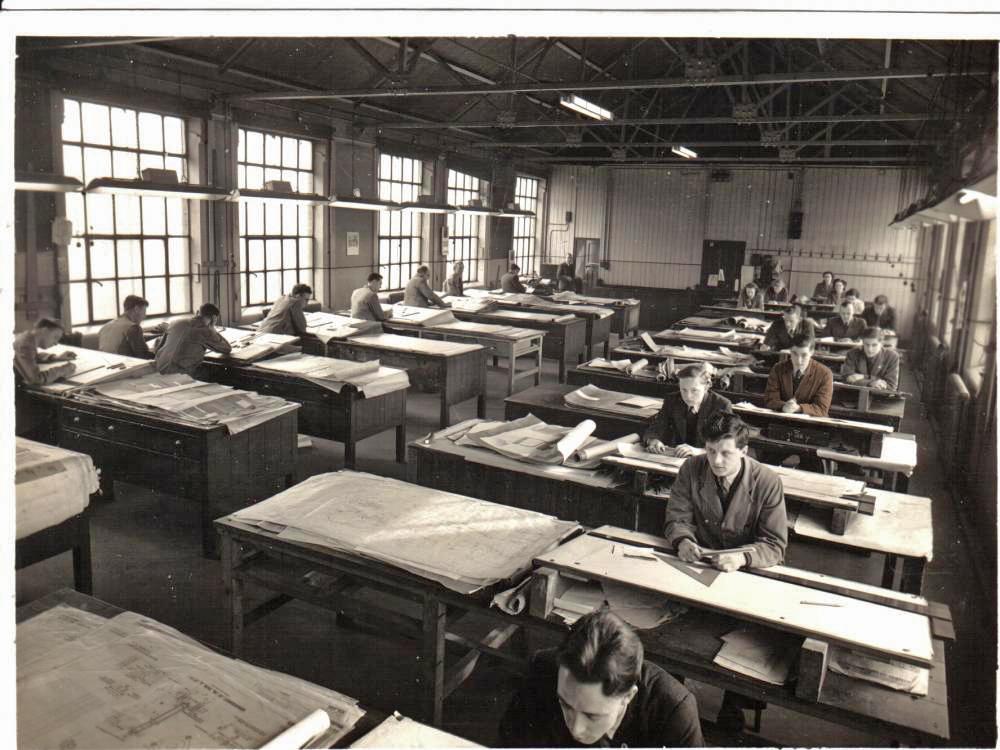 Walkers drawing office.
Photo: MT
Views: 2,606
Item #: 22818
The overall looks brown to me.
Comment by: Dave C on 26th February 2013 at 12:42
My Dad, Jack Cockrell worked here around that time, after doing his National Service (1945-47). Apparently there was more money to be made on the shop floor, so after twelve months he asked for a transfer, much to my Grans annoyance, as he came home a lot dirtier from there than in the drawing office.
Comment by: AP on 26th February 2013 at 14:07
" ... more money to be made on the shop floor ..."

and, now we have a shortage of Engineers!

ARE these two things related?
Comment by: Ernest Pyke on 26th February 2013 at 20:15
MT who are you? Was most surprised to see the same photo as mine.
Comment by: MT on 27th February 2013 at 10:47
Hi Ernest,it's your photo,I just brightened it a bit,and coloured your overall,I hope you don't mind.
Comment by: Ernest Pyke on 27th February 2013 at 21:29
MT; not at all. Do you know anyone who worked at Walker Bros.or Walmsleys?
Comment by: MT on 28th February 2013 at 10:35
I can't think of anyone I know who worked there Ernest.
I started at Walker Brothers as a wartime apprentice in 1941 and left in 1947 so the photograph of the drawing office is perhaps a little after my time.
I recall some of the names Schutt,Pyke,Dootson and Tenant but there`s no sign of the old brigade..
Shaw ,Sharrock, Starkey and Knowles
or my co apprentices french,Shepherd,horsley,Bond,Atherton,Winstanley,Curless
gore and Jones.
The tracers were Ethel Laye,May Conolly,Mary Mason,Lilian
Derbyshire, Betty Roberts and Mary Taylor.
The office clerk was Zeke Cheers .

A very impressionable time.
Comment by: Ernest Pyke on 1st March 2013 at 23:00
I remember you John as I started in 1944. No doubt you`ve seen the 1st photo in Album, Schools, Wigan Mining & Technical College showing HNC graduates with you standing high at the back! You were 86 in 2011.
Some of the old brigade and apprentices you name are in this photo.
Jack Sharrock is on 5th board up on LHS. Cyril Knowles is 6th on RHS. Arthur Winstanley is 1st on LHS and Ron French is in front of him. George Curless is 4th on LHS. Geoff Horsley is 6th on LHS. Alan Jones is 2nd on RHS.
Head tracer May Conolly is right at the back with Joyce ? and Betty Roberts in front, then Mary Taylor (who married Arthur Winstanley) and Lilian Derbyshire.
Joe Starkey was in the Motor Drawing Office. Not sure if Arthur Shaw was working then but he worked at board (out of shot) behind Arthur Winstanley.
I`m amazed you know all these names.
Comment by: Cathy Shepherd on 16th June 2014 at 18:50
For John Webb :
My dad was one of your co-apprentices - you mention him - Joe Shepherd. Not sure when he left Walkers, but he worked all over the country as a Draughtsman & Engineer. We ended up in Bolton in the mid 60s & have been here ever since. Dad unfortunately died in 1978, but I'm so pleased to see these photos !
Comment by: Sandra on 14th August 2015 at 13:35
My dad served his pattern maker apprenticeship at Walker Bros.1940s.Anyone got photos of pattern shop?
Comment by: Mark Dootson on 25th August 2015 at 05:58
My Dad John Dootson is third on the right. I wish I had a found this photo last year as he would have been able to identify most of his colleagues. My Dad passed away last December and started at Walker Bros in 1945 and stayed with Beloit Walmsleys until he retired in 1991.