Photos of Wigan
Photos of Wigan
Album Contents
Album Contents
Wigan Album
Walker Bros. Drawing Office
14 Comments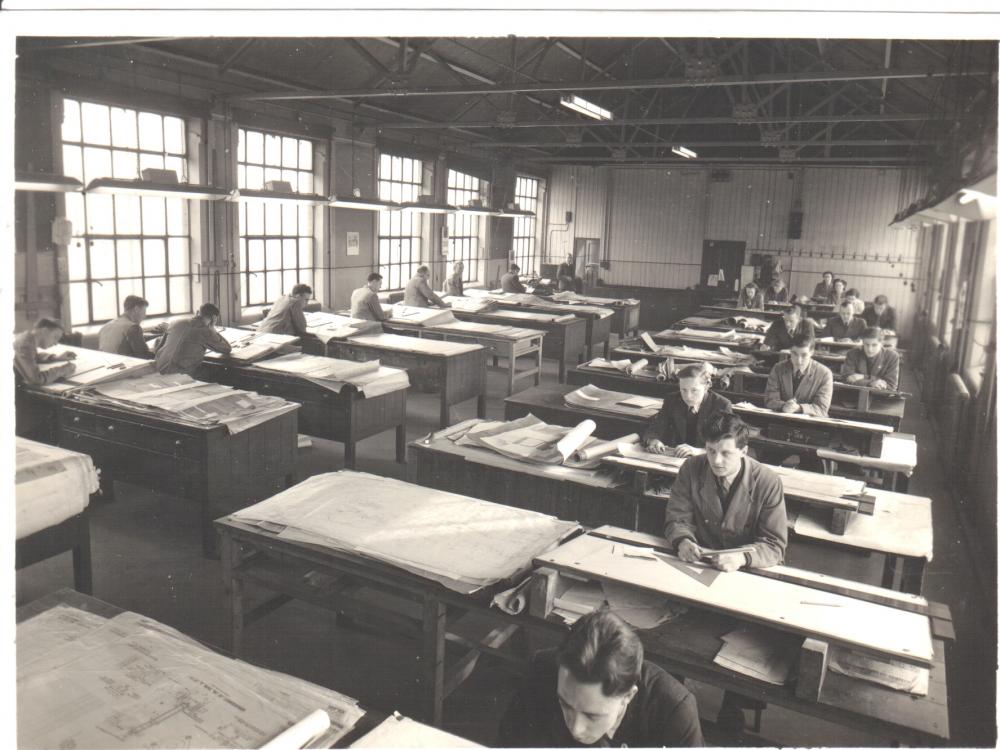 WALKER`S. DRAWING OFFICE
Photo: Ernest Pyke
Views: 2,562
Item #: 22808
This is Walker Bros.(Wigan) Ltd.Main Drawing Office. Taken on 17th February 1948.
I`m the 4th one up on right hand side wearing a brown overall, my elbows are on the drawing board and my hands are clasped.
The Wigan to Southport railway line is just outside to the left of this building.
Comment by: Ted on 25th February 2013 at 13:35
Ernie,is that John Duxson in front of you??
Comment by: Ernest Pyke on 25th February 2013 at 15:09
Yes, Ted, he is. We both started here at the same time.
Comment by: henry7 on 25th February 2013 at 20:51
Comment by: Nev on 25th February 2013 at 20:57
Ernest, you look as if you're waiting for inspiration!
Drawing boards, tee-squares, set-squares, pencils (even ink and tracing linen), slide-rules (which I still have): Happy Days.
Comment by: Roy on 26th February 2013 at 00:59
Ernest it,s monochrome,so how do we know which is a brown overall. How dare you post a monochrome pic after all that you have said about them????,lol.
Comment by: Ernest Pyke on 26th February 2013 at 06:57
The chief draughtsman, Edgar Schutt, is standing outside his office at the top of the stairs at the back. Several times, whilst I was walking to work from Queensway, he`d pick me up in Walkden Avenue in his Standard. When we got to the top of Gidlow Lane, he switched off the engine and coasted down to the bottom! This was and still is illegal. I`m not sure, but I think he was a Yorkshireman.
The last chap on the right, in front of the 5 lady tracer`s, is Gordon Ratcliffe who played on the right wing for Wigan Rugby League from 1945 to 1953.
The first chap on the right, Roy Tennant, bought a biro pen which was the first I saw. They were on sale in 1945 in America for $12.50 about $150 today. They first went on sale in England at Christmas 1945.
Comment by: Ernest Pyke on 26th February 2013 at 08:42
Neil, CAD was in it`s infancy when I finished. You forgot compasses!
Roy, I realised it when I typed `brown` and wondered if somebody would mention it and you have!
Comment by: Ernest Pyke on 26th February 2013 at 10:10
The outside of this buiding, on my side, can be seen in Old gallery, Royal Visits. 1st photo on 3rd row and the last one. On the last one, some of the windows in the drawing office are open and people are looking out. The entrance is at bottom right. The General Office is on the ground floor.
Comment by: Cathy Shepherd on 16th June 2014 at 18:43
Ernie - I think my dad was still at Walkers then... in the Drawing Office - Joe Shepherd. Do you remember him ?
Comment by: Keith Meadows on 24th September 2014 at 16:55
Ernie, I started at Walker Brothers in Jan 1955 and was in the Traction Dept (Motor) Drawing Office for 6 months before we all moved to the new DO in the old pattern shop. The Traction Dept DO was next to the General Office DO. Was the location of the DO the same as in your photo? After we moved out of the DO it was made into the canteen.It`s going back a bit since we used to spend our lunch break bowling at the pub bowling green.
Comment by: Ernest Pyke on 7th March 2015 at 16:16
Cathy; Have just had a look at this and yes, I remember your Dad very well. I`m unsure if he was working at Walker`s then. He wasn`t in this D.O then.
Keith; The Main D.O. was still there until we moved into the Joiner`s shop. Yes, its quite sometime ago since we bowled on the Springfield Hotel greens at lunchtime.
Comment by: Barrie Old on 20th January 2017 at 17:36
Browsing through the Album and came across this site, my dad (Arthur Old) started in the Drawing Office March 1955 and retired in 1966 as one of the estimators.As a young boy, I remember going to a Christmas Party in the late '50,s for the children.Can't remember where it was held though. Dad died in 1984.