Photos of Wigan
Photos of Wigan
Album Contents
Album Contents
Wigan Album
British Railways Wigan
3 Comments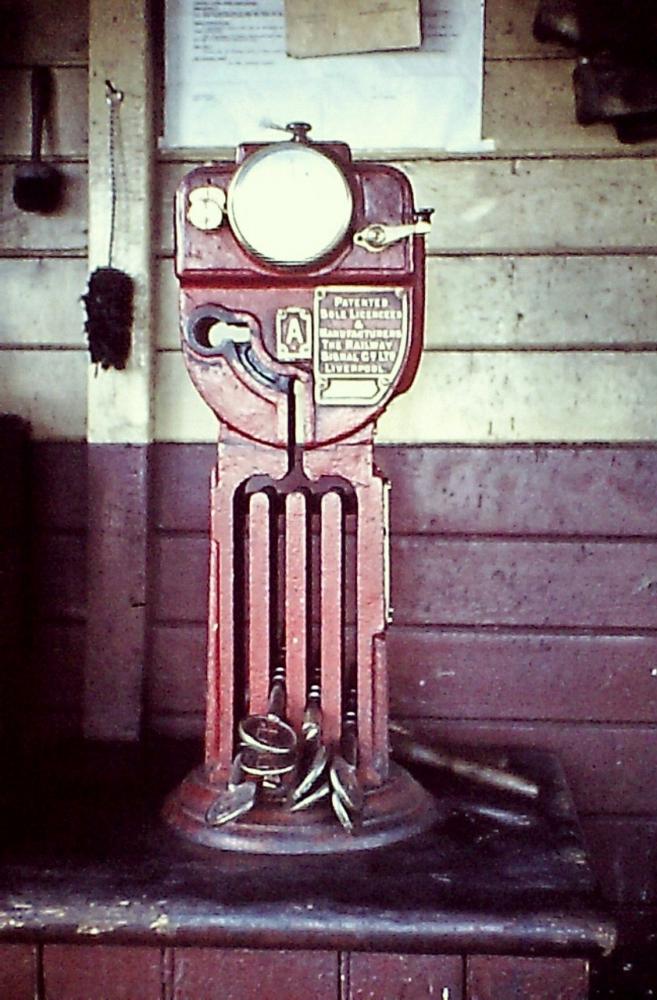 Token Machine
Photo: Peter Worthington
Views: 1,118
Item #: 21691
1963. Token Machine at Whelley Jct. Token can be withdrawn after Haigh box accepts the train to run on the single line, the token is then inserted into a leather pouch that is attached to a steel hoop covered with leather, the signal man takes the hoop outside ,stands in between the up and down tracks, and as the train passes, the fireman puts his arm outside the loco, the signal man holds up the hoop and it is then released onto the fireman's arm.
Comment by: Colin Harlow on 27th October 2012 at 15:05
Would that be a Webb and Thompson, sole makers of railway Signal Co, Liverpool, Peter?
Comment by: Peter W. on 28th October 2012 at 01:49
The only letters I can read Colin are: Patented Sole Licencees (top). The Railway Signal Co. Ltd. Liverpool, there are some letters over the firms name I can't read. Harry may know something about this.
Comment by: Peter W. on 28th October 2012 at 17:11
Wording: Patented Sole Licencees & Manufacturers The Railway Signal Co.Ltd. Liverpool. I just can't get the number on the burnished part under the word Liverpool Colin, it looks like S 10772 but not quite positive, I'll find a stronger eye-piece