Photos of Wigan
Photos of Wigan
Album Contents
Album Contents
Wigan Album
British Railways Wigan
14 Comments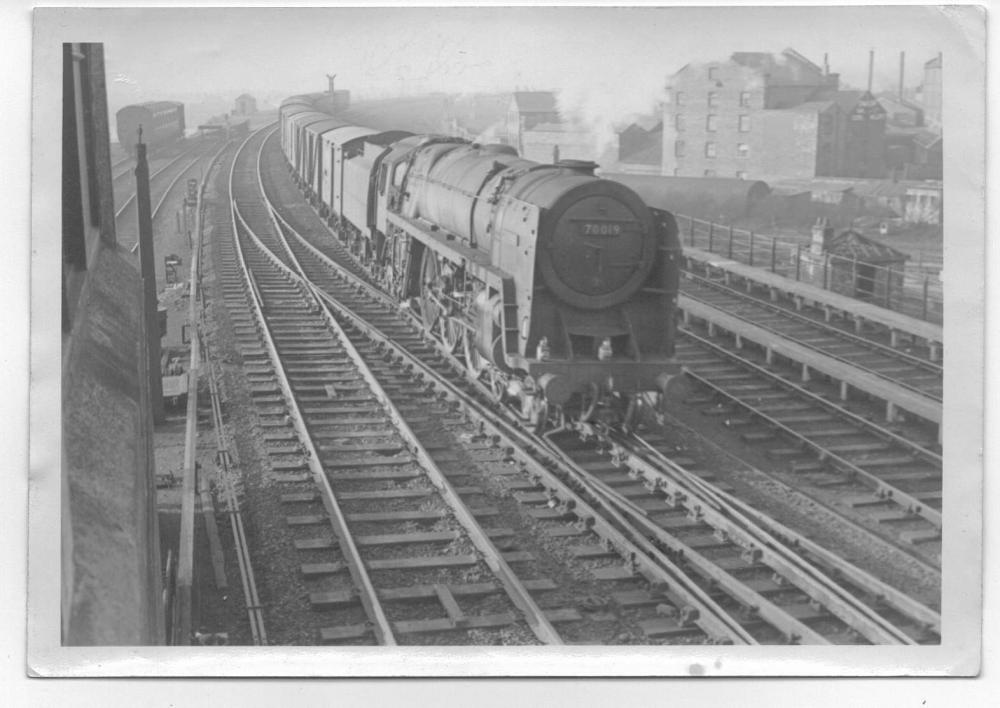 1961 Fitted Freight Southbound
Photo: Peter Worthington
Views: 2,519
Item #: 21566
70019 could be a Britannia class, hauling a fitted freight train about to pass Wigan no.2.
Comment by: Albert. on 2nd October 2012 at 11:33
It is a credit to Peter Worthington, and such people as he, that these photographs were taken for posterity.
Comment by: Loz on 2nd October 2012 at 13:12
I agree totally with Albert, and Peter obviously knows what he's talking about. 'Fitted' freight? He knows from the head code, and doesn't need to check the stock.
Comment by: Jarvo on 2nd October 2012 at 17:15
BR Brittania class 4-6-2 70019 "Lightning"...with nameplate still attached. Common for 1961.
I agree with Albert and Loz, thanks Peter. I was only 1 in 1961 so photos like these are brilliant, an excellent piece of Wigan history for a lass who now lives in Essex
Comment by: John on 2nd October 2012 at 20:39
Brilliant picture of my favourite class of loco. Happy days.
Comment by: Jarvo on 2nd October 2012 at 20:40
Britannia...Get it right, John!
Comment by: Jarvo on 2nd October 2012 at 20:48
During summer, 1966, a few of these splendid engines were allocated to the Manchester area. On summer Saturdays, they worked the Manchester Victoria to Liverpool Exchange mail train. This passed through Pemberton at about 21.10...still light in July. 70038 "Robin Hood" was one that I remember coming past Pemberton No2 Box...Happy summer days...
Comment by: Peter W. on 3rd October 2012 at 01:25
Thank You Susan, only saw you on the last minute; I wasn't much older than 1 in 61, I was 17 more.
There was a near fatal one afternoon where the loco is now, a tanker with about 8-9 toast rack carriages returning ROF workers stopped near the dummy after overshooting the Home signal which was on red. The signal-man and myself first heard the continuous whistle of the loco and noticed it backpedalling with sparks from the tyres/rails and smoke and roaring from the chimney. The signal-man was hanging out of the widow shouting and waving the red flag, I was ready to grab his ankles just in case he went over and out.
Apart from a shunting derailment, this is all the excitement I saw during my 5½ yrs. of service on B.R.
Comment by: Loz on 3rd October 2012 at 01:55
I'm guessing that there are one or two signalmen out there! Would I be right?
Comment by: Loz on 3rd October 2012 at 13:34
Known today as a SPAD - Signal Passed at Danger. They reckon every train driver has done one in his career
Comment by: Peter W. on 3rd October 2012 at 23:30
Wigan No.2 had one signal-man, at the time I was there I was training to be one,Wigan No.1 had three signal-men because it was a full power box and controlled Wallgate as well as the Northwest station.
Comment by: George McKie on 20th January 2013 at 11:37
This is most certainly 70019 Lightning. I saw all of this class bar one in my trainspotting days at Warrington. I collect 00 scale Britannias and have over 20 various ones. Lightning is on of those that I renamed and renumbered. I remember this loco well as it was at the side of Dallam sheds, Warrington (8B)for a while in the 60's but not a Dallam loco. As a child spotter the main train of the day was the half eight flyer which was nearly always hauled by a "Brit". It never stopped at Warrington so possibly not at Wigan either.These locos finished their on the west coast mailine, north of Crewe, due to the electrification. I travelled behind 70044 Earl Haig, at a timed 108mph with 3 coaches in the train. The driver said he got the speed at 112mph on his speedo. I could go on about these locos for ages.
Comment by: graham hunt on 21st May 2016 at 13:08
I did 3 years as a train recorder in Wigan no 2 as a15yr old in 1964 it was one busy signal box night shift was horrendous none stop