Photos of Wigan
Photos of Wigan
Album Contents
Album Contents
Wigan Album
Wm Park & Co Clarington Forge Wigan
5 Comments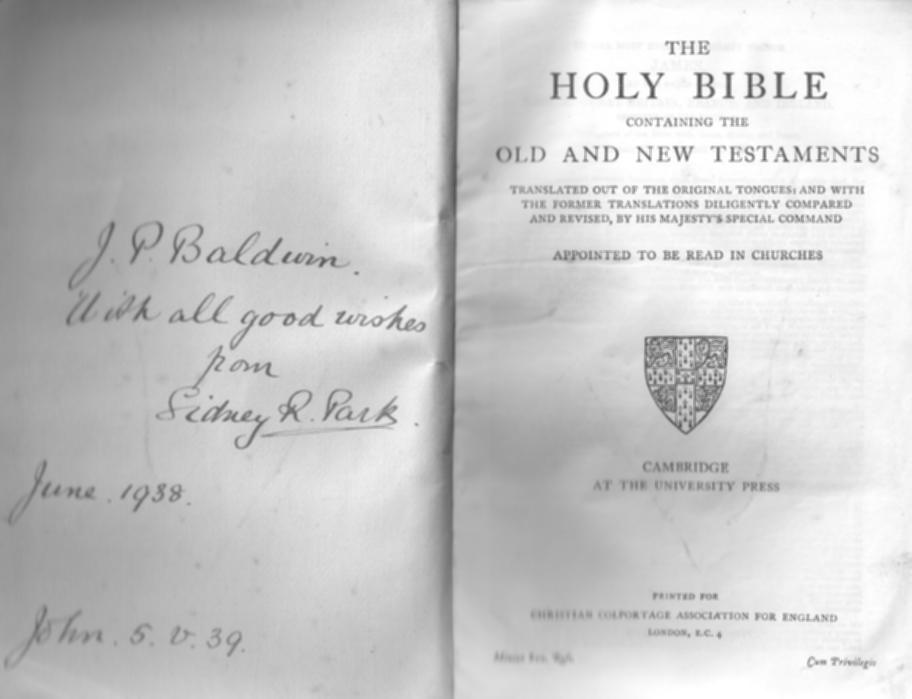 Presentation Bible
Photo: Alan Baldwin
Views: 1,630
Item #: 21337
Bible presented to my Grandfather, John Peter Baldwin in 1938 by Wm.Parks Forge. The story goes that there were a few rumblings and unrest amongst the workforce and in response the management gave a bible to all the employees. I cannot verify the truth of this but I have wondered if the reading quoted had any relevance?

Comment by: Al.C. on 21st August 2012 at 10:11
It was not unusual for employers to present a bible to employees in Victorian times and I think Cadbury's (Bournville) continued the tradition until very recently.
Comment by: Alan H on 21st August 2012 at 10:37
John 5 v 39,
Search the scriptures;for in them ye think ye have eternal life;and they are they which testify of me.
We need Rev. Long to translate me thinks.
Comment by: Mick on 21st August 2012 at 16:17
Surprised he didn't quote Matthew 5:12 - "Rejoice and be glad, for your reward is great in heaven" (but don't expect decent wages before then).
Comment by: LDB on 22nd August 2012 at 19:23
could he have been called up for the army? just a thought
Comment by: M. Murphy on 27th August 2012 at 18:35
I also have a bible presented to my father. H Bibby. June1938.
John.8.v.12.