Photos of Wigan
Photos of Wigan
Album Contents
Album Contents
Wigan Album
Wigan Coal & Iron Co.
5 Comments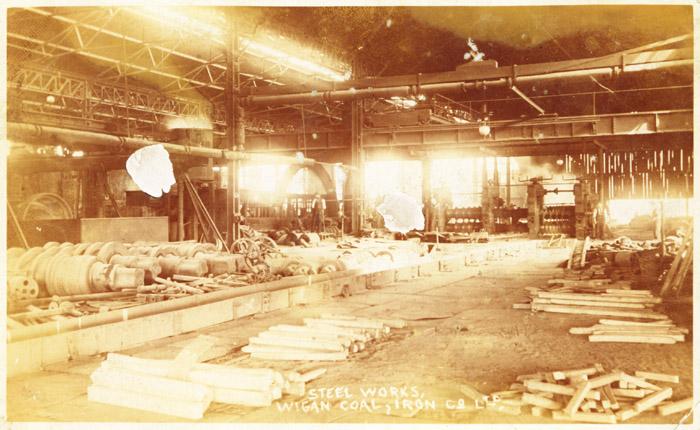 steel works, wigan coal and iron co
Photo: Allan Hughes
Views: 2,602
Item #: 20674
steel works, wigan coal and iron co, a photo by millard & co approx 1904 - 1906.
Comment by: Priscus on 12th May 2012 at 16:08
Looks like Rolling Mills.
Comment by: Ken Smith on 12th May 2012 at 19:43
My fathers brother who lived on Withington Lane worked as a Rolling Mill Labourer in 1911 according to the census this must have been where he was employed.
Comment by: dave c on 13th May 2012 at 06:30
My maternal Great grandfather, John MacManus,(formerly from Ireland) migrated down to Ince from Harrington in Cumbria around 1906, to work at "Top Place" as it was known locally.His Family followed and the rest as they say is history. They lived in Belle Green Lane and my Grandmothr remembered, quite clearly, the Zeppelin raid in the area during the First World War, when the Germans tried to bomb the steel mill. Apparently the ovens were closed down to prevent them being guided in by the glow. (anyone whoever saw the steel mils in Irlam or Sheffield in full production would know what I mean).
Comment by: Priscus on 13th May 2012 at 11:34
Oddly enough Dave, I once asked one of the Engineer/Managers at British Steel in Scunthorpe how-come that glow had not resulted in them being bombed in WW2. His reply was - They would not want to do that, it's full of German Machinery! - made me laugh!
Im wondering if anyone can help... I am looking for info on my grt grandfather William Aspley who I believe was one of the managers at Top Place, I can find no info on him what so ever. Any help greatfully accepted. Thanks Sue H