Photos of Wigan
Photos of Wigan
Album Contents
Album Contents
Wigan Album
Wm Park & Co Clarington Forge Wigan
4 Comments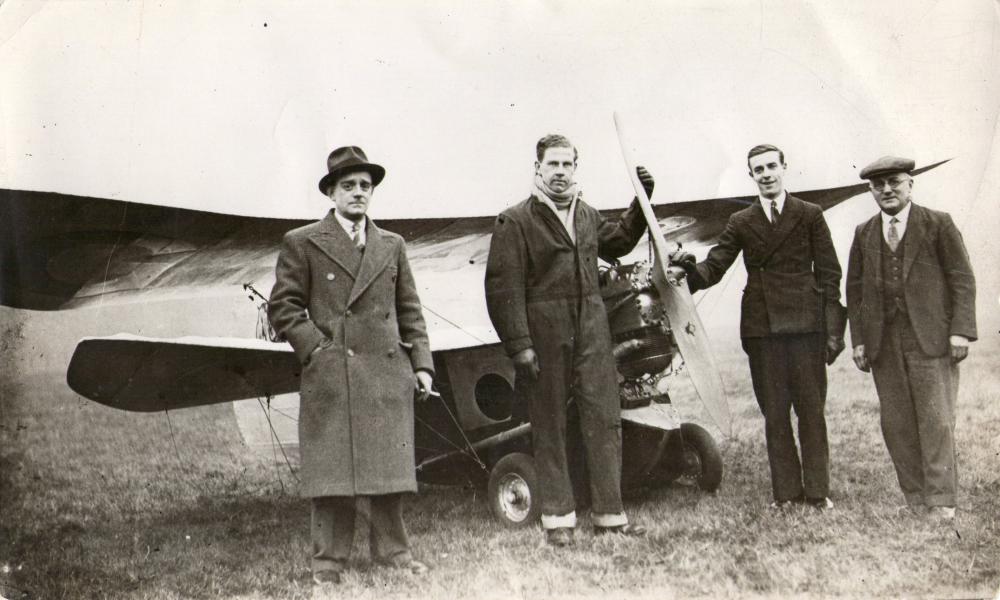 Flying Flea
Photo: Caroline
Views: 2,991
Item #: 19529
Another photo from my Grandads collection. The names of the gentlemen are on the back of the photo so I will try and decipher
L-R Edward Higham-Foreman,Pattern Maker at William Park & Co Forge Masters
Brian Park-son of owner of William Parks & Co
William Marsh-apprentice joiner
Jack Banton-foreman elcetrician
Unsure of the date and location
Comment by: Ged on 9th January 2012 at 21:06
A Fantastic photo,was the aircraft made at Park Forge ? if you have any more like it please put them on,
Comment by: Mark Higham on 20th July 2012 at 19:36
Hi Ged.
We owe a lot to Caroline here - she's done a great job of deciphering the notes on the back of the photo.
As a grandson of Edward Higham (known almost universally as "Teddy" but to his family as Eddie) I too have only one old, faded photo of the "Flying Flea" - if I can find it, I'll come back & upload it for you.
My father and grandmother (Teddy's wife, Alice) always said smilingly, "Teddy could make ANYTHING from wood" and would then remark (with a much more serious expression, as if they thought you wouldn't believe it), "He made a plane you know ! ... no, an aeroplane - a real one, and it flew !"
They said the Flying Flea was made for Brian Park (an amateur pilot) and I would think, in truth, by the pattern shop team at Clarington Forge, under my grandfather's watchful eye. So I'd be almost certain it was made there but I'm astounded that other photo's exist.
CAROLINE, Where did you get this ? Who was your grandad ? Did he or you know the gentlemen in the picture ?
I'd love to know more but thanks for proof that the plane wasn't just a local legend but an example of what could be achieved by regular guys who lived in your street in the hey day of British manufacturing when, "If you want it made, we can make it in Wigan !"
Comment by: Caroline on 9th January 2013 at 21:27
Thanks Mark for your lovely comments. My grandad is 85 and would of definately known the men on the photo. He can recall his time as WM Parks as if it was yesterday so I will ask him for more details and will get back to you
Hi Caroline.

I've been researching the history of the company I work for, called Joy Global Inc., a US company. I work in South Africa. I would like to find out more about the William Park & Co. (Forgemasters) from your grandfather. I know that they bought a 1800 ton WW1 press from Ince Forge Co. in 1946, and that the forge was closed in 1979. The site of this press was later used by Gullick Dobson Ltd. the mining division of the then Gullick Dobson Park Industries plc. Gullick Dobson became Longwall International in 1993 when it merged with Meco International. Harnischfeger Industries Inc. bought LI and merged it into Joy Mining Machinery in 1997. In 1999, HII filed for financial reorganization under chapter 11 of the US bankruptcy code. When HII emerged from bankruptcy in 2001, it was renamed to Joy Global Inc.

It is not my intention to bore you with history, buy I'm sure your granddad would be interested in his 'legacy'! I'm interested in how William Park & Co started - by whom, when, why, etc. I would really appreciate some feedback.

Kind regards
Pine