Photos of Wigan
Photos of Wigan
Album Contents
Album Contents
Wigan Album
Vulcan Foundry
15 Comments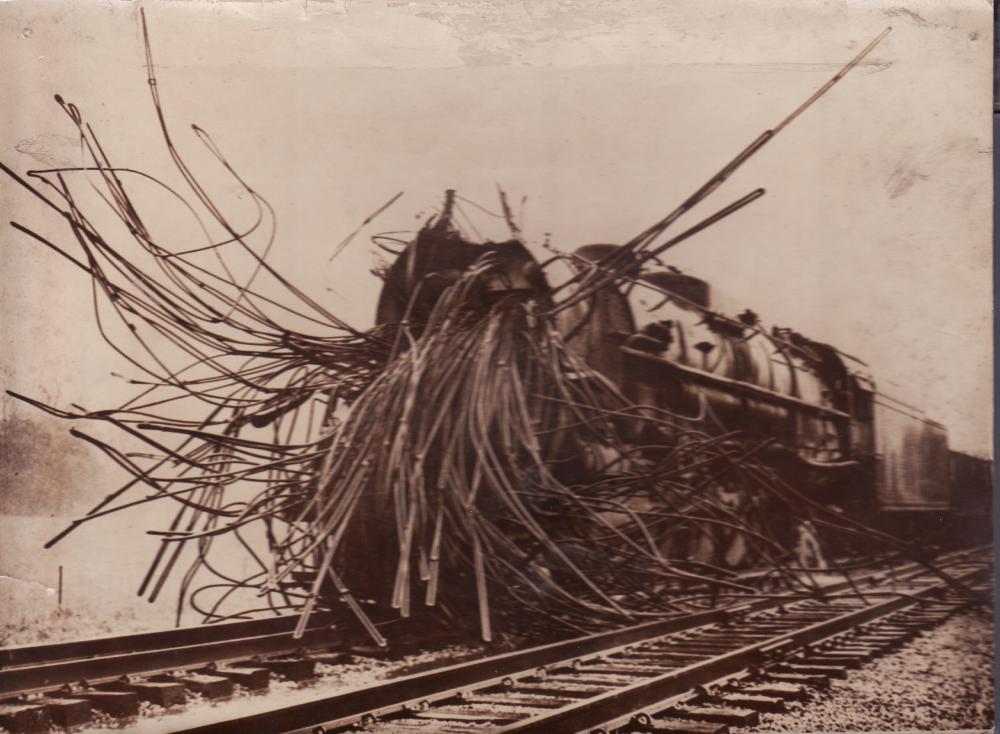 Boiler explosion!
Photo: Dave Taylor
Views: 10,472
Item #: 15737
As the late, great Dr. Frederick Dibnah MBE observed on more than one occasion, " a locomotive boiler is really a rather large bomb"! This picture is a very good illustration of that fact. The caption on the reverse reads as follows:- "Two crewmen died of burns when this Chesapeake and Ohio Railroad engine exploded at Chillicothe, Ohio, on May 12th. The explosion turned the flue pipes of the engine's superheater unit in this twisted mass. A third crewman was injured."

It doesn't give the year, or if it does it is covered up by the label on the rear. There is a proper price/currency mark on it (ie for our younger viewers and listeners, pounds, shillings and pence!) so the copy must be pre 1973, but I would imagine that the original photo is much older. Another one from the old King's archives possibly coming out of the Vulcan Foundry archives originally! The Vulcan built a huge number of locomotives for export so it is entirely feasible that this engine was built there. I am not sure how much tackle they built for the American market, but they certainly exported to China, Mesopotamia, Arabia, South America and manu other places. Perhaps more informed heads than mine could verify that. The photo is credited to the Associated Press, London.
Comment by: Margaret Wall on 8th September 2010 at 19:42
I don't really know why but I think there's something wierd and grotesque- looking about this photo. I can hardly bear to look at it. I can't imagine what all those strips of metal or cable are from.
Before anyone says anything, this is no reflection on the photograph itself, it's just the content.
Comment by: Harry Gardner on 8th September 2010 at 21:54
Apparantly at horwich works theres the remains of an old L&Y loco that suffered a boiler explosion & destroyed itself around a 100 years ago still strewn over the location of a long gone siding at the western side of horwich works (between the works & the M61 motorway)
I wonder what a "time team" search would find there?.
Comment by: Margaret Wall on 8th September 2010 at 23:14
As daft as this may seem ( and I know it does seem daft), I've just realised why I dislike this picture so much.
It reminds me of that ugly Doctor Who character from a couple of years back, which had a huge spaghetti-like protrusion coming from its nose. It was truly repulsive.
Comment by: irene roberts nee griffiths on 9th September 2010 at 11:22
I agree with you Margaret.....it's the stuff of nightmares!
No really Wigan is it? and if I recall wasn't Vulcan Foundry in Newton Le Willows ?
Lets try n keep it 'local'
Comment by: John on 9th September 2010 at 19:36
It's superimposed surely! There can't be so meny boiler tubes...
Comment by: Gem on 10th September 2010 at 12:55
Newton le Willows is part of Wigan Borough, so yes it is "Wigan" Carl.
Comment by: John on 10th September 2010 at 19:42
Newton le Willows is Warrington council, Wigan ends just after Haydock park race course then it becomes St Helens.
Comment by: Dave Taylor on 10th September 2010 at 23:01
No folks, this picture has not been interfered with in any way, we don't do that sort of thing in our house thank you very much, what you see on the tin is exactly what you get inside!
One of the main reasons for submitting this photo was precisely for that reason:- namely that very few people these days know what the inside of a steam locomotive boiler looks like, much less understand how it works. This is a large American locomotive probably a 4-8-4 wheel arrangement with a correspondingly large boiler. At the risk of trying to teach anyone's grandmother to suck eggs and all that sort of thing, any modern boiler from Stephenson's rocket onwards has a multi-tube boiler; that is to say the water space inside the boiler is filled with many, many tubes. These tubes run the length of the boiler from the firebox throat plate at the rear where the fire is, to the front tube plate where the boiler proper ends and the smoke box begins. These tubes carry the fire from the firebox through the water jacket in the boiler to the chimney in the smoke box, thereby heating the water in the boiler and making steam. Making the tubes of smaller diameter but having more of them significantly increases the thermal efficiency of the boiler.
One of the improvements in steam boiler design around the turn of last but one century (ie 1900's) was the realisation that if you passed the steam through the boiler a second time, you raised it's temperature even more and could thus impart more energy to the pistons in the cylinders. This is known as superheating the steam, and it is these tubes from the "superheater header" that you can see like a huge "spaghettified" mess in the picture.

Carl has correctly identified that The Vulcan was indeed in Newton-Le-Willows and not the centre of Wigan, however this arguably insular view appears not to be shared by that nice moderator type gentleman on WW; as there was already a "Vulcan Foundry" category in the available list before I added this picture to it!
Thanks for all the comments, but my goodness, if I had realised what varied and obscure comments this piccy was going to create I think I would have been tempted to put another on as well!
Comment by: Ellen on 11th September 2010 at 23:39
Thanks, Dave for the very detailed explanation. I, for one, now understand better the working of the steam engine. For this, much thanks!!
The loco shown here was a T-1 (4-8-4) built at Lima in Ohio by Alco & Lima (American Locomotive Company & Lima Engine Works). This accident caused the loco to be rebuilt, and it was just about the last of its class to be later taken out of service. The accident happened in 1948. The third crewman subsequently died in hospital.
Just to put the record straight, Newton-le-Willows & the Vulcan works are within the St Helens Council boundaries.
The Vulcan works employed hundreds of people from the Wigan MBC area. There were at least 20 double deck buses providing a works service from Wigan, Ashton and other places in the borough. That's why it is relevant to Wigan World.
Dave. The USA wasn't a Vulcan market. The very large 4-8-4's were made primarily for China, India, Nigeria, other commonwealth countries and South America.
Comment by: Dave Taylor on 3rd July 2012 at 18:19
Keith, Thanks for setting the record straight, as I said I wasn't totally sure about the USA market side of things for the Vulcan.

When I worked there you couldn't move on the bus rank at going-home time for buses. If memory serves, there were three separate bus ranks each accomodating at least four buses or so on each and with shelters too boot. This area now forms the access to the first part of the new housing estate being built on the old works site.

How sad and shameful that the intelligentsia couldn't even find it in themselves to preserve the wonderful brick and iron water tower with its raised cast iron lettering with the word, "VULCAN" on it, when the works was demolished, for the benefit of prosperity!
This was in 1948 and the engine is the 3020. My great grandpa was one of the crew that died. He was the front brakeman and died on the way to hospital. I have a newspaper clipping of this my mom gave me. I just happend to come across this forum and saw everyone's comments wander when this was. It was his last run coming back to Russell, Ky with 10 years on the RR and was going to quit and work for the telephone company. His name was Carol Bush.