Photos of Wigan
Photos of Wigan
Album Contents
Album Contents
Wigan Album
Cinemas
23 Comments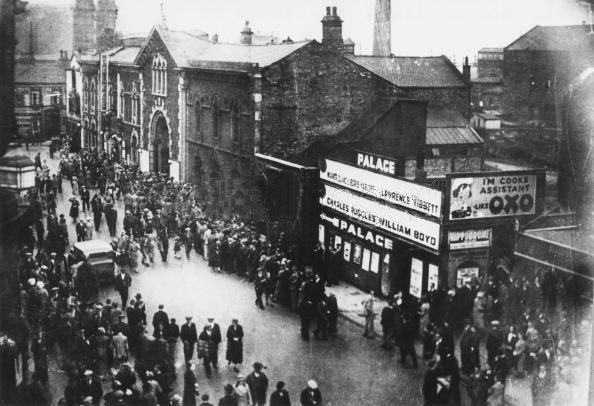 Palace Cinema c1936
Photo: artful
Views: 6,041
Item #: 14627
Caption " Audience leaving the Palace cinema , Wigan, Lancashire. C 1936"
(Bryn Road?)
Comment by: irene roberts nee griffiths on 21st April 2010 at 14:06
Isn't it King Street, Wigan?
Comment by: atlas on 21st April 2010 at 14:16
hi artful i live in Ashton can you tell me where this pic was taken
Comment by: Kevin Higgins on 21st April 2010 at 16:08
Yes Irene, it is in King Street.
Comment by: Dennis Miller on 21st April 2010 at 19:30
King Street yes, the building with the tall white arch is where Brocol House is now.
Comment by: Gem on 21st April 2010 at 20:04
building top left of the pic is the Derby Arms
Comment by: Art on 22nd April 2010 at 01:11
It's one that I posted quite a while ago.
It is King St. opposite the old Town Hall, the crossing is Chapel Lane where King St continues as Darlington St
The building just going out of shot to the right... would that be the Hippodrome?
Comment by: Art on 24th April 2010 at 15:11
Correct Dennis, & the last buiding, on the corner of the one with the big arch was "The Brewers" Pub across Chapel lane to "The Derby Arms"
So it would seem that then... as it is now, still a place where folk went for a night out. But... I would rather walk down THAT King Street then venture down it today.
Comment by: Dennis Miller on 25th April 2010 at 08:50
So... what IS the building with the tall white arch? :D
Comment by: irene roberts nee griffiths on 25th April 2010 at 12:19
That is the entrance to the cinema, Dennis...the building to the right has "Palace" painted on , with an arrow pointing towards the actual entrance.
Comment by: Art on 25th April 2010 at 15:39
The point on that arrow was the entry with a verandah half covering on the cinema wall.
That's where we had to queue to get in, the actual entrance was to the right of the cinema screen as you looked at it from your seat.Not on King St.
The floors & cock-up seats were mad of wood, no covering on either, & the flooor had a very gentle slope up to the back of the cinema, not as steep as others in Wigan.
The sound of people coming in wearing clogs was deafening, to say the least..;o)
Comment by: irene roberts nee griffiths on 26th April 2010 at 09:55
Thanks, Art, I stand corrected;I really thought the white arch was the entrance. I feel as if I temember seeing the cinema as a small child in the fifties, but the memory plays tricks as you get older. I know I often went into King Steet with my mam.....would it be possible for me to have seen it? When was it demolished?
Comment by: Gerry on 2nd June 2010 at 21:11
You must have gone to the Palace Irene but it had a different entrance when we were little. I remember it having metal Concerina doors when it was closed they were painted cream I saw a film on here called TOBOR the Great (tobor is robot spelled backwards) and the colossus of new york... I am sure some film buffs will tell us when these were released in the 50s/60s
Comment by: Derek Bond on 2nd August 2010 at 14:55
Was there not a side entrance to the Palace, where you went up a long passage to pay for and get entrance to the cheaper front seats\\\\\\\\\\\\\\\\\\\\\\\\\\\\\\\\\/ Or is my memory playing tricks?
Comment by: Duncan on 22nd March 2011 at 10:59
I seem to remember reading somewhere that the Palace was originally a roller skating rink when it opened, maybe in the late 1890s. Does anybody know anything about that?
The Palace Cinema was in King Street opposite the police station, further east approximately 50 or 60 yards it became Darlington Street at its junction with Capel Lane as you got into Darlington Street there was the Wigan Borough Police garages, for the police cars, I think there were about three or four police cars. There was also a shop near to the garage that sold some very nice paintings.
Comment by: Priscus on 16th May 2011 at 11:45
Derek, You may well be right. If my memory serves correctly, although I can only remember a front entrance, at the close of performance, when they threw open numerous exits, you could emerge onto the path that went over th' iron bridge to Wigan North-western Station. I guess where once there was an exit, it may also at some point have served as an entrance.
From the 1840s maps onwards to the 1890s maps this was Wigan Brewery.
Comment by: JOHN BAILEY on 31st December 2011 at 15:44
HI Derek, you might be thinking of the County Playhouse, you could queue up down the long side entry for the cheap seats on the first few rows.
Comment by: margret farrimond on 8th June 2014 at 12:29
Wasn't the hippodrome opposite the police station,which when it was nocked down they built Lennons supermarket,the building on the corner of King St / Chaple Lane was the dole office.
Comment by: P simpkin on 29th January 2017 at 23:59
was the palace where Brocal house is now
I believe my Great Grandfather owned the Palace theatre from late 19th to early 20th Century.His name was William Bond.He also owned the Raven Hotel or was the proprietor during the same period.Any Bond,s out there could maybe help.We may even be related.