Photos of Wigan
Photos of Wigan
Album Contents
Album Contents
Wigan Album
Beech Hill R.O.F
8 Comments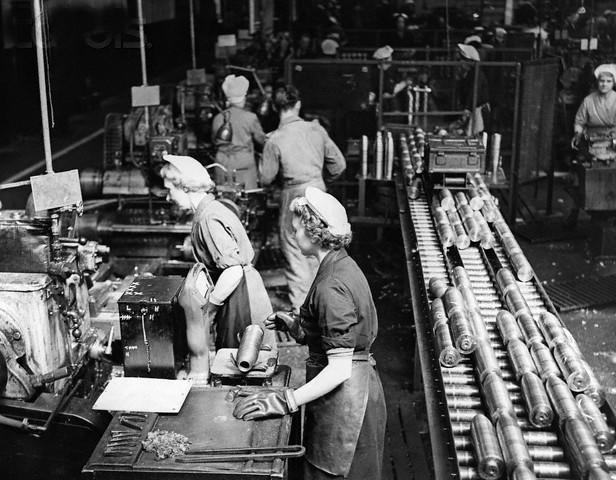 Women working at Munitions Plant 1951
Photo: artful
Views: 9,032
Item #: 14580
Caption. "Women working at an armanents factory in Wigan, England in 1951.An inspector examines shells as they move along an assembly line."
My mother worked at the armanents factory at Bradley Lane, Standish as an inspector 1941-1943. Apparently at Bradley Lane they manufactured bullets, small ones for machine guns and the largest about 4inch long (Aircraft Cannon Perhaps). She informs me that Beech Hill made shells.Therefore presuming this is ROF No 15 at Beech Hill.
Comment by: wigwann on 16th April 2010 at 18:56
What a great picture. My mother worked at Euxton maybe 1942/3 and told me that that was where she started smoking. After a "bang", as she called it they were herded into the canteen and given a mug of hot sweet tea and a cigarette to calm them and then sent back into work. She left to work at Risley at a factory though whereabouts what her occupation was then I don't know. She was always angry that the munitions workers were never recognised officially for their war work,she always said a circular letter purporting to have come from the King would have done. She had wanted to join up but was told she was needed for factory work. I feel that this group of workers should be recognised for their efforts in very dangerous circumstances as she was one who put the detonators onto the shells.Making the shells for my Dad in Italy et al to fire!
Comment by: Brian Acton on 16th April 2010 at 19:10
Artful.
You are right about Bradley lane Standish, and it did produce .303 ammunition during WW2, including belt.303 used in aircraft such as Spitfires etc.It was official described as ICI Kynock No2 Standish factory, George Kynock being a Scottish man who first made .303 ammo in the 19th century, with the ICI buying out his company in the 1920's.I will try to copy the list of ammunition turned out during the war at Bradley below.
Comment by: Brian Acton on 16th April 2010 at 19:13
Description of ammunition produced at Bradley.
K2
Imperial Chemical Industries Kynoch factory at Standish, near Wigan, Lancs, UK. This factory was set up as part of the 1939-45 war emergency plans and produced its first complete .303 rounds in October 1940. Known to have manufactured .303 cartridges in... Armour Piercing, W Mk 1 Special
Ball, Cordite Mk 7
Shot Cartridge
Tracer G Mk 2, G Mk 3and G Mk 6
Comment by: Dave Marsh on 17th April 2010 at 12:17
I was born in 1942, wigwann and I say thank you so much to these ladies who helped make my childhood years so safe and happy .From me and my generation thank you so very very much.
Comment by: Danni on 18th April 2010 at 22:18
My gran worked at Euxton, very dangerous work it was
Comment by: artful on 19th April 2010 at 09:09
Mr Acton-Thankyou for your comments.Most interesting.Got me looking on the internet.Bradley factory was set up as part of the 1939-1945 war emergency plans, producing it's first .303 rounds in Oct 1940.The bottom of .303 rounds have a cartridge head stamp and those produced at Bradley would be stamped for example K2 1942 V1. K2 the Ordinace factory, 1942 the year and V1 the mark 6 round. (Also a mark V11). People collect bullets/cartridges apparently and the head stamp is the method of identifying details.
My Gandmother - Mary Holland - worked at both ROF Beech Hill until June 1958 when she was transferred to ROF Chorley (Euxton) until her eventual retirement in May 1962. Her ID No was 24/521 and she was an Examiner. Does anyone remember Mary from her days at the Beech Hill or Euxton factories? Brian Holland
Comment by: Pamela on 18th November 2018 at 15:39
My mother worked at ROF Risley during the war and I am so proud of her, but didn't get enough information from her while she was alive. I feel the bomb girls were never given enough recognition or thanks during their lives and would like to see a movie, TV series or documentary to help the younger generation understand what they did.