Photos of Wigan
Photos of Wigan
Album Contents
Album Contents
Wigan Album
Heinz Standish
3 Comments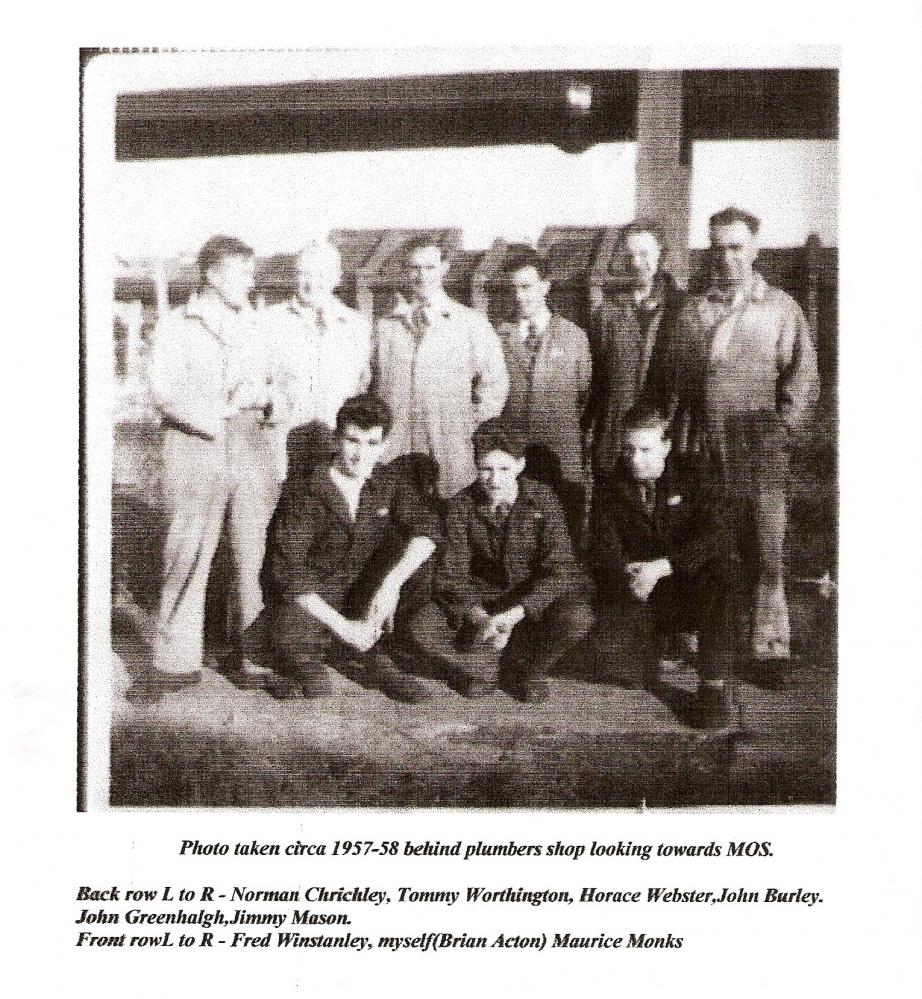 Group from Plumbers shop Heinz Standish
Photo: Brian Acton
Views: 3,915
Item #: 12850
Photo of a group of plumers, plumbers mates, and apprentices, taken behind plumbers shop.1956-57 period
Comment by: Keith Andrews on 17th December 2009 at 14:09
Hi again Brian, i remember all these (Fred's there again i see) I remember Horace Webster, one of only a few who didn't come out with bad language. My 3 months spent in the plumber's shop was good. Wasn't there a little plumber 'Walter' ? who used to do the 'trap rounds' - he had a couple of 'quiet spots' where he could have a 'minute'.
Comment by: Brian Acton on 17th December 2009 at 19:45
Andy.
Photo has come out a little grainey,and I've just realised I missed the "b" out of plumbers. Regards the trapper at Standish it was Tommy Worthington, who is second left back row on the photo.then Jimmy Craggs( who was Arthur Rudd's son in law) took over when Tommy retired some time around 1958 or so.Yes Fred is on it as well, must have been doing his (TIME) in the Plumbers shop.I saw your comments about Fred on one of the other photo's, always thought he emigrated to South Africa, but you knew him better than me so it must be Canada.Interesting to see your son married Joe Holden grand daughter if I've understood you correctly. Looked for your phone number in the book but couldn't find any number for you. Brian
Comment by: Brenda Mercer on 23rd October 2021 at 20:02
Horace Webster was my uncle. A lovely kind and cheerful man. He died a few years ago. Sadly missed.