Photos of Wigan
Photos of Wigan
Album Contents
Album Contents
Wigan Album
Heinz Standish
9 Comments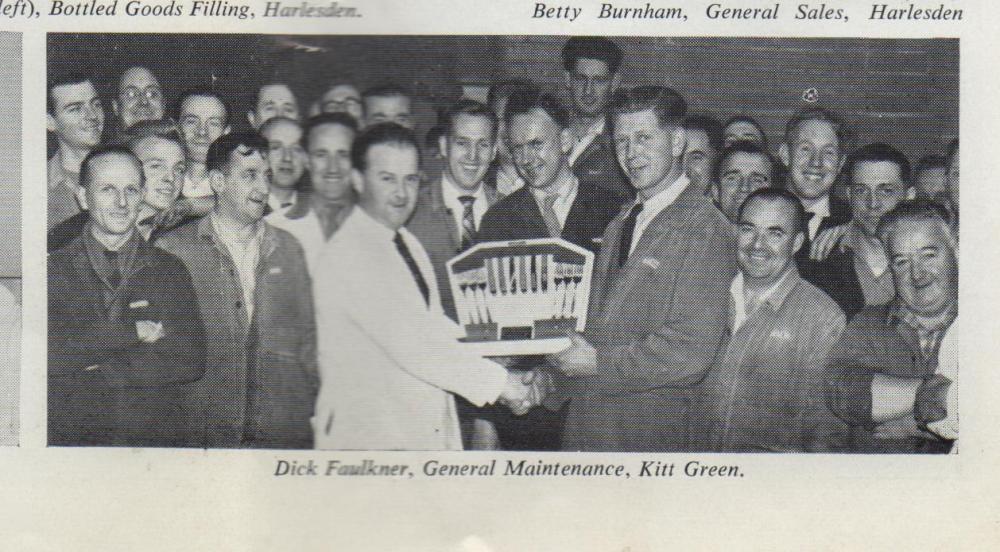 maintenance
Photo: derek holden
Views: 4,327
Item #: 12846
award
Comment by: Jem Glover on 14th December 2009 at 21:39
Says Kitt Green bottom of photo,my dad worked in the maintenance dep don't see him here Tommy Glover.Got a few photos will post them soon
Comment by: Margaret on 15th December 2009 at 18:03
My dad Tom Fitzpatrick is on the end Right.front row.
Comment by: Brian Acton on 15th December 2009 at 20:45
Some more familiar faces on here Derek that I can see. Very tall man at the back Brian Pierce( used to travel to work with him)Ray Barrow Dave Leather, yes Margaret you father Tommy, Alan Doran, Frank Barton, little Norman( tin basher) front left, can't remember his second name.Know few more on here, but can't remember names, so if anyone can help please do so.
Comment by: Jem Glover on 16th December 2009 at 05:32
It's Ken Doran I think not Alan.
Comment by: Brian Acton on 16th December 2009 at 17:07
Jem Glover.
Yes your right it is Ken Doran not Alan as I said, also spotted Sid Dooley on there.
Comment by: Keith Andrews on 16th December 2009 at 18:22
Hi again Brian - the little tinbasher is NORMAN PEEL from chorley a proper comic was Norman, he had this little 'habit' of putting his finger in a pot of molten solder and it always came out undamaged, never sussed out how he did it and i certainly was not one to try it, (just thought too, on the other photo the chap i have put as Jack Clarke, i think he was in the tinbasher's shop) the chap behind Dave Leather i'm pretty sure is ERIC WORTHINGTON
Comment by: Brian Acton on 16th December 2009 at 19:29
Hi Andy.
Yes of course it was Norman Peel, and Eric Worthington, (I think he was a Turner), and the guy over Norman Peel's left shoulder is an apprentice at the time called Les Jackson. I've picked that up from the photo of the 1962 apprentices posted by Alan Norris,on the Heinz Kitt Green page, although I don't remember him whilst I worked there. As I said I know plenty faces but can't put names to them. I've got a photo taken behind the plumbers shop that will probably interest you, but just at present for some unknown reason it won't upload. If it carries on I will e-mail it to Brian webmaster for him to put it on.
Yes that is me, I was over Normans left shoulder. I was apprenticed to Norman for 6 months in the tin bashers. My dad was an electrician on shifts, also Les Jackson. Yes it was Ken Doran, hard bugger was Ken.
Yes it is Eric worthington. My dad. He was maintenance engineer I think.