Photos of Wigan
Photos of Wigan
Album Contents
Album Contents
Wigan Album
Courtaulds (Skem) Nr Wigan
10 Comments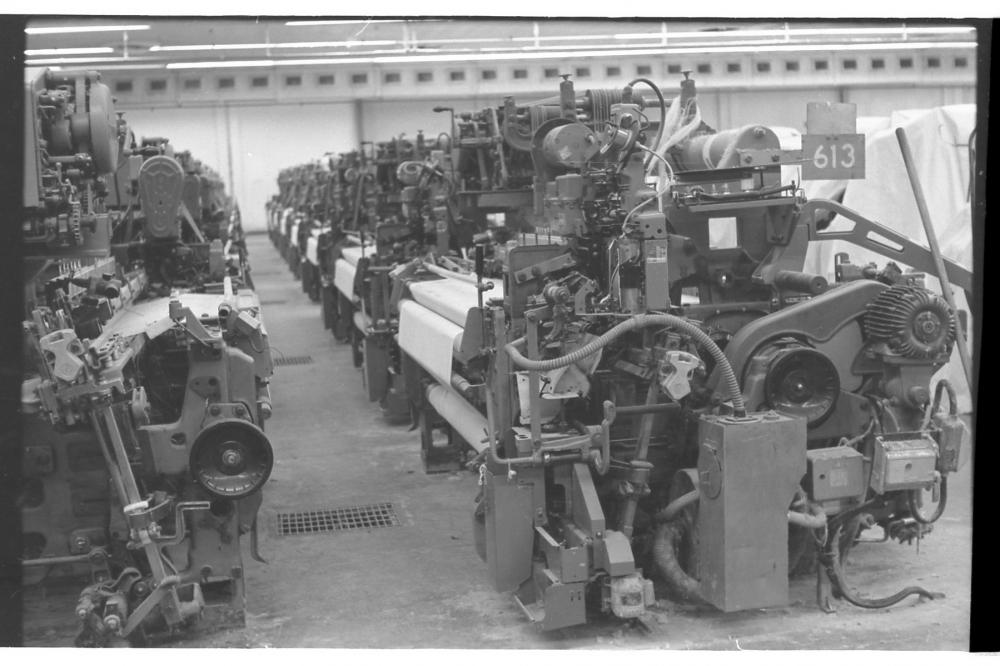 Courtaulds (Skem) Nr Wigan 1970's
Photo: Martin Pearce
Views: 2,846
Item #: 11967
Looms in the weeving shed.Note the grid down to the catacombs to help the moisture content and extract some of the dust.
Photo by Colin Pearce (1929-2008)
There was no health and safety is those days!!
Just imagine walking down that aisle and tripping up !!
H&S would have a fit now , lol !!
Comment by: COLIN on 30th September 2009 at 23:43
LOOKS LIKE SOMTHING OUT OF THE 50s, CARRINGTON AND DEWHURST WAS MUCH MORE UP TO DATE FOR THE TIME.
NO WONDER YOU WAS SOON CLOSED DOWN.
Comment by: Bluemoon on 1st October 2009 at 11:00
If the pen pushers had got off there backsides and come down to do some hard work then a lot of jobs would have been kept. Remember the coal board and all the jobs lost in that industry and not just jobs but communities, there was health and safety and the unions were the ones who were responsible for all you have in place today,not the pen pushers.Then there was the greed of the pen pushers able to turn it around and blame the work force.Not the case see how the ones with all the control and wealth today have destroyed all the hard work of many hard working people.Credit crunch....think not..greed of the pen pushers
To the point of taking all your years of hard work by ripping off your pensions , it is not the UNIONS that have done this or the hard worker....its the pen pushers greed pushing to reach impossible targets. So they can have that bonus all for them selves......selfish and greedy.When you are employed today you have no security as you are only classed as a temp, because of rule changes that are all loaded against the worker. Yes the unions did have to much power but they were never able to nearly bankrupt the whole country...............
Comment by: Dave Lewis on 1st October 2009 at 22:48
good pic martin, did they use unifil winders for the bobbins.
Comment by: Col on 2nd October 2009 at 00:09
Where These Looms Ruiti or may be Sulzer, The Unifill rewound the pern all in auto as I remember it. Did you have any Water Jet Looms there ?.
Comment by: Martin Pearce on 2nd October 2009 at 18:57
Some had unifils fitted, there were loom type Ruti , Kovo and a french make I think towards the end (Soureur !!)
Comment by: Roger Whistlecroft on 13th August 2012 at 22:51
There were Ruti shuttle looms and Kovo air jet looms, Kovo looms came from Czech Republic. All Ruti looms had unifil. Wonderfully pictures, brings back many memories
In August 1969 I came to England as a Ruti loom fitter to install the first Ruti C-type looms at Courtaulds in Skem, together with Edy Schneider, Klaus (?), Gusty (?) and a few more. I remember Bill Brown was weaving manager at the time. We worked together with Bill Aikin, Les Foster and others from the training department. Does anyone remember these people?

In August 1970 I went back to Switzerland.
Comment by: Mike L on 20th October 2015 at 17:35
I worked in Kovo and also Ruti 2 (A shift) and we athe experimental Saurer "Gripper" I think is was loom #914 on set #13 (My set)
The KOVO Looms were 110 cm (Never used) 155CM and 165 CMM mostly weaving "Scrim" for fabric wallpaper backing > Storey's Lancaster
Ruti 2 sets 12,13 and 14 were 180 CM and the Highest numbered Looms in the Mill(2 set s) wove 220 cm cloth

Biggest regular order was for Denim for Wrangler in Scotland (140 Ruti's(Ruti 1 shed) and the only redundant looms were the Dobbys (with Jacquard cards) Which Could never get orders(about 100 looms)

OH and regarid foowar the reason why we rary wore boot was Because of "Size" which is formulated to Keep the Warp yarn from Breaking Yet those floors were lethal when wetted the size ison a par with an ice rink We often Had air line outlets that dispensed water and we'd aim the Jet down the nearest grid and Inform the Fitter to bleed the Pipe
Secondly The Set in the Image Had the Gid om the Mid weavers aisle though on most sets those Grids were half hidden .(Big "Cellar beneath the floor with lots of ducting from the grid leading to the Extractor fan rooms)
I worked in the Work Study Office for around three years. I remember there was a man (Charlie?)who used to crawl through the air ducts underground and brush the cotton dust of the chambers. He used a paper face mask and would surface every now and then for a drink! In its hayday it was the biggest weaving shed in Europe. Sometimes if it was dry they pumped humidity into the air and you could not see the end of the weaving shed at all it was that big. Every now and then one of the looms would flash over in a cloud of smoke, setting off the alarms and the Fire Team would rush to find a singed loom! I also recall some of the Ruti Engineers driving Porche sports cars to work? The Kovo looms also supplied material for wellington boot linings. It may look like the 50's, but it was all the latest technology at the time - even had carbon fibre picking sticks. We also used the Schlafhorst automatic winders. As I recall it did actually make a profit one month!!!