Photos of Wigan
Photos of Wigan
Album Contents
Album Contents
Wigan Album
Gullick Dobson
11 Comments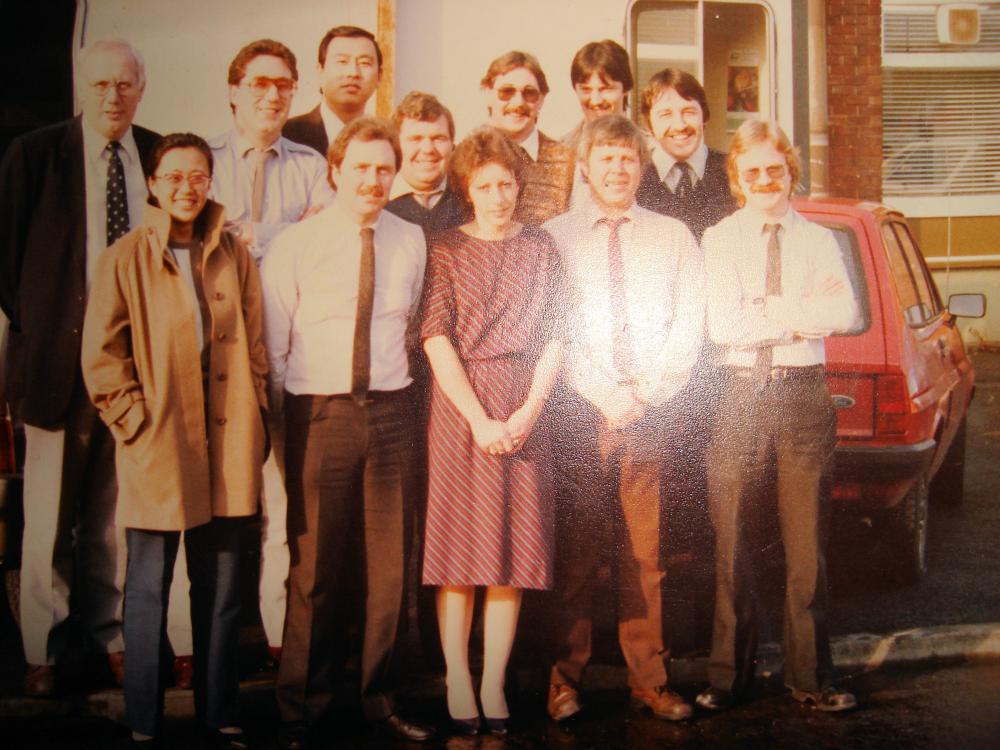 CHINESE VISITORS.
Photo: John Belshaw
Views: 4,063
Item #: 10346
L to R > Keith Tyrer (I THINK),Chinese Visitor,John Taylor,Chinese Visitor, ?, Tommy Kelly,?,Ted Turner,Tommy Porter,Paul Fenna,?,Phil Atkinson.
Comment by: John on 5th April 2009 at 19:48
The lad between the two women on the front row is Mike Sweeney (no not the one from Rock Radio !!)
Comment by: RON HUNT on 6th April 2009 at 19:41
I think that's Geoff Rourke, right, end, back row.
Comment by: John Taylor on 23rd July 2009 at 03:46
The Chinese Visitors names were Cher and lee....Yes its Mike Sweeney.....The lady is Cathy ?

Finally just above Phil Atky is Geoff....????
All the best to you John
Comment by: John taylor on 23rd July 2009 at 03:47
Your right Ron ...Geoff rourke...Cheers
Comment by: John Taylor on 23rd July 2009 at 03:55
What did we say about good old Tommy Kelly
He could whisper over 3 fields
Been everywhere...not going back

I will never forget Tommy bringing to work his 35ft brand new Carbon Roach pole....what a day

Great fellow...all the best Tommy

I talk to Paul every day...he is at joy Wigan and I am at Joy Meadowlands Pa USA

This photo is in my office at work on the shelf ...would you credit that
Mr Taylor, you need to stop talking to Mr Fenna on the phone every day, he needs to get some work done, lazy git he is.
Hoping you are ok old Norley Haller, thanks for the break you and Jim Mc gave me back in 1989, cheers.
What a blast from the past!! Saldly we lost Keith Tyrer a few years ago. I hardly see anyone anymore, but remember Tommy Kelly and Tommy Porter being a great laugh and lovely people, i occasionally see Geoff, although i dont think he recognises me anymore and John Taylor what can i say i fancied you for years!!!!
Comment by: bronwen on 4th September 2011 at 22:28
John Taylor long time no see How are you doing
Comment by: angela pennington on 21st August 2012 at 18:13
my dad tell me that phil akinson mangled up his little finger by throwing a brick at it lol
Comment by: John taylor on 31st October 2012 at 21:59
Hello is that Bronwen Hughes........well what a surprise. Hope all has gone well with you.......and you are doing good ....CEO of Avon by now I should think. xxx
Comment by: bronwen on 25th June 2013 at 22:26
Hi John I did make it big in Avon but left to join the NHS after realising I wanted to do something worthwhile!! How about you ? Are you still a Jethro Tull fanatic And do you still play the flute x