Photos of Wigan
Photos of Wigan
Album Contents
Album Contents
Wigan Album
Shevington Junior School
5 Comments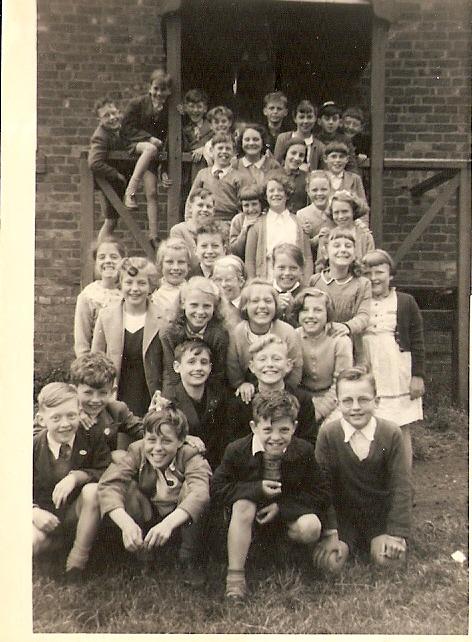 school photo (standard 5) outside parish room steps
Photo: Eric Hall
Views: 4,059
Item #: 9672
Mr Twist's class (standard 5) this year was part of Shevington Junior School but was moved up to the parish room in Shevington for one year.
Comment by: Eric Hall on 2nd March 2009 at 21:56
I can remember 80% of the names those in the foreground are
(L to R)
Eric Hall:Brian Santus:Derek Fazackerley:John Staveley:Tommy Turner:David Fairhurst:David Greenwood:
Behind us are Ann Thompson:Lyn Jackson:Rita Pennington:Glynis Mansfield:Janet Collier:Kathleen Prescott:Sandra Ambrose. Higher up are Andrew Cooper:David Molyneux:Sandra Williams:The lad at the top with the leg dangling is Bobby Gore, next to him Ian Beech. Sylvia Hague near the top. Sorry I've missed some out but I can't name you all.
Comment by: Anne Isaacs on 28th April 2010 at 16:50
Standard 5 was in the parish rooms for more than 1 year I was in it ?1954. Im definitly not in the photo. Joyce Ball,Doreen Idden and Rosamond Barnes were also in my class.
Anne, I've uploaded a photo of our class of 1955. I remember the parish room well. We were the first class to go in there, where we had coal fires and at first had to walk to the school every dinner time to eat. Later we had facilities there.
Lorraine Walmsley in the middle (front to back) on the righthand side with a white ribbon In her hair
I passed the village hall a week ago and remembered how we used to get in trouble for standing on the steps that had been donkey browned at the nearby cottages