Photos of Wigan
Photos of Wigan
Album Contents
Album Contents
Wigan Album
Shevington Junior School
8 Comments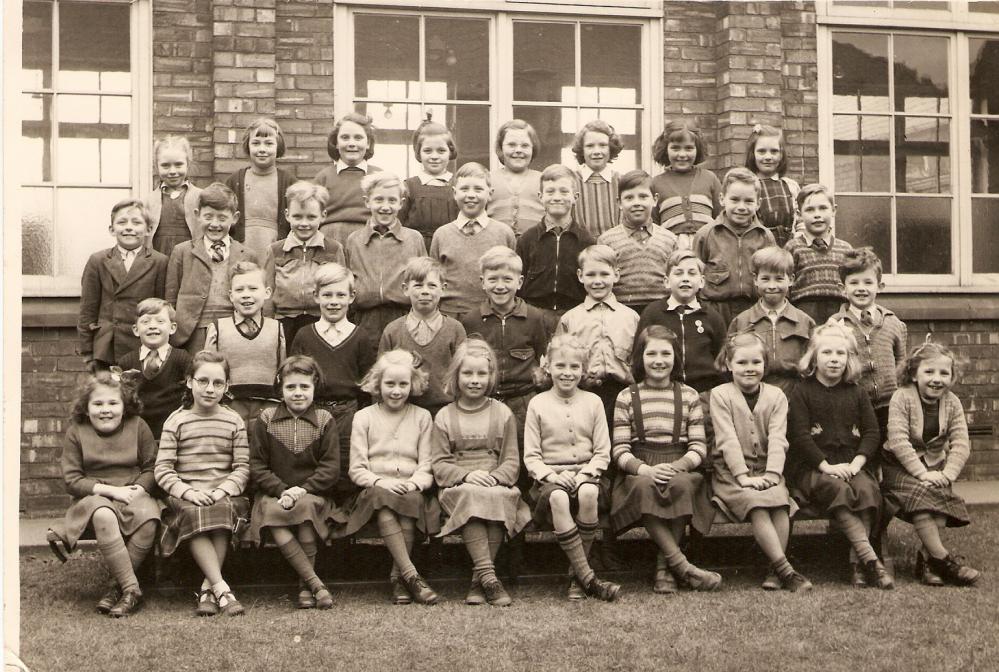 Shevington Junior School 1955
Photo: Eric Hall
Views: 5,543
Item #: 9669
school photo
Comment by: Eric Hall on 2nd March 2009 at 21:44
Apologies to any I get wrong or can't name.
Back (L to R)
Olwyn Wane:Sylvia Hague:Carol Clayton:Pat McDermott:Dorothy Heath:Sandra Williams:Joyce Beard:Elsie Garswood:
Third row (L to R)
Fazackerley:Ian Beech:Moss:Round ?:John Lilley:Michael Cuerdon:Rodney Mason:Stanley Donelly:Keith Leadbetter:
Second row (L to R)
(me) Eric Hall ( I am not stood in a hole)Sydney Derbyshire:Malcolm Hulme:Clifford Hunter:Tony Whatton:Tony Jackson:Bobby Gore:Neil Williams:Brian Santus:
Front row (L to R)
Joan Edwards: ? :Ann Thompson:Joyce Roby:Rita Pennington:Glynis Mansfield:Barbara Finch: ? :Maureen Fazackerley:Kathleen Prescott.
Comment by: Eric Hall on 2nd March 2009 at 22:03
Sorry Paul I've just called you Tony Jackson
I am fairly certain that I have found you, Eric, and definitely Sidney Derbyshire, and possibly the lad next to Sidney, on the UpHolland Grammar School photo of 1958. I came from UpHolland, and am the first boy on left (next to Kathryn Barton) on the second row from front on that photo.
Back left: Lorraine Walmsley
Front row second from left Olwyn Wane
Comment by: Sandra Williams on 10th March 2016 at 17:43
I am very impressed with your memory Eric
Comment by: Chris Norburn on 12th December 2016 at 00:59
I'm disappointed not to be in the photo with the rest of my classmates. I know I am in one somewhere and would love to see it if anyone has it.
I have just come across this photo and I was married to Rodney Mason
third row, sadly he passed away in 2014 he would have been pleased to see his friends from Shevington.