Photos of Wigan
Photos of Wigan
Album Contents
Album Contents
Wigan Album
joan wood stage school bryn wigan
7 Comments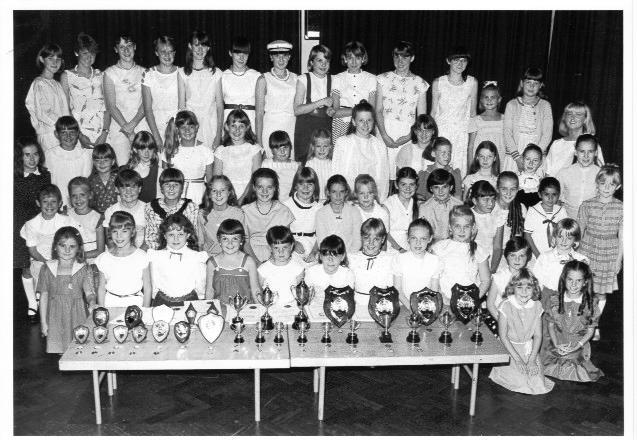 SCHOOL PRESENTATION 1984
Photo: HARRY WOOD
Views: 2,231
Item #: 9562
JOAN WOOD STAGE SCHOOL 1984
Comment by: Lesley Salmon (Winrow) on 6th March 2009 at 19:07
Hello Joan ! I was talking to Jenny Hickman at parents evening - (our sons are in the same year at school - what a small world !!) - and she told me about your website. Thought I'd take a look - I'm threatening to come to Adult tap - I can't tell you how much I miss dancing !!

Anyway, before someone steals the names for the photo I can have a good go at, some names (apologies for those I don't get - it's more about seeing faces properly than forgetting people)
Top row left - right :
Louise? / Deborah / Michelle / Karen / ? / Viv / Gayle / Suzanne / Andrea / ? / Rachel / ? / ? / Carolyn

Next row left - right (Not done so well on this row)
? / Yvonne / ?/ ?/ ?/ ?/ ?/ ?/ Andrea / Anita / ?/ ?/ ?/ Louise?

Next row left - right
? ? ? / Gill / Lesley (me!) / Janet / Carol / ?/ ?/ Sara / ? / ? / Lynn / v---? / ?

And I fail miserably on the front row ....

Can anyone fill in the gaps ?!

Great reminiscing Joan. Hope you and Harry are well - maybe see you soon

Lesley xxx
Comment by: Pat Walsh on 14th March 2009 at 16:00
Hi Lesley can fill in some gaps louise Deborah Michelle Caron Julie Vivienne Suzanne Andrea ? Rachel Emma ? Carolyn
Emma? Yvonne ? ? ? lisa ? Helen Andrea Anita ? Claire Louise ?
? ? Kirsten Gill Lesley Janet Carol ? ? Sara Helen ? Lynn Veena ?
Jenny ? Marie Lisa Rachel Carrie Amanda Alison ? Zoe Suzanne Adele
Can anyone else help out ?
Comment by: JOAN on 18th March 2009 at 19:19
YOU HAVE AN EXCELLENT MEMORY PAT
Comment by: Deborah Willoughby ( Bradburn) on 11th June 2009 at 22:01
My mum told me about the website brought back a lot of memories the children enjoyed the pictures. My mum found my dance costumes and my daughter loves using them as dressing up clothes. Lesley I also miss the tap dancing would also like to have a go again. Maybe one day !!
Comment by: joan on 14th June 2009 at 18:39
HELLO DRBORAH. MANY OF MY OLD GIRLS COME IN TO DO ADULT TAP
SO WHY NOT POP IN TO SAY HI AND SEE HOW MANY YOU CAN REMEMBER
Comment by: Amanda Taylor on 23rd September 2010 at 10:11
These photographs are amazing, thanks so much for posting them on here, my children have loved looking at them - happy times!The shows & medal tests at Ashton & the gala's at Leicester were some of my happiest childhood memories - thank you Joan x x