Photos of Wigan
Photos of Wigan
Album Contents
Album Contents
Wigan Album
Gidlow School
12 Comments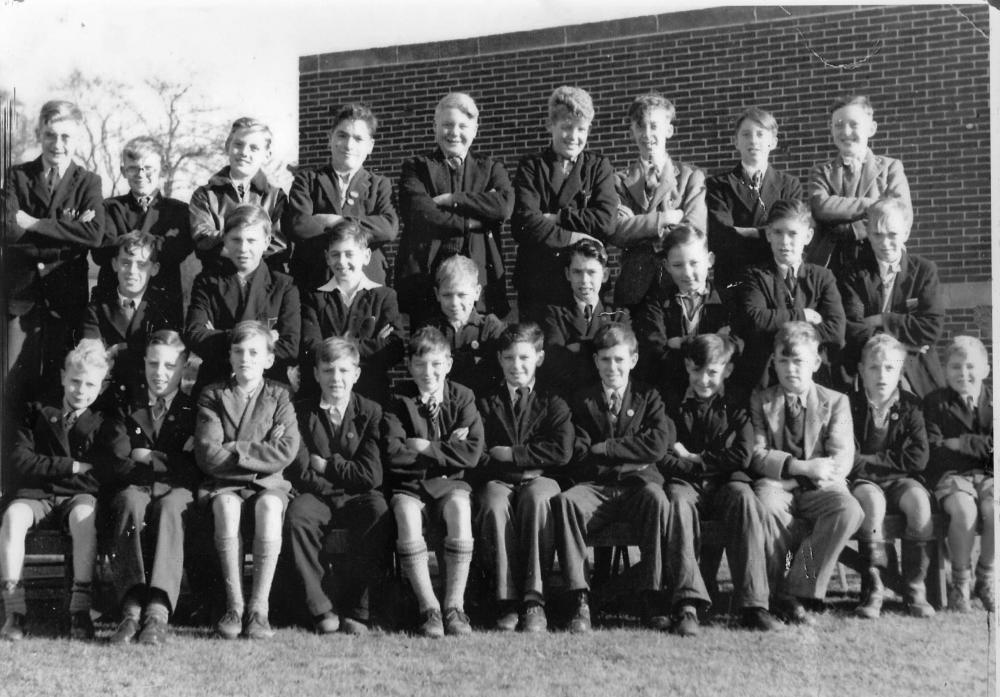 Gidlow Secondary. 1955/ish
Photo: Alan Norris
Views: 6,653
Item #: 8944
TOP ROW.L TO Right.David Taylor..."?" Lloyd...Alan Norris...Walter Green...Brian Moss...John Halsall...John Oakes..."?" "?"...David Adams...MIDDLE."?" Hindley...Bob Johnson...David Worswick...Geoff Barlow...John Pilkington...Clive Pickup..."?" "?"..."?" "?"...BOTTOM.Keith Rudd...Reg Baldwin...Dennis Moss..."?" "?"..."?" Casey...Bob Preston..."?" "?"..."?" "?"...Mike Ashcroft...Ian Ormshaw...John Gaskell.
Comment by: John Gaskell on 28th January 2009 at 16:04
Alan this photo brings back memories. I see Brian Moss (or big Mossy) at the local shops in Beech Hill, I think the lad next to Clive Pickup is Tommy Doran, but I am not sure.
Comment by: Mick on 29th January 2009 at 23:49
John - used to go fishing with Brian 40 years ago. If you see him tell him I've still got the match rod he gave me in 1969. He'll know who it is!
Comment by: Frank Healy on 16th March 2009 at 11:13
I believe Dave Worswick died about 5 years ago; I'd known him for a long time but only found out about 2 years ago that we were actually 3rd cousins.
Comment by: old boy on 1st April 2009 at 22:35
middle right is it tommy cadman? middle front in short pants dennis casey
Next to D Moss is Walter Jones,Dennis Casey,Bob,Dave Rigby?,Clive Cottingham.Not sure of any more.Thanks for the photo,best wishes to all.
Comment by: clive cottingham on 31st July 2009 at 19:19
hi alan i think that clive pickup on photo is colin hope and second from right back row is eddie maglieve only one i dont know is socond row far left.great to see the lads after 53 years
Apart from the lad,MIDDLE ROW,FAR LEFT we have names to everyone...Come on guys,you know 27/28 was never good enough!
Comment by: k.hope on 11th November 2011 at 14:55
3rd from right middle row Colin Hope who sadly has reasently died.
Comment by: tom lowery on 24th June 2013 at 20:23
sorry to hear that colin as died.did colin marry a girl her first name was christine,she lived in birket st
Comment by: Stephen Calder on 14th July 2014 at 07:05
Top row lL to right David Taylor then Don Calder all the best from Steve calder
Comment by: susan worswick on 22nd January 2017 at 02:05
David passed away in 2003