Photos of Wigan
Photos of Wigan
Album Contents
Album Contents
Wigan Album
Poolstock Cof E School
22 Comments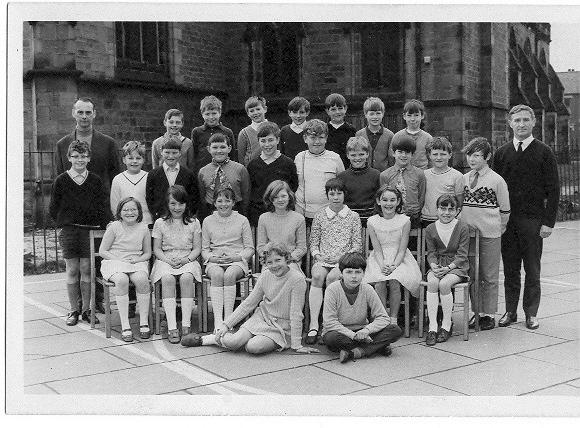 class of 69/70
Photo: stuart jones
Views: 6,378
Item #: 8505
mr.smiths class of 1969-70
Comment by: daikler on 2nd January 2009 at 19:16
AS far as i can remember ,here goes.
back row :?,mike prior,steven close,kev burrows,steve bond,nigel angelsea,billy taunton.
middle:?,glen ford,stuart jones,mark laurens,steven woodcock,andrew measey,phil whalley,steven jones,tez foster,graham lloyd.
front:miriam smith,pam owens,janet lawrenson,katherine higham,anita gaskell,doreen maddocks,julie stead.
front 2:: carole higham and ?
hi good picture i know steve bond and nigel anglsea any chance you could email me a higher resolution scan,cheers,steve
Comment by: dianne on 2nd January 2009 at 22:17
reconised janet larinson straight away and anita great pic
Did Janet Lawrenson's mum have a shop across the road from Clifton Mills.
Comment by: Jim Latham on 3rd January 2009 at 10:13
Mr. Smith had to be the best teacher ever. I remember reading "The Owl and The Pussycat", The Jackdaw of Rheims" and loads of other things. We made a Motte and Bailey Castle too and 3 of us had to go out and dig up some clay to make it. We bought some fireworks and then went over to the brook that runs alongside Wigan Rovers Football ground to "blow up" some clay. Poolstock School was brilliant in those days, late 40s and early 50s. I loved every minute of it.
Just spotted me (fourth from left at the front) my sister Carole is sat in front of me GREAT PHOTO!!!
Hasn't time slipped by so quickly since we left. Mr Smith was an ace teacher as was Mrs Parkinson! Do you any of you fancy getting together for a reunion??? - Don't quite know how we'd get it together, anyone any thoughts?
Comment by: stuart jones on 23rd December 2009 at 04:11
We should organise a re-union now where all over 50,this photo is nearly 40yrs old.I could contact possibly 15 on the photo if anyones interested.
Stuart, i'm up for it. Drop me an email with a contact number and I'll give you a call.
Glen, I've sent you an email asking you to get back to me with a tel no. I'll call you and we can get cracking with a reunion. Stuart will you get in touch too?
Comment by: Glenn Ford on 3rd February 2010 at 21:29
Hi Andy,
I am back online and have e-mailed you my landline number. Looking forward to meeting up soon.
Comment by: Kevin Burrows on 3rd May 2010 at 17:28
Just had a look at the photo, I am back row and fourth from the end. I would also be up for a reunion.
Comment by: kev burrows on 13th May 2010 at 19:29
hi stu looking at school photo second row left is barry holmes and bottom ian webster
Right chaps, lets try to get the show on the road regarding a reunion, if you fancy meeting? - email me your tel no's and i'll get the ball rolling.
Comment by: andy measey on 2nd December 2012 at 19:18
do any of you fancy a reunion?
It's lovely to see the photo's of Mr. Smith, my Great Uncle Jim.He was a wonderful man,I would like to share something with his ex pupils. After teaching all week, he and his wife looked after me every weekend from when I was born in 1962.If it wasn't for their love and kindness I would of most probably been sent for adoption. I sometimes went to Poolstock school with him in the 60's.
Comment by: doodle on 23rd March 2013 at 06:59
Yes Joanne he was a nice man,i was in his class in 1969 he used to take us for rounders in the playground. He also took us over the canal bank where we had to draw the old cooling towers,seem to remember he was quite arty.
Comment by: barbarabanter on 10th October 2014 at 22:35
Is anyone still in contact with Janet Lawrenson? I happen to notice someone mentioned her Mother may have had a shop opposite Clifton Mills. Do you happen to remember? The family once lived at 22 Tipping Street
we've talked about having a reunion, do any of you want to meet up?
Comment by: doodle on 2nd December 2014 at 03:43
Janet Lawrenson lived in the end house in Hardman St she lives off Howden Drive now.Think her aunty Ivy lived in Tipping St.