Photos of Wigan
Photos of Wigan
Album Contents
Album Contents
Wigan Album
Gidlow School
14 Comments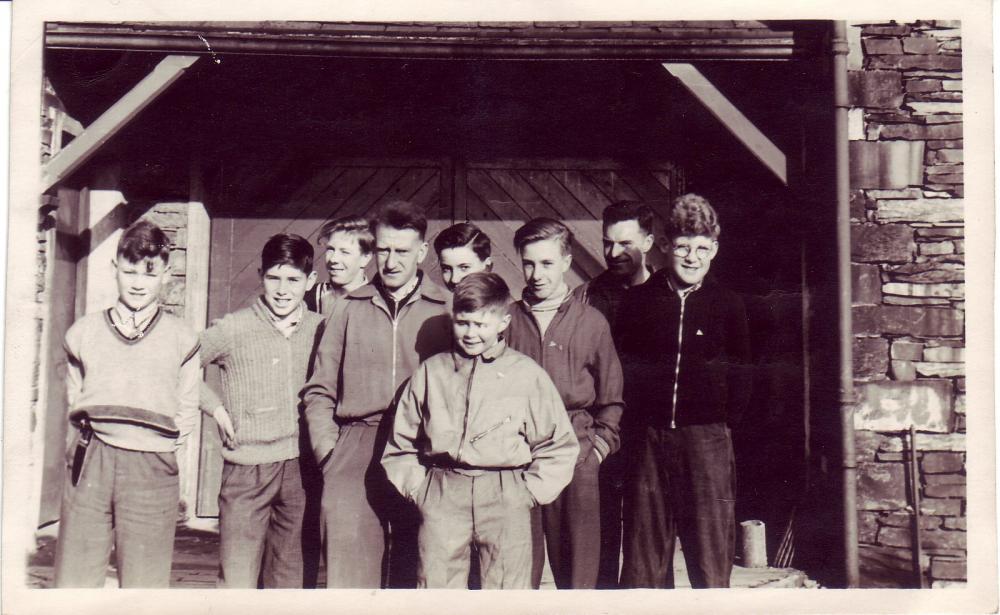 Lake District School Trip 1954 or 1955
Photo: John Gaskell
Views: 5,165
Item #: 8488
Outside the YHA Hostel at the top of Honister Pass. I am inthe middle with hands in pockets. 2nd from left is Tommy Doran, then Jack Sharrock the teacher Far right the tall lad is I think John Halsall and behind him is the other teacher who organised the trip, Tom Ward. Tom and Jack were the best teachers I came accross at the school.
Comment by: Art on 31st December 2008 at 14:54
Was the teacher on the right not Ted Ward. BTW, I agree with you about being the best teachers. Jack was Geography & Sports, Ted was Science & Physics. Both Gidlow Sec Mod.
I left in '53
Comment by: John Gaskell on 1st January 2009 at 13:34
The teacher was Tom Ward, I knew and had contact with him after I left school in 58
Comment by: John Gaskell on 2nd January 2009 at 12:15
I remember the teacher Ted, he was Ted Higham his initials were E.S. Higham
Comment by: Art on 3rd January 2009 at 12:05
Yep. Ted Higham was the other sports master opposite Jack Sharrock. Some others who come to mind: Horace Price(headmaster) Sammy Hilton, Curry, Falcon, Baron (metalwork),Sam Hill (woodwork), Tubby Thomas (art & biology). Plus, before I left in '53, a female Africaaner came to the school & took a few lessons...Very entertaining, she was. Gave us some insight on South Africa. It was at the time of the groundnut scheme in Kenya, & the Kikuyu uprising...Jomo Kenyata & all that..;o)
Comment by: John Gaskell on 3rd January 2009 at 13:04
Woodwork teacher was Sammy Topping, and I remember Harry Holland (English I think)
Comment by: Art on 3rd January 2009 at 15:02
Sam Hill, retired same time as I left. He had me in the woodwork room for about three months, finishing projects that were left by pupils over the years. I had nowt to do seeing it was the last term before summer. I think there was only about four or five of us in 4A left after easter.
There was a pic in the Evening post & Chronicle of me working & him watching at the time. June '53
Comment by: Mick on 4th January 2009 at 01:03
Art - I see you mentioned Tubby Thomas. My father left Gidlow in 1944. He reckoned Tubby was the best teacher he ever had.
I agree with art The name was Ted Ward. I was at the school before ths picture was taken NO TRIPS then
Comment by: john halsall on 2nd February 2009 at 15:32
correct john i am on the far right of the photo
Comment by: peter on 3rd September 2010 at 00:29
the teacher who organised the trip was tom ward a very dear friend of mine,i helped to look after him in his final few months.he sadly passed away in feb'2001 and is greatly missed by all his friends.one of the finest men to grace this earth.
Ithink left at the back John Heart went on to be a pro footballer. note my last note not showing ,has time run out or only room for ten comments.
jack shaarock@tom ward were the best teachers,john hart and myself continued to play badmington with tom after leaving school.also played golf at chorley with jacks son david
I left Gidlow around 1960 and remember these names - Jack Sharrock (Maths and Geography) Tubby Thomas (Science) and Harry (?) Holland (History) all lead by Mr Price (Headmaster). They were the best. Mr Price was a Spitfire pilot in WWII and got shot down hence his limp. I wish I could of talked to him more about his experiences now but the 60's were calling!!

North Carolina is a long way from Wigan and Beech Hill but I often look back on those days. If you were caught talking in Jack Sharrock's class you got the board duster thrown at you, if you got caught doing some thing wrong in the metal working class you got wacked by a 1/4" steel rod and in the wood working class a 5 foot length of 5/16" dowel - that was the worst! Happy days and they ought to bring them back - build character!!
Remember the classes first day in the woodwork ,he had us hold out our hands and caned us all with the dowal saying thats for doing nothing wrong ,know just wait till you do.needless to say we were a very well behaved class.