Photos of Wigan
Photos of Wigan
Album Contents
Album Contents
Wigan Album
St Thomas More, Newtown
16 Comments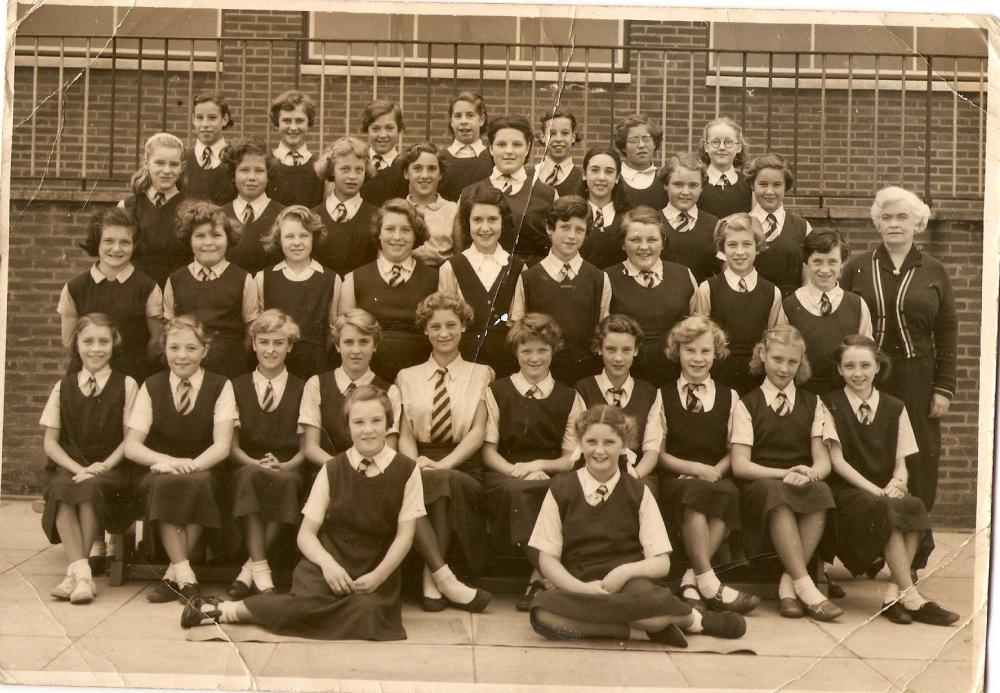 St Thomas Moore Girls 4th Form Circa 1955
Photo: John Duffy
Views: 7,139
Item #: 8068
Estimated year is 1955 of a class of girls from St Thomas Moore. My mum Irene Taylor is second row 5th from the left. The teacher is Mrs Wilson.
Comment by: norah gallagher nee priest on 27th January 2010 at 20:47
front row 4th left pat bennet back row 4th left josie lawton
Comment by: john meehan on 11th February 2010 at 21:10
2nd row top left 2nd from the left is ann mathews.
Comment by: j watchman. on 16th February 2010 at 18:19
which John Meehan,are you.?
Comment by: john meehan on 5th March 2010 at 20:14
hi, watchman i am the one you pointed out in the schools junior rugby team. i went to st.cuthberts in 1946, and left st. thomas more in 1957. let me know who you are okay?
Comment by: j watchman on 18th April 2010 at 17:59
I am, the watchman you asked, about Roman coins. Remember.?
Comment by: john meehan on 1st May 2010 at 17:42
oh yes watchman i remember now well bowl me over?
I think the girl on the 1st row 2nd from right is Diane Day and the 2nd row 3rd left is Anne Davies. I can,t figure out why Diane Day is in the photo as she was in my class which was a couple of years later. I know this because one of the girls in my class Nora Davies was Anne's sister.I also think the girl 2nd row 2nd right is Pauline Cottrial Again someone in my class and younger that Anne Davies. Anyone know any better????
Comment by: Edith Lowe (nee Daniels) on 18th February 2011 at 13:52
My sister Patricia Daniels is on the 2nd row, 2nd from left.
Comment by: mw on 20th January 2012 at 15:28
3rd row from front .4thfrom rgt side margaret shuttleworth
Comment by: drummerboy on 18th October 2012 at 22:36
The young girl seated on the floor is still the apple of my eye. Memories from long ago when she was employed at the Wigan Infirmary Canteen. In the past but not forgotten !!!
hi guys im trying to find a photo of my mother in her school years she was in ths school from 52 to 57 her name was sylvia marie horsfall she is 70 on the 23rd of november and would like some photos and if you knew her please get in touch for her birthday and your be welcome to come
I have only just found this web site,so I have just spent time trying to remember names.I am first row sixth from left.
there were 7 or 8 girls from this class (me included) stayed on at school for an extra year to take the Higher School certificate, this was an experimental class.

I was Head GIrl of the girls school in that year.

I came to Autralia as a $10 pom in 1968.
Would love to hear from any "old" class mates
Comment by: Nicole on 3rd March 2013 at 15:35
My Nan Josie Greenall, nee Lawton, is 4th from left on the back row and is turning 70 this month, it is lovely to see photos like this
Comment by: Anne Moore on 3rd April 2013 at 02:07
Nicole I remember your nan Josie, I am 6th from left 1st row
She might remember me as all this class would be turning 70 this year I think
Hello Anne, I hope u remember me ,we had some nights out together, u and Ed, Joe and I ,and my cousin Tony and Anne. Please get in touch.
Hi... does anyone remember called Dorothy Murphy? She was born in Wigan and went to St Thomas school. When older she married a my dad called Robert Best and he went to Gidlow and Scott lane schools. I would love to find some old pictures of them when they were children.x