Photos of Wigan
Photos of Wigan
Album Contents
Album Contents
Wigan Album
UpHolland County Secondary School
11 Comments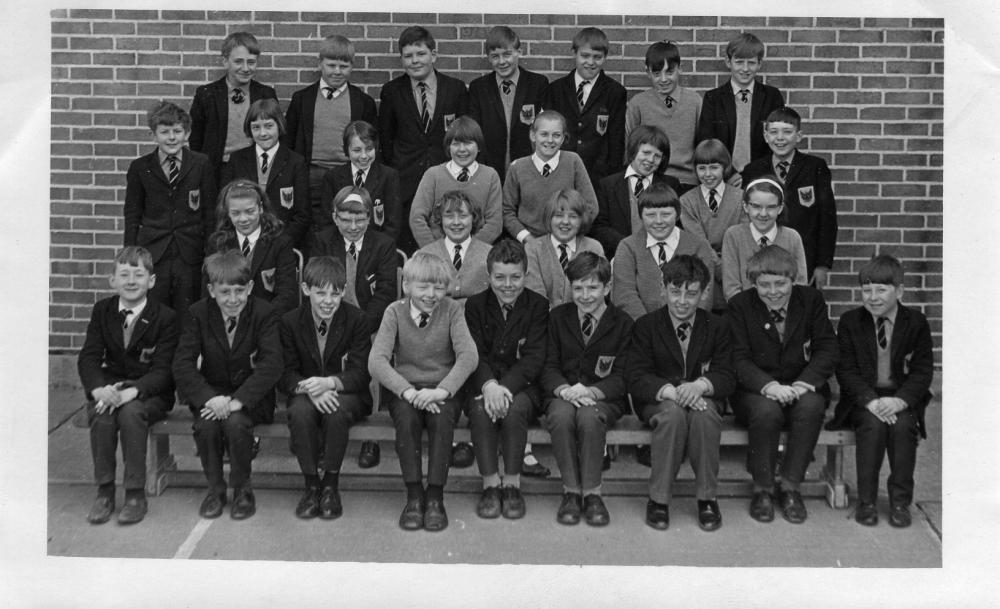 upholland county secondary modern
Photo: peter taylor
Views: 7,734
Item #: 7878
scool picture arround 1967.i am back row first on right. can anybody name the rest
Comment by: Mick on 2nd November 2008 at 12:18
Paul Halton centre of back row, Stephen Wilcock 4th left front row, and Stephen Ibbotson 5th left front row.
Ithink...rod wooley 5th right back row.jim gaskell 6th right back row.ann banks 4th right 2nd row from back.?? hirshall 1st left front row. cant remember anyone else just yet i will get my thinking cap on!!!
Comment by: Mick on 3rd November 2008 at 21:33
Did the lad 2nd left back row have the surname Pearce?
Comment by: peter taylor on 4th November 2008 at 19:00
mick you are right his last name is pearce.did you go to upholland sec
Comment by: Mick on 4th November 2008 at 20:04
Yes Peter, but I was a couple of years younger than this group. The ones I have identified are those I remember from UpHolland village.
Comment by: JOHN PEARCE on 23rd November 2008 at 13:45
BACK ROW 2 ND LEFT JOHN PEARCE ( PLUM ) 2ND ROW 2ND LEFT HELEN COLEMAN FRONT ROW 6TH LEFT DAVID DARBYSHIRE 7TH LEFT DAVID LEA
Hi Peter,
David Maggs from Billinge kindly offers you the names below.
Good luck in your quest and my regards to John Pearce should you be able to pin him down.
Philip Gormley (Up Holland sec. 1960/64)
Back row l to r:(1)Philip Smith (3)David Morgan.
Second row l to r:(1)Thomas Petty (3)Sheila Parker
(7)Yvonne Fletcher.
Third row l to r:(1)Susan Cayzer (5)Jennifer Liptrot
(6)Shirley Petty.
Front row l to r:(1)David Herschall (8)Peter Liptrot
(9)David Moss.
top 2nd right jim gaskell 4th left 2nd row my sister barbara banks 5th left 2nd row lyn turner
Comment by: Allison Wilcock on 16th March 2013 at 07:44
My dad is on the front row.... Fourth from the left. Can't mistake that blonde hair, Stephen Wilcock!!!!!!
susan cayzer third row left .. and te person who said ann banks its not its barbara banks my sister
Comment by: Wendy Swift on 28th February 2021 at 14:04
My dad is fourth one from the right. David Darbyshire