Photos of Wigan
Photos of Wigan
Album Contents
Album Contents
Wigan Album
Shevington High School (1985)
8 Comments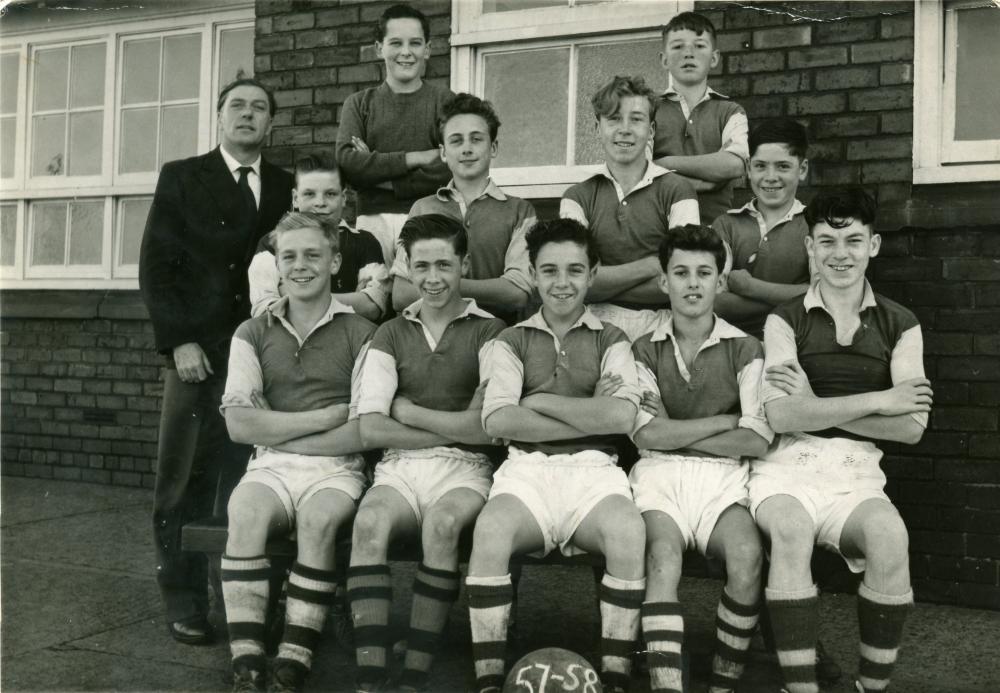 Shevinton old school football Team 1957-58
Photo: Eric Iddon
Views: 5,505
Item #: 7765
Shevington old school futball team,
Mr Judson was the trainer
The above team is as follows.
Back row l to r.
Graham Prescott,Jimmy Blundell,Russell Lyon, ? , Brian Gale, Jackie Rimmington
Front Row l to r.
Les Jackson, Colin Rimmington, Albert Cullen, John Darwin, J Houghton
Eric,
Just one small point, this is Shevington Junior School, Miles Lane
Where are they now?
Graham,i think Wigan.
Jimmy,Eccleston.
Colin,Standish.
Jacky,Shevington.
Les,Southport.
Albert,Durham.
John,Aspull.
James and russell no idea.
Brian,sadly passed away.
Comment by: linda pendlebury (massa) on 7th November 2010 at 14:08
Mr Judson taught us at Shevington Comp (Shevvy). Misbehave and he had a thick pump (a bumper) which he used to hit us with. Owch.
Brian Gale was my cousin ..... a truly great man and very sadly missed by all our family..... what a great photograph !
Comment by: Olga Gee nee Belshaw on 20th March 2012 at 05:35
Russell Lyon from 16 Park Brook Lane , Shevington married young and emigrated to Australia where he sadly died suddenly in his early 30s
j. Houghton is James Houghton not to me confused with John from Calico Wood Farm. Is the ? on Kevin's list John Wright? Where has all the time gone since that photo was taken? Oh for our own Tardis so maybe we could have another crack at it. Unbelievable that back in those days the classes at Mike's Lane School were of 48 pupils to one teacher. The class was sub divided into three divisions A, B, and C, supposedly based on ability. However it was very generalised rather than subject specific. Fortunately during my teaching career we had subject specific setting and only had one set to deal with at any one time. No one ever mentioned the mental health issues in those days. Mr. Judson replaced Bob Baker when the latter accepted a post at Standish Boys "Grammar School". I hope all those fellow 47 other pupils are alive and well, bearing in mind the knowledge of those that sadly aren't. ????