Photos of Wigan
Photos of Wigan
Album Contents
Album Contents
Wigan Album
Ashton Grammar School
13 Comments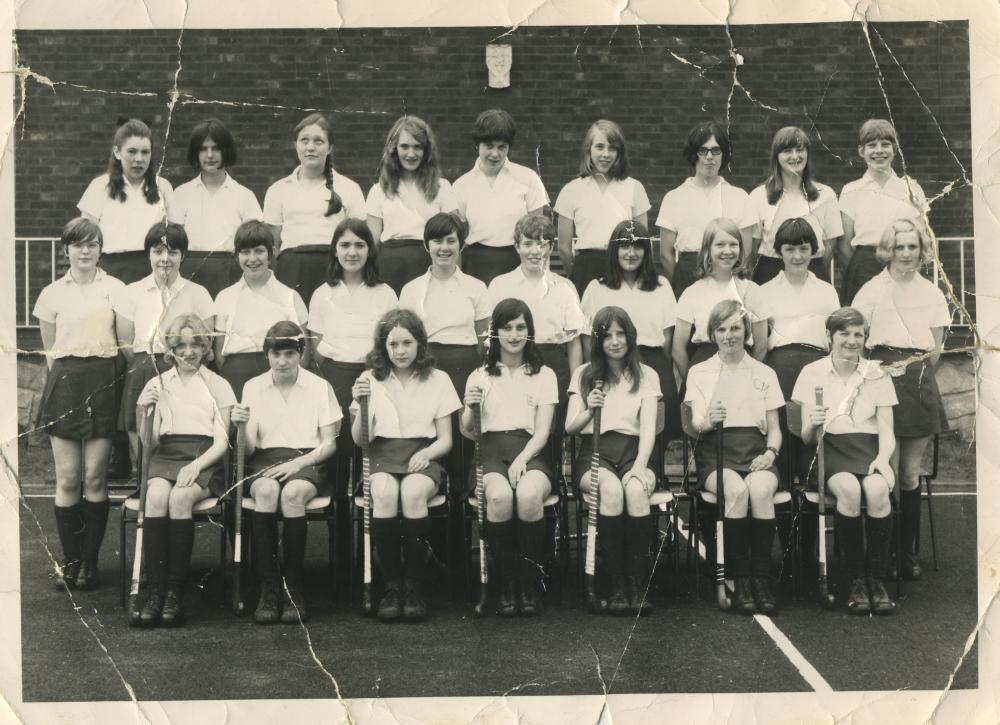 Girls Hockey Team 1967/68
Photo: Kath Nicholson nee Roberts
Views: 8,246
Item #: 7640
This photo was given to me by my best friend at school, Sandra McCluskey's, family. Sandra is pictured on the top row (second from the right). Sandra sadly died last year and I treasure this photo. I was never very good at hockey, or any other sport for that matter, so I am not on the photo. Would love to hear from anyone on the photo tho' Top Row,from left to right:(christian names only I'm afraid!): Barbara, Christine, Lois, Diane, unknown, unknown, Carol, Sandra, Anne. Middle row: Carole, Susan, unknown, Janet, Anne?, Yvonne, Marion?, unknown, unknown, Christine,
Bottom row: Marilyn?, Elaine, unknown, Kathryn, unknown, unknown,and Glynis
Comment by: CK on 19th October 2008 at 14:35
I am so sorry to hear of Sandra's passing. I grew up on Landgate estate at the same time as Sandra I rememb
er her family very well.
I was rubbish at hockey as well and was probably the bain of Verona Nolan's life LOL!
Some names I remember are
Front row (l to R) 2. Elaine Millard 3. Jennifer Dean 4. Kathryn Lowe. 5. Patrina Hughes (I think).
Middle Row 4 Janet Pendlebury-Green 5. Jean Arnott 7. Marion Prior 8 Barbara Lyon
And at the d=back 4th from the left is Diane Haselden
Comment by: Kath Nicholson nee Roberts on 19th October 2008 at 21:03
Hi CK, Thanks for the update on the names - What was your name at school? would be nice if I knew you
Comment by: CK on 20th October 2008 at 05:50
Hi Kath my name at school was Carol Anders. Think I got Elaine Millet's name wrong on my previous post though, I put Millard
Comment by: CK on 20th October 2008 at 08:22
And I think Lois' surname was Marsh
Comment by: Kath Nicholson nee Roberts on 20th October 2008 at 21:43
Hi Carole, yes I do remember you and I think if I remember rightly you have a sister called Janet. Oh and thanks again for the info
Comment by: CK on 21st October 2008 at 15:06
Yes I do have a sister Janet and she went to Ashton Grammar as well. I have just sent her the link to this picture so maybe she can add some more names for you
Comment by: Susan Atkins (nee Atherton) on 26th October 2008 at 23:47
Hi Kath I'm pretty sure that the girl on the middle row 2nd from right is Linda Cunliffe from Garswood who was in my class at Rectory along with Diane and Elaine, some of the others where in the band with us.Sorry about Sandra, did she have a brother who went to Ashton Secondary? Can't remember his first name now but there was a boy named McCluskey from Landgate who was in my year there.
Comment by: Kath Nicholson nee Roberts on 30th October 2008 at 14:22
Yes you're right Susan it is Linda Cunliffe, just couldn't think of her name. Sandra had two brothers, one was called Michael and the other was Lesley x
Comment by: Susan Atkins (nee Atherton) on 15th November 2008 at 21:57
Yes Kath I'm pretty sure it was Michael who went to Ashton Central in my year.
xx
Top row third from the left is my sister Lois. She married and had two daughters. She passed away with cancer 8 years ago, my how time flies. From her older brother in Canada. Ps, Thanks to Harold H. for the info.
Comment by: Pauline Taberner nee Bimson on 25th August 2012 at 17:12
Top row.4th from right is Carole Jackson. Think the girl next to her is Anne Lawrenson. I was in the same year,started in 1965.
Comment by: Pauline Taberner nee Bimson on 14th November 2012 at 23:43
Anne Lawrenson is 3rd from left on middle row not top row as I first thought.
Comment by: Kath Nicholson nee Roberts on 29th January 2014 at 01:15
Hi Jim, I have only just seen your comments as I haven't been on Wigan world for some time, I was really shocked and saddened to hear about Lois, she was in my year and I knew her well, a lovely girl with a beautiful voice, I remember her singing 'love is blue' in a concert at school and we were in the school brass band, Lois played trombone if I remember rightly and I played cornet. I seem to remember her older sister coming to school one time, maybe speech day, I think her name was Ruth, and she was an ex pupil if my memory serves me right. My thoughts are with you and your family.