Photos of Wigan
Photos of Wigan
Album Contents
Album Contents
Wigan Album
St Patrick's junior mixed
16 Comments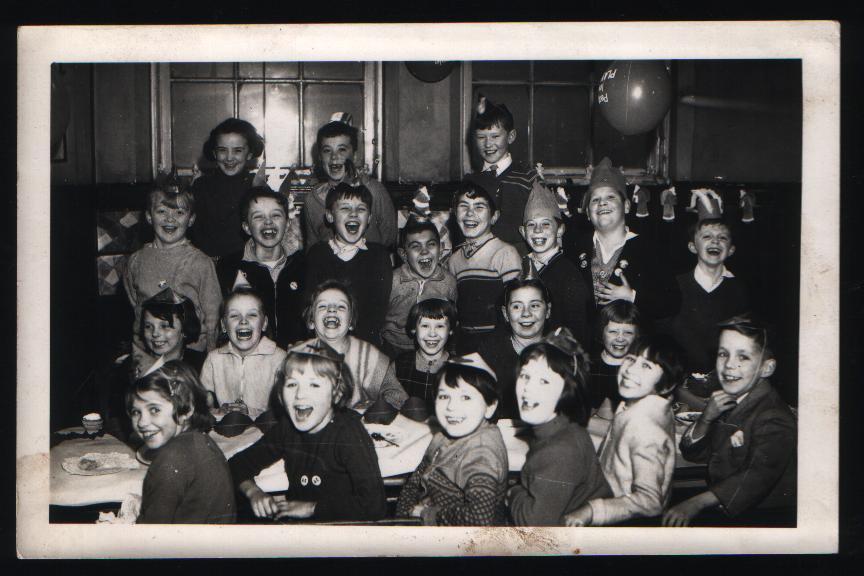 party time
Photo: Joan Beckett(Wilding)
Views: 7,118
Item #: 7581
late 50s I think, looks like a party at St. Pats my brother John is on the extreme right 3rd row up, I think that is Ann Topping 3rd from left on the front row.
Comment by: jacqueline pnman on 13th October 2008 at 17:53
Looks like rita adams bottom row left and think its christine boylan bottom row second right
Confirmation yes that is Me! third from left on bottom Row Ann Topping still as looking.And that is I think is Rita Adams.
Hi Anne, how are you It's Joan from the kiosk, what are you doing now that Gus has closed, x
hiya anne it is me in the party time photo how are you and wot u up to rita adams
Comment by: n 17 the docs on 10th January 2009 at 19:30
is that cyril forshaw in the middle
Not Cyril Forshaw, he was in my class and we are older than these.
Comment by: jacqueline penman on 20th February 2009 at 20:40
Next to top row it is Cyil Forshaw fourth from right he was in my year at school,some of them are from my year and a year younger in this photo
Comment by: cyril on 27th March 2009 at 19:09
IT is me,MICKY cant get his surname then colin Holcroft and Tony Hindley
Who is the girl 2nd row 1st from left I know her face just can't put a name to her x
I've just been sent these pictures by my brother James. I am 2nd from the left on the bottom row next to Ann Topping. My name was Ann Connor, but it's Maguire now. Does anyone have Christine McGugan's details?
Hi it's dave traynor I've just noticed Ann Connor who was recently killed on this photo tragic. I'm not on it but I know quite a few who are !
the one in the middle is mick Clarke he used to have a calliper on his leg but he was still a good cricket & football player
Comment by: Joan Beckett (Wilding) on 8th October 2014 at 22:20
Hi David Traynor did you live at Worsley Mesnes also do you have a sister Cynthia, if so She used to take me to school along with you and your brother.
Comment by: John holcroft on 21st May 2019 at 15:39
My brother Colin 3d row from front 2nd right gone but forgotten