Photos of Wigan
Photos of Wigan
Album Contents
Album Contents
Wigan Album
St Benedicts, Hindley
22 Comments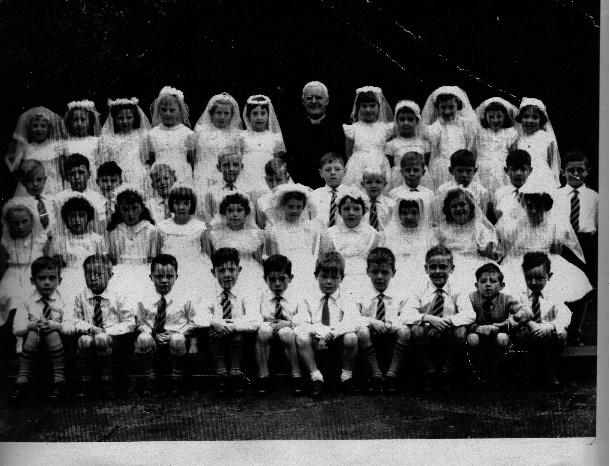 1st communion 1962/3
Photo: eric smith
Views: 5,199
Item #: 7242
1st holy communion 1962/3
Comment by: amy on 1st October 2008 at 12:00
F/ROW DBEESLEY,PGLOVER, CSOUTHWORTH,? MMARTIN,JCARR,MTHOMAS,JHULTON,JPRESCOT,AJAMES
3RD/ROW BCORBET,BBULLEN,BMCLOUGHLIN,CHOWARTH,ADUNN,TWILSON,ESMITH,TATHERTON,DMORT,JHOLLAND,ADOHERT,TWHITTLE
2ND/ROW STOOTIL?,MMAGEE,CGERARD,?ISWEENEY,PROBINSON,?,MPARKER,AWILLIAMS
B/ROW MHILL,PWELCH,?,JJURKIN,DBRIDGE,JSWIFT,FATHER MARSH,?,WHAGGERTY,?,JHARRISON,ABRADSHAW
lad missing is john foster girl 3rd fom end back row i think is angela lawson.good one mick keep going
Comment by: peter glover on 13th September 2009 at 16:34
great photo eric brings back memories i remember having that pic taken near the old school dinner hall i havent seen it for years 2 ouestions though why was little john prescott in it and does anyone know what happened with bobby corbett who died in 2007
Comment by: peter glover on 16th September 2009 at 19:14
eric and mick i think marie donnelly,barbara sherrington and shirley kelly may be on here somewhere
Comment by: julia jurkiw on 31st December 2009 at 15:48
memories i prefer to forget
Comment by: Alan Doherty on 6th November 2010 at 20:25
I remember Johnny Prescott singing at the front of the class for everyone. Tulips from Amsterdam if I'm not mistaken. Best wishes to everyone
Comment by: Chris Southworth on 9th November 2010 at 21:36
By the crin, Mick, you've got a good memory and still good eyes.
Comment by: KathHWal on 14th November 2010 at 17:33
Julia Jerkiw "memories I prefer to forget", each has their own opinion, but these memories and past acquaintances are prevalent to you it's part of everyone's "life".
Comment by: peter glover on 19th November 2010 at 16:24
Alan, johnny prescott was singing Tulips from Amsterdam when he was 4 and was still singing it the day he left cardy.he was in the banner one saturday he even sang it there without music as karaoke guy didnt have it
Comment by: mick thomas on 21st December 2010 at 07:26
chris
they say the good old days , and that is true
Comment by: juia jurkiw on 31st December 2010 at 15:44
Comment by: julia jurkiw on 19th January 2011 at 00:53
By the way Kath, I think the word you were looking for is "relevant."
Comment by: mick martin on 25th August 2011 at 21:46
brouht back memories seeing all those names still see johnny carr good photo eric
Great to see comments from all the characters I remember. I still could name the whole rugby team. How are you ...lads?
Comment by: chris southworth on 7th October 2011 at 19:33
I did hear a while back that Bobby Corbett had died.Anybody else heard the same? Is it true?
Comment by: Peter Glover on 21st October 2011 at 16:38
Chris,Bobby died in 2007 age 51 from cancer.He used to hammer us all when exam times came around,it was a case of who came 2nd.R.I.P. Bobby
Comment by: Chris Southworth on 21st October 2011 at 19:16
Aye, R.I.P. Bobby.51! No age that is it? I think I saw him in my local pub, The Alex in Hindley Green about 10 yrs ago with some friends or family.
By the way,I think it was me who used to come 2nd most of the time! (No smiley things on here like on mobiles!)
Comment by: mick thomas on 8th April 2014 at 07:27
sad to see the sudden death of john (jimmy) hulton , attended he`s funeral. what a good guy he was , rip jimmy
when did john die mick not heard anything with living in haydock
Comment by: mick thomas on 18th November 2014 at 11:33
eric john hulton died 17th march 2014
Comment by: Peter Glover on 18th June 2016 at 12:39
Sad to hear this morning of the death of Eric Smith after a brave battle with cancer R.I.P. Smithy.