Photos of Wigan
Photos of Wigan
Album Contents
Album Contents
Wigan Album
St William's RC, Ince
14 Comments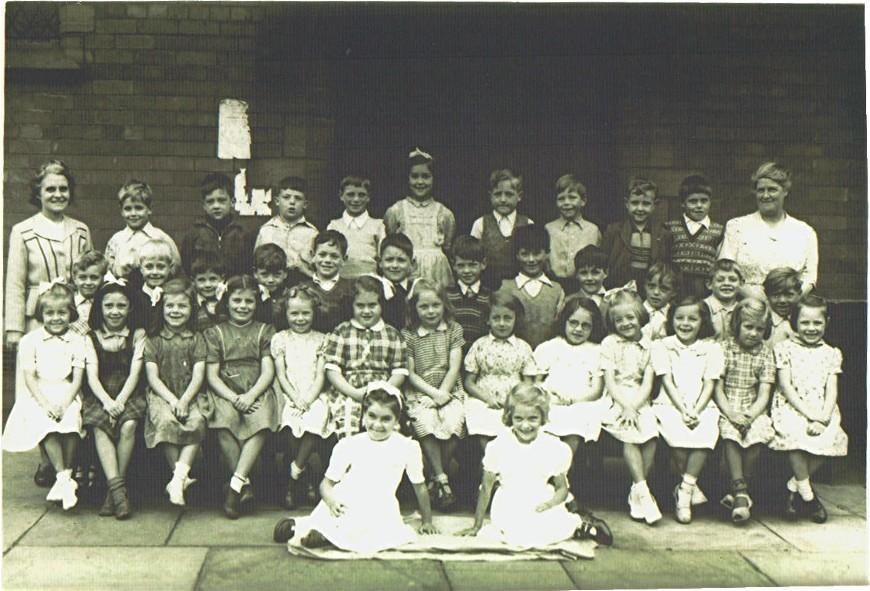 St Williams infants class
Photo: Jack Lawton
Views: 8,090
Item #: 7184
Taken about 1952, my sister Lilian is in the centre of the back row. The only other person I recognise is Kathleen Groves. She is sitting second from the left on the front row.
Comment by: terry o'neill on 2nd September 2008 at 19:45
hi jack,thats bert clough and joe crook either side of your sister,steven dainty is second from left middle row and the fifth from left middle row i think its tony meadows,not to sure about the last name
I am Joe Crooks daughter, we love this photo and would like to see more. My dad died in March 2008
Comment by: Dave Thompson on 24th November 2008 at 17:06
1st left seated Margaret Daniels 4th from the right seated her twin sister Mary
I wasn't in this class I was in the year below but recognise some faces. The teacher on the left is miss Byrne and Mrs Molyneux on the right. My cousin Rita Bullough is sat down at the front on the right hand side. Behind Rita 6th from the right on the 1st row is Rita Mc Coobes next to her 7th from the right is Millie Fitzgerald. Also on the first row 3rd from the right is Mary Aspinall and 4th from the left is Margery Molyneux. On the second row 5th from the left is Tony Meadows.
Comment by: Gerry on 25th July 2009 at 23:35
Its Mrs (Leah)Mulligan Maureen not Moleneux
Comment by: JOSIE PENNINGTON BECKETT on 19th September 2009 at 13:36
THE GIRL SECOND ON RIGHT FRONT ROW SEATED IS MY SISTER SANDRA BECKETT WHO SADLY PASSED AWAY TWO YEARS AGO SHE WOULD HAVE LOVED TO SEE THESE LOVELY PHOTOS.
Comment by: Iris Fellows (Nee Cusick ) on 11th October 2010 at 11:34
I am third from left front row great to see every one after so long
Comment by: Iris Fellows (Nee Cusick) on 11th October 2010 at 11:41
This is me I am third from the left in this photo.
Comment by: josie pennington nee beckett on 22nd November 2010 at 01:29
aww iris your sitting next to my sister sandra sadly not with us now these pics are wonderfull hope people will keep putting them on.
Comment by: jcf on 28th March 2011 at 20:10
Back Row: Miss Beirne, D.Braddock, J.Bannister, G.Sharples, A.Clough, L.Lawton, J.Crook, D.O'Neill, T.Jolley, J.Nuttall, Mrs Mulligan. Middle Row: P.O'Neil, S.Dainty, C.Danson, D.Liptrot, A.Meadows, F.Simpson, J.Fleetwood, F.Forkin, C.Ryding, K.Dawber, T.Dutton. Front Row: M.Daniels, K.Groves, I.Cusick, M.Molyneux, M.Gussow, M.Jones, A.Fitzgerald, R.McCoombes, ?.Lusher, M.Daniels, M.Aspinall, S.Beckett, ?.Garrrity. At the front: M.McHugh and R.bullough.
Comment by: Simon Fairhurst on 17th February 2012 at 19:12
Hey, this photo is brilliant! the young girl on the right on the front row is my grandma "Mary Garrity" although her name is "Mary Parry" now :)
who's that little princess on the front row on right hand side. Oh i know, its my mum Mary Parry (Nee Garrity) WHAT A LITTLE STUNNER, know where i get my looks from now :)

Just told her about this, she's really excited to see the photo, she remembers most people, does anybody remember her?

and does anyone have any more photos like this? if so, please upload them as we don't have any!!
Comment by: josie on 16th November 2012 at 01:04
sorry iris, you are not next to my sister sandra beckett i mixed up my left and right ha ,funnily enough though my daughter vicky married a lad called ian roby, his mum was pauline cuisick prob wrong spelling,she came from lower ince and had a brother peter are they relaited to you ? they went st williams x
Comment by: Ernest nuttall on 1st October 2014 at 18:28
My brother back row next to teacher on right John