Photos of Wigan
Photos of Wigan
Album Contents
Album Contents
Wigan Album
St Thomas More, Newtown
13 Comments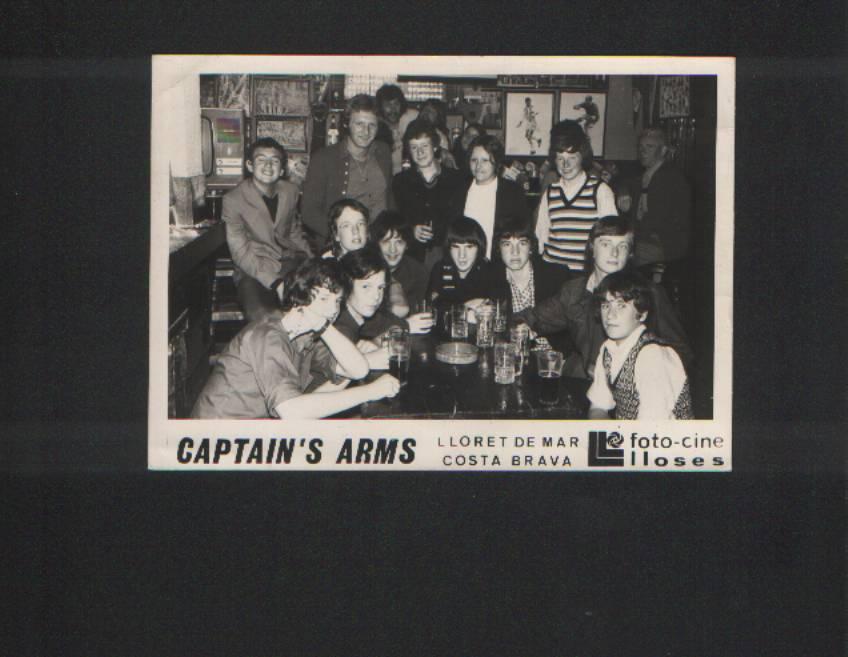 St Thomas More 5th Year School trip to Lloret De Mar June 1972
Photo: David Lamb
Views: 4,044
Item #: 7130
Fifth Year School trip to Spain. Pupils:-
Back: Graham Smith, John Grady, Chris Rourke
At table L to R: Paul Collier, Neil Reardon, John Burgoyne, Ronnnie Crowe, Tony Fairbrother, Dave Lamb, Martin O'Neil and Brendan English.
Comment by: Mark Conroy on 23rd August 2008 at 20:52
You could have smiled Dave.
Comment by: judith Holgate on 18th September 2008 at 22:40
Dave maybe you were suffering from the inevitable hangover that came with a holdiay in Lloret. I remember Brendon English, and lots of the faces but not the names. great photo well done Dave, any more??
I went on a trip to Spain with the school was that the one with the girls school staying on the floor above us.
Comment by: david lamb on 14th August 2009 at 07:55
I do remember having a sore head on a few ocassions and yes, there was a girls school from Bradford staying on the floor above ours, it was a holiday never to be forgotten! :)
Just spotted this photo I was in the same class but did not go on this trip, would love to hear from anyone who remembers me, Tony Thompson
Hi thommo remember me,I didn't go to lloret with the guys but I wish I had have done.they look like they had a ball,do you see any of the guys
Hi Tony yes i do remember you but doubt if i would recognize you now, i now live in Liverpool and haven't seen anyone from school, hoping someone will organize a night out sometime, great to hear from you, keep in touch, Tony.
Hi Tony, are you the very tall Anthony Thompson who lived on Scot Lane and had a younger brother?
Comment by: Tony Thompson on 21st November 2012 at 16:50
Hi Dave yes that's me I used to go to your house nearly every week if you remember, good to hear from you, let me know if anything is being organised, of if you want to meet up for a drink and chat. Tony.
Comment by: Tony hughes on 25th December 2012 at 18:51
Hi dave,tony and other tommy more boys I think it's time we got together for a drink,there's a few of the class no longer with us and anyway it'll be a laugh.let me know,between us we should know where most of the lads are
Hi Tony and Tony, sorry I haven't been on the site for a while, please email me .. davidlamb@blueyonder.co.uk and we'll sort out meeting up for a drink, cheers.
I think John Burgoyne could be my cousin. If so his dad Jimmy was my mum's sister Irene Burgoyne (became Ackers)he had a brother Neil and two sisters Carol and Kathleen, would love to get in touch
Comment by: Martine Jones on 12th July 2019 at 21:33
I remember this so well as though it was yesterday, we weren't lucky to go to Spain but had to go to Lourdes!