Photos of Wigan
Photos of Wigan
Album Contents
Album Contents
Wigan Album
St Thomas More, Newtown
17 Comments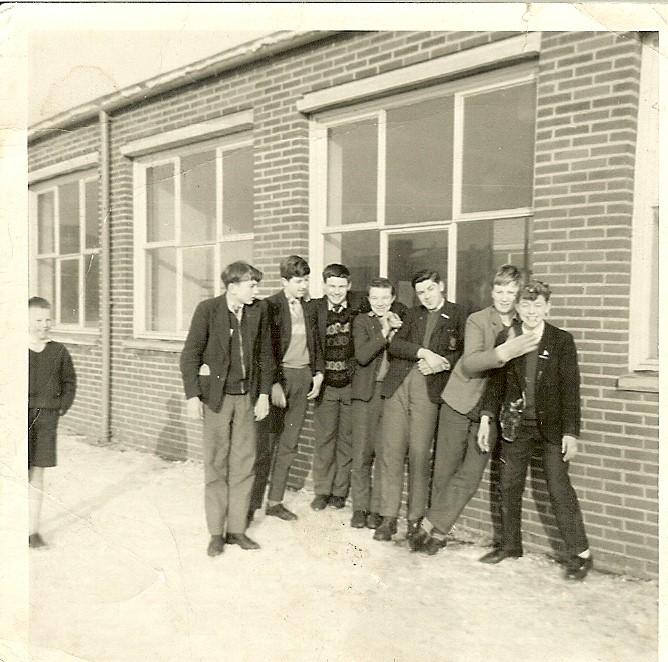 School Yard
Photo: Joe Bell
Views: 7,852
Item #: 7123
Our gang, Michael King, Barry Boyers, Dennis Berry only names I can remember.
circa 1961
Comment by: catherine on 25th August 2008 at 20:29
michael is third from right
Comment by: Joe Bell on 14th September 2008 at 21:15
Hi Catherine, do you know how Michael got on after school?
are you related ?
cheers Joe
Comment by: catherine on 15th September 2008 at 11:03
no joe were not related i used to go out with him when i was 15-16 a long time since not seen him in years.
Comment by: Joe on 20th September 2008 at 21:36
Hi Catherine,
thanks for the info..I havnt seen Mike since school and just wondered how he had got on, cheers Joe
Frank Smith is 2nd from the left, Dennis Berry is far right
Antony Torpy(torchy) second from right, Malcolm Mcmarn third from left not counting the little chap half on. That looks like Albert Garry on the left of the group. Iknow the chap in between Albert and Malcolm but his name wont come to mind
Comment by: spud on 21st October 2009 at 21:52
eddie magrath 3left stan tighe 5left victor stuart 6left william gill last all in my class at st josephs
Comment by: Joe on 6th December 2009 at 17:50
Thanks to all taking an interest in this photo. I just looked again and first on left is Dennis Derby, funny how the old brain box works.
Comment by: Joe Bell on 6th December 2009 at 18:02
Its now official (sorry Spud your wrong) Left to right
Dennis Derby, Frank Smith, Malcolm McMarn, Barry Boyers, Michael King, Anthnoy Torpy, Dennis berry. photo by me Joe
Thanks to all for the memmory jog
Comment by: bill hudson on 24th March 2011 at 09:53
Hi spud I remember william gill, eddie mcgrath, john kelly, geoffrey cousins, victor stuart, john pearson,ray pheonix, helen westhead and Miss Reddington. Some from St Josephs some from St Thomas More. Frank Bramwell was so kind and I still have a reference he wrote for me when I left
Comment by: Frank Smith on 28th June 2011 at 22:52
Hi, Just seen this photo it seems like a long time ago when we were at tommy moore as we called it. I wonder if all of us are still on this planet hope so. Great picture thanks for the memory Joe. Frank Smith
Comment by: Carl Boyers on 4th January 2012 at 11:24
Sadly, Barry Boyers, my brother, died in 2000.
Comment by: FRANK SMITH on 19th January 2012 at 16:12
Hello Carl
Sorry to hear about Barry thanks for the message...best regards Frank
Comment by: stan aspey on 16th February 2012 at 05:45
Remember Albert Garry&Malcolm Mcmarn had many a fight with Malcolm at ST Cuthberts&Tommy more not seen them since we left school at 15yrs.What class were you in joe your name doesn't ring a bell.
Stan Aspey
eddie mcgrath was my dad, died aged 31 in 1977
Comment by: Joe on 16th August 2014 at 21:53
Hi Carl, also sorry to hear Barry died, it must be that time in our lives as I recently heard of 4 old pals gone west. Stan, I was in the B stream all the way through school,last teacher was Mr Anderton. Went into electronics after school. Just about to move to New Zealand where 2 of my kids live.