Photos of Wigan
Photos of Wigan
Album Contents
Album Contents
Wigan Album
Notre Dame School, Standishgate
9 Comments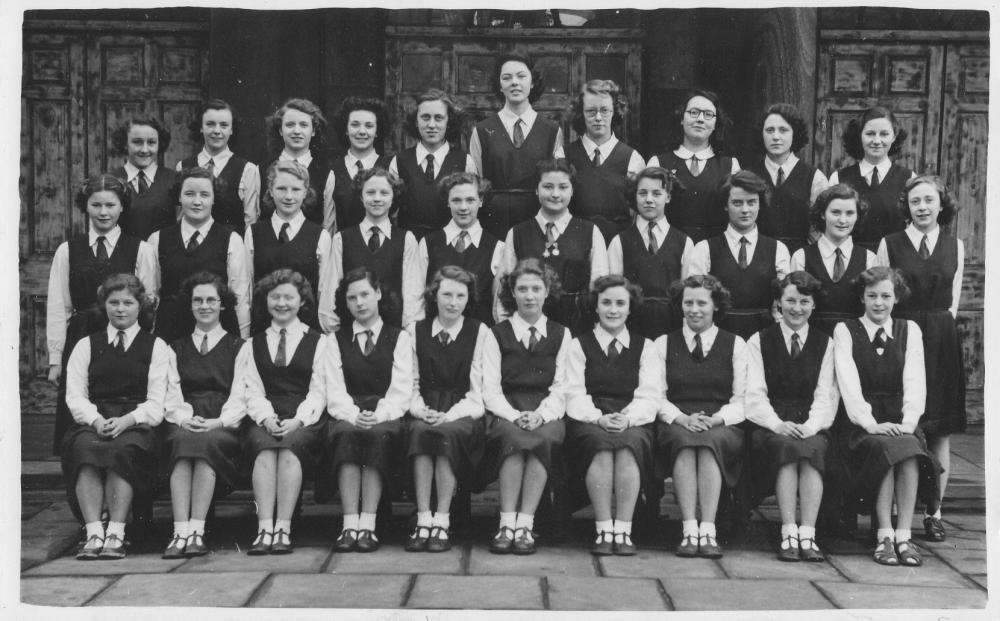 Notre Dame High School Form Upper V 1950
Photo: Maureen Lester (nee Mitchell),
Views: 8,212
Item #: 6961
Back row left to right:
V. Hunter,E.Corcoran,K.Bullough,M.Whelan,R.Major
M.Hawkins,M.Pilkington,A.Fox,S.Ashurst,
J.Aspinall
Middle row: H.Orrell,M.O'Donnell,L.Barrow,
M.Hartington,F.Grundy,J.Rothwell,B.Pickup,
H.Gaskell,T.Dunphy,M.Lonsdale.
Front row:M.Mort,H.Gore,B.Braddock,M.Downey,
A.Blackburn,M.Jarvis,E.Kay,J.Ashurst,E.Gaynor,
M.Mitchell
Comment by: Maureen Lester on 5th August 2008 at 11:22
I spent 5 happy years at the Convent from 1945 to 1950. It was a pity it was demolished as it was a lovely building both inside and out. Does anyone recognise themselves from the photo? - that's me, front row lst on right! Maureen Lester (nee Mitchell)
Comment by: Margaret Wall on 5th August 2008 at 21:50
Great picture Maureen. Everyone looking very prim and proper for the photographer.
Comment by: B.Cherrington nee Braddock. on 3rd September 2008 at 21:16
This brings back memories,Sister Edith ,Sister Rose Julie and Sister Julie Ursula spring to mind, I still see Maureen Mort and Hilda Gore sometimes.
I remember it well!!! Anyone got my Year group? 1947-54
Comment by: christine atherton on 4th May 2009 at 11:53
Lots of memories of the convent-
I was there 1959-1964, anyone got any photos of this period
Sister Marie-Therese was the headmistress, a formidable lady!
Does anyone remember Sybil Kearney? She is 74 now.
Comment by: Ann on 23rd February 2011 at 01:20
Does anyone know if photographs of the stained glass 'house' windows (in the Salle) exist? If anyone has photos, please post them to this website. Thanks (in hope).
Does anyone have photos from 1950 to 1955?
Comment by: npl on 18th March 2012 at 02:16
I was there 1952 to 1958 has anyone got any photos.