Photos of Wigan
Photos of Wigan
Album Contents
Album Contents
Wigan Album
St Paul's C of E, Goose Green
18 Comments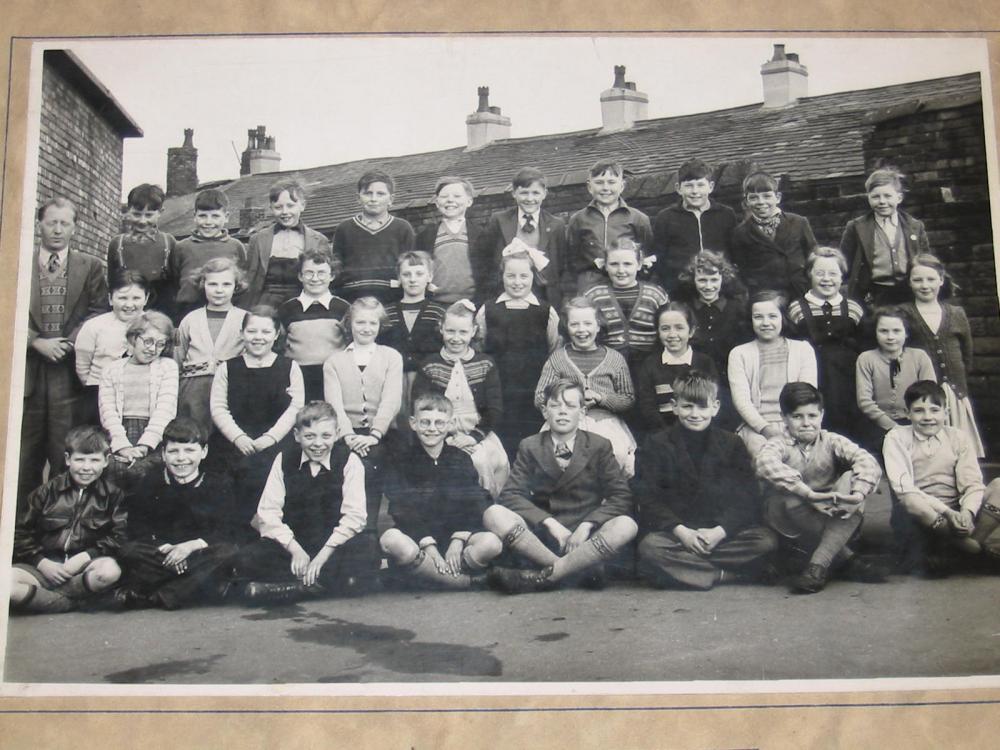 St Paul`s class photo (1955)
Photo: Margaret and Haydn Ferguson
Views: 7,604
Item #: 6911
This is a photo of Mr Gibson`s class of 1955,on the back row far right is Haydn Ferguson and on the second row up third from right is Margaret Aspinall ---now Mr and Mrs H.Ferguson.Married at St Paul`s church just 13 years after the photo( 1968)
Comment by: tony on 28th July 2008 at 16:01
sec left back row j bradshaw next to him r green. second right back row k lowe. sat down on floor first left b johnson next to him w bradshaw,can you name any more margaret
Comment by: Margaret and Haydn on 28th July 2008 at 22:08
Quite right Tony ,as well as we can remember these are the names of all of them except one--all L to R
back row--John Smart-Jimmy Bradshaw-Robert Green-Robert Davies-Denis Nichols-Douglas Shaw-James Buckley-John Britten-Kenneth Lowe-Haydn Ferguson
Third row-Maud Kettle-Ann Tither-Enid Farrimond-Edna Silcock
?????-Irene lowe-Marie Hardwick-Janet Smart-DorothyLathom-
Second Row--Kathleen Slater -Edna Davies-Rita Nicholson-Barbara Johnson-Carol Lowe-Margaret Aspinall-Evelyn Catterall-June Forshaw
Front Row--Bernard Johnson-Walter Bradshaw-Arther Simm-Terance McGuire-Douglas Owens-Derek Aspinall-Peter Ackers-Herbert Pimblet
Comment by: J B on 29th July 2008 at 19:43
Very good picture Margaret and Haydn. I started St Paul's in 1955, but don't remember a Mr Gibson. Have you any more pic's of the old school ?
Comment by: J.S on 1st August 2008 at 21:34
Great photo, i started at St Paul's in 1953, i remember Mr Gibson very well, i think he taught Standard 3. I remember quite a few faces on the photo even though i was a couple of classes below this one.I lived on Goose Green from birth(1948)until around 1964. then i lived at Worsley Mesnes until 1968 when i married and left the area. I remember there being a row of cottages which ran parallel to the front entrance to the Junior part of the school, does anyone remember what the name of the row was that they were on? If anyone has any photos of St Paul's pupils from 1953/54 it would be good to see them.
Comment by: jim crews on 27th August 2008 at 12:00
is that joan robinson middle third row
Comment by: dianne on 27th August 2008 at 21:42
recognised douglas before i even saw the names i started at st pauls in 1963 to 1969 i also remember mr gibson he was a lovely teacher
Comment by: BARRY GASKELL on 10th February 2009 at 14:30
I remember most of the faces in this photo and I remember the school very well. I started St Pauls in 1950, and then went on to Highfield school. I used to go around with Walter and Jimmy Bradshaw. I think the row of houses mentioned was called school terrace.
Hello Barry ,thank you for leaving a comment to our photo and you are quite right the row of houses was School Terrace .I sort of remember you from way back then, your name more than your face. You were at St.Pauls and when I went to All Saints in Wigan we had a boy start in my class who came from South Africa and his name was Barry Gaskell .Then when I started work at Wigan Printing and had been there a few years we took on a printer as a replacement for someone who left and his name was ----Barry Gaskell .So its good to know you are still around
Hey Carole(Sis) didn't you work at Wigan Printing for a while. I see Haydn Ferguson(sorry I don't know you Haydn, but sound familiar) mentioned it and also went to All Saints. Any memories or connections? This is the first photo I have seen on Wigan World showing Mr.Gibson the teacher. I must have been in his class about 1954??
Comment by: BARRY GASKELL on 29th March 2009 at 14:47
Hi Haydn I do remember you and your wife Margaret. Do you remember Ian Mather he used to live near you on Warrington Road on the opposite side to you further down towards Robin Park. I am doing well and now living in Portsmouth.
Hello Barry ,Portsmouth eh thats a long way on a bike from Wigan !!!Have you lived there long? Margaret and I still live opposite St Paul`s school 3 doors from the chippy .Yes I do remember Ian Mather I seem to remember that he had an older brother David .But I have never seen him since I left St Pauls .Margaret tells me that we were both wrong about the houses that you can see at the back of the photo .It was Sidney Street,School Terrace was at the front of the school overlooking the old playground .Its all changed now of course and the only thing that is left is that old stone thing that we used to play on that was in the middle of the old playground .Our daughter went to St Paul`s and now our grandson
Comment by: Barry Gaskell on 4th April 2009 at 16:21
Hi Haydn. Hope you are well. I have lived in Portsmouth for 25 years now, about 2 miles from Southsea front. And you are right it is a long way on a bike. I work in estate management for the local council. I am hoping to retire next year though.
Comment by: Janet Green on 6th April 2009 at 20:19
My brother Robert is in this picture. I didn't recognise him at first, he is so young
Comment by: Carole Walker (nee Fairhurst) on 21st April 2009 at 13:22
Hi Haydn, I also went to St. Paul's and then All Saints. I left school in 1965, an Easter leaver and started work in the office of Wigan Printing Company then left at Christmas that year to work in the offices at Rathbones Bakery. I am trying to bring you to mind but not being there long and it WAS so lone ago hey? Did you work in the poster department, I seem to remember someone with a name like your in there and I think this person went out with a girl who also worked there with long black hair. I was replacing the young woman in the office who was about to go on maternity leave. Her name was Lynne Green and the baby she had was Warren Green who grew up to murder his wife Julie, they lived in Gidlow Lane. Does any of this ring a bell with you. I remember the Ostick brothers, Jack and Bert, owned the business and Jeffery, the son of Bert came into the office occasionally.
Comment by: Haydn Ferguson on 12th July 2009 at 21:38
Hello Carol -at Wigan Printing I worked on the middle floor as a bookbinder with Reg ,Harry and Margaret and all the other girls.I remember Lynne leaving to have her baby and someone else taking over ,but as you say you were only there for a short time and it was over 40 years ago Margaret and I cannot place you.
Yws it was Bert and Jack Ostick who owned it ,and sadly Geofrey died about 3 years ago
Jack Lomas who was the works manager is still alive and lives in Standish
I still work as a bookbinder in Wigan ,and should retire in August next year
Margaret and Haydn
Comment by: Carole Walker on 28th July 2009 at 11:46
Hi Hayden & Margaret, thanks for coming back. Sorry to hear that Geoff died, he wasn't that much older than me so he must have only been in his early 60s? My own husband died over 13 years ago now aged 45. I work as a co-ordinator in a department of Ingersoll-Rand in Hindley Green. I have been here for 9 years and could retire this year but I will carry on a while yet. Seems strange to talk of retirement when this memory was the beginning of my working life as the job at Wigan Printing was my first from leaving school. Jack Lomas must be a fair age now and still going! It's actually 45 years since I worked there. Scary isn't it?? Well, take care both of you and happy retirement. Best regards Carole
Hi, I just googled Warren Green and came across this. Julie Green was my half sister. She was sadly adopted and I never got a chance to meet her. We discovered that she had been murdered in 1991. It was a massive shock to us as we had been trying to trace her. I wonder if anyone knew of Julie or her family? Or has any information about Warren Green?
Comment by: Julie on 14th November 2014 at 20:51
Thank you for this picture of my dad (Herbert Pimblett)
He turns 70 in Dec 2014