Photos of Wigan
Photos of Wigan
Album Contents
Album Contents
Wigan Album
Abraham Guest
14 Comments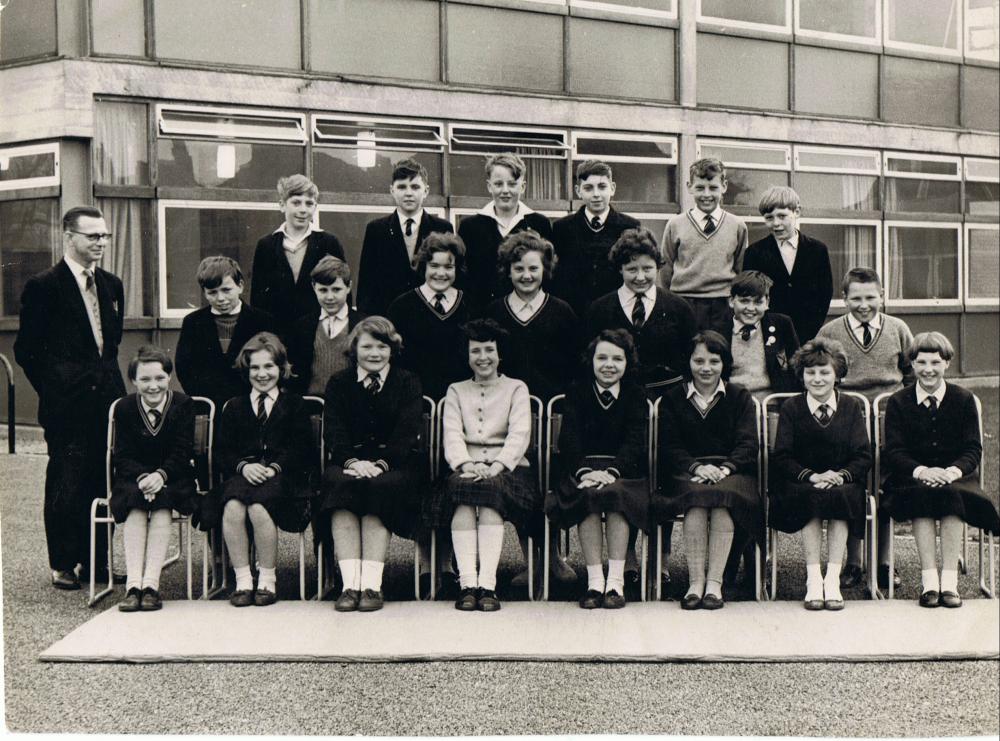 Abraham Guest High School about 1962/63
Photo: sharon weir
Views: 11,704
Item #: 6528
Bottom Row L-R
1 ?
2 Anne Gore
3 Eileen Davis
4 ?
5 Eileen Smith
6 Lynn Bannister
7 Marie Sterio
8 ?
Second Row L -R

1 Brian Gough
2 ?
3 ?
4 Glenys Green
5 ?
6 ?
7 ?

Back Row L - R

1 ?
2 ?
3 Pimblett
4 ?
5 ?
6 ?

Sorry carn't remember the Teachers Name

Comment by: LYNNE on 4th July 2008 at 11:43
THE TEACHER WAS MR. DAVIES
Comment by: Rod on 16th July 2008 at 20:18
Bottom Row L-R:8-Valerie Sudworth.Second Row L-R:5-Audrey Banks? 6-Granville Penk 7-David Kidd.Back Row L-R:6-Phil Gordon.
Comment by: ANN (GORE) on 25th July 2008 at 21:42
bottom row:-ANN WARBURTON, ME, EILEEN DAVIES,LINDA MORLEY,EILEEN SMITH,LYNNE BANNISTER,MARIE STERIO,VALERIE SUDWORTH second row:- BRIAN GOUGH JIM FARLEY BARBARA HOGAN GLENYS GREEN AUDREY BANKS GRANVILLE PENK DAVID KIDD
back row:- DAVID MIDDLEHURST ? UNSWORTH PIMBLETT DAVID ASPEY BRIAN HOLLAND PHILIP GORDON TEACHER MR.DAVIES
Comment by: Wayne Rooney on 25th March 2010 at 20:15
Second-Row 8 Granville Penk
Eileen Mary Smith - wow, is she sweet!- she broke my heart 40 years ago - does anyone know where she is now,please?
Comment by: BARBARA SHEARD (PARKINSON) on 6th June 2011 at 16:19
Teachers name was Mr Jones, used to be PT, also great friend of Mrs Bisbrown - lady PT teacher
I'm at the back on the left with the light grey jumper! Mr Davis was our Form Teacher. Can anyone tell me the name of our head in that era? I remember he drove a green Ford (Prefect?) and lived in Roby Mill. I now live in Manchester and would love to meet up with any of these characters. Brian
Comment by: Neil Rigby on 18th February 2014 at 21:21
Brian, the headmaster's name was Dean Stockwell.
Comment by: Brian Holland on 23rd February 2014 at 00:07
Thanks Neil for the information. Of course Mr Stockwell. Sad to note that the Abraham Guest school has now been demolished. Is anyone out there keen to have some kind of re-union? I was only there from Sept 1961 29 Nov 1963 but have fond memories of David Grimshaw, Valerie Sudworth, Anne Gore, Brian Gough and Brian Kidd. Where are all now?
Middle row, second in on the right is Granville Penk, my uncle. Brother to Tommy, Harry, Doreen and Jean. Harry played for Wigan Athletic.
Back row 2nd from the left is Keith Armstong my second cousin. Keith lives in Ulverston now. Just retired from the water board
The teacher is Mr Davies. I remember his initials that appeared on our timetable GED. He died following a heart attack in the classroom.
Mr Stockwell's name wasn't Dean it was Tim.
Comment by: david middlehurst miggy on 6th September 2017 at 14:17
back row far left good to see everyone brings back lots ofmemories
Comment by: John Warburton on 18th March 2021 at 01:57
Bottom row 1
Anne Warburton