Photos of Wigan
Photos of Wigan
Album Contents
Album Contents
Wigan Album
Gidlow School
6 Comments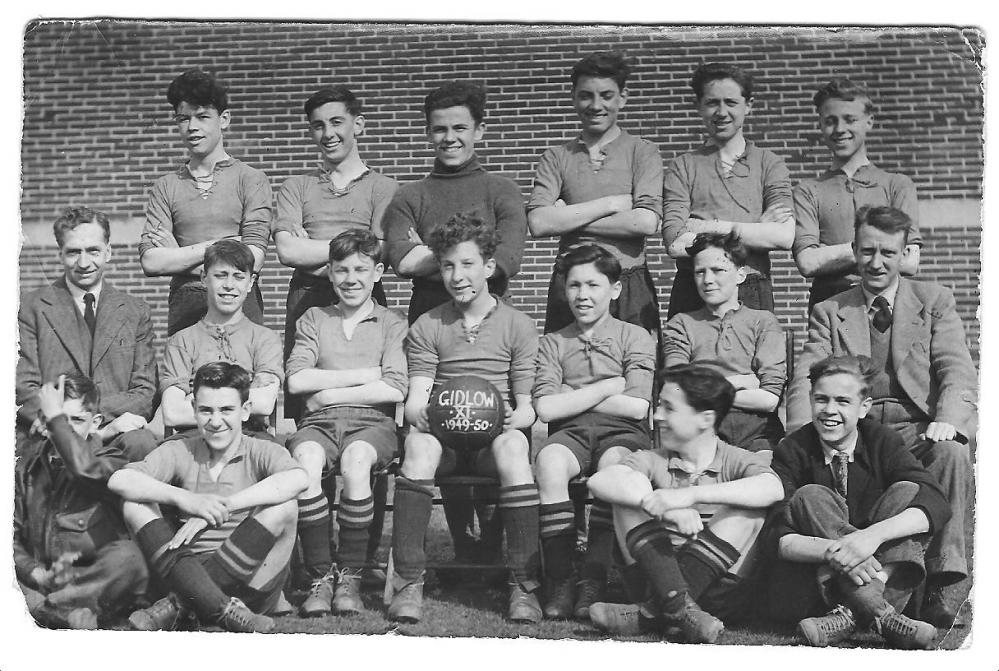 School Football Team 1949-50
Photo: Fred Sentance
Views: 4,427
Item #: 6470
Gidlow Football Team.I am middle row lh side next to Mr.Price the headmaster.Harry Mcnally is sitting in front of me,he was once manager of the Latics.Jeff Heaton is on the opposite side,Mr.Sharrock is the teacher on the right.I think it was Don Humphries who was captain.
Comment by: Brian Acton on 26th June 2008 at 18:59
Fred Sentence.
Really good photo considering it is nearly 60 years old. Can you not name more of the team, and i must say these type of photo's is what Wigan World, in my opinion, is all about. Old school and works photo's etc are far more interesting to the majority of WW devotee's than aunty polly on holiday in Blackpool etc. Have you any more Gidlow school photo's Fred?.
Comment by: Art on 27th June 2008 at 15:45
'49 was the year I started at Gidlow. Horace Price, I remember well, & Don Humphries.
Jack Sharrock, I think was a friend to all at the school, & as far as I know, he never forgot a pupil. His memory was marvellous. I was into my 60's when I used to spend an afternoon sometimes on Mesnes Park bowling with the pensioners. Jack turned up one day & asked me how I was going on, addressing me with my first name....I was gobsmacked, never seen him for abot 50 years.
I only found out about a function after it happened. Some of the lads from Gidlow arranged without his knowledge a "This is Your Life" party at the Railway Club in Wilson St. I believe they had a smashing time, Jack was overcome.
He must have been one of the best persons I ever met, he certainly left an impression on me. His wife was a bowler too, & so was mine, so through that I got to meet her too, a lovely woman. Jack's gone now, but not forgotten!!
Comment by: Art on 28th June 2008 at 00:48
The one over your left shoulder Fred, is that Colin Pennington?
Comment by: Fred Sentance on 28th June 2008 at 15:27
Hi Art,not sure of some of the names.I think it is John Bennett front right with the coat,and i think it was Gordon Buckley behind him.I would like to have gone to the party for Mr.Sharrock,he was great with me to.
Names?
Here are a few that I remember I hope this helps
Back row: ??, Colin Pennington, Jim Sharrock, ?Wood, ??,??,
Middle row: Headmaster Horice Price, Fred Sentance, ??. Don Humphris, ?Walsh, Gordon Buckley, Jack Sharrock Teacher.
Front row ??, Harry McNally, Jeff Heaton, John Bennet.
i recognise jeff heaton,john bennet,fred sentance,gordon buckley,and harry mcnally,harry was the most fanatical,we had football cancelled one week and he cried,he was the best,i still carry a scar from jeff heatons boot,i lived close to jack sharrock,what a great bloke.