Photos of Wigan
Photos of Wigan
Album Contents
Album Contents
Wigan Album
Sacred Heart School, Springfield
7 Comments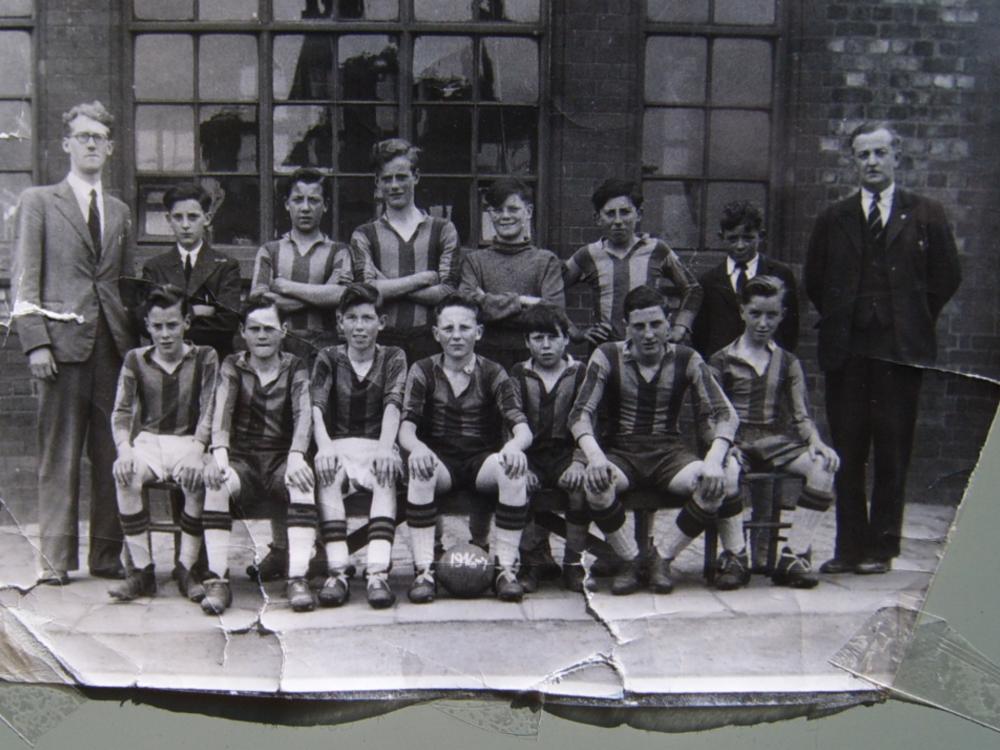 1946-47 Sacred Heart Football Team
Photo: Allan Bolton
Views: 4,096
Item #: 6425
Back Row Left - Right Mr Larkin, T O'Donahue, G Thomas, B Moxham, P Lynch, E Moorhouse, K Dooney, Mr Kennedy,

Front Row Left-Right B Lawson, T Cullen, J Philbin, W Silcock, J McMahon, F O'Brien, A Bolton
Comment by: DON FREEMAN on 23rd June 2008 at 11:10
WHAT A CRACKING PHOTO,IT BRINGS BACK MEMORIES,SOME OF THEM WERE IN SPRINGFIELD BOYS CLUB.
Comment by: Frank Healy on 24th June 2008 at 09:00
I'm in complete agreement with you Don on this one. Brilliant to see a photo of Pop Kennedy and Mr Larkin. Don't know any of the players (I was only 3 in 1947)but remember the Springfield Boys Club well.
Allan, I take it that you're the A.Bolton in the photo.
Comment by: Art on 24th June 2008 at 18:13
[b]It was "Conk" Kennedy when I was there, but I did a bunk & went to Gidlow in '49. That team would be about my brothers age, Bill Silcock was in the same class, I also remember Philbin, & Mr larkin of course...Nice chap he was. Conk warmed my hands a time or two with his cane, it was like goin' to jail, gettin' to his office. Is the A Bolton from Woodhouse Lane, near the dogtrack?[/b]
Comment by: A.Bolton on 24th June 2008 at 19:25
No Art.The one who lived near Woodhouse lane dog track was Bernard Moxham.
Comment by: DON FREEMAN on 25th June 2008 at 01:12
ALL THE FACES BRING BACK GOOD MEMORIES,W SILCOCK A BOLTON K DOONEY T CULLEN & MORE MOST FROM THE SPRINGFIELD AREA OR,BEECH HILL.& SPRINGFIELD BOYS CLUB.GOOD OLD DAYS.
Its good to see my old classmates. I was with them all through my schooldays.
Comment by: Nicola Dalgleish (nee Moxham) on 21st August 2010 at 14:39
Bernard Moxham is my Uncle. I'll make sure he gets to see this, I'll tell my Dad Kevin.