Photos of Wigan
Photos of Wigan
Album Contents
Album Contents
Wigan Album
St Matthews, Highfield
9 Comments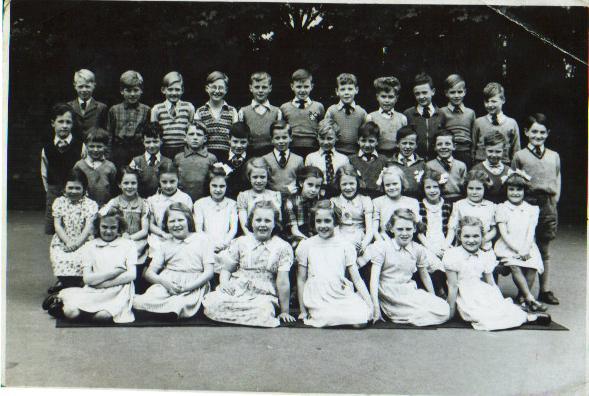 St Matthews Highfield Pemberton Wigan
Photo: Eileen
Views: 5,403
Item #: 6142
class photo 1953
happy days!Do I take it that the "Eileen" who posted these photos is Eileen Holcroft?If so,hello once again,Eileen.It must be 40 plus years since we last met.Regards,Allan.
Incidentally,for the sake of confusion,I am the young lad furthest to the right.I look as if I didn't have my false teeth in!
Comment by: Alan Davies. on 22nd May 2009 at 16:18
Is the lad 2nd row down 5th from left named Edwin Barker?does anyone remember?.
Comment by: jm on 5th June 2009 at 17:00
yes thats definetley Ed Barker
Comment by: Alan Davies on 6th June 2009 at 16:29
thanks for that,Edwins my cousin,ihavent seen him for 30 odd years anyone seen him?
Comment by: tricia on 12th August 2009 at 17:05
Hi Alan

He lives, I think, at Stubshaw Cross.. maybe he is in the phone book.Hope you find him.I was in touch with Kath until she retired recently.. by email. When she gets in touch I will tell her
Comment by: dorothy palmer on 22nd August 2009 at 18:21
the boy centre of the middle row is john swift (my brother) now living in canada. Hello alan, it doesn't seem that long ago when we were living on spring bank.
Comment by: Alan Davies on 4th September 2009 at 09:40
Hi Tricia,thanks for that i will try to get in touch with Ed ,i will have to find a phone book for Wigan,if you hear from Kath tell her to get in touch as well.My email address is,bbirchall@hotmail.co.uk thanks again.Alan
Comment by: Alan Davies on 4th September 2009 at 16:15
Hi Dorothy
how are you?well i hope ,its been a long time