Photos of Wigan
Photos of Wigan
Album Contents
Album Contents
Wigan Album
Argyle Street Council School
17 Comments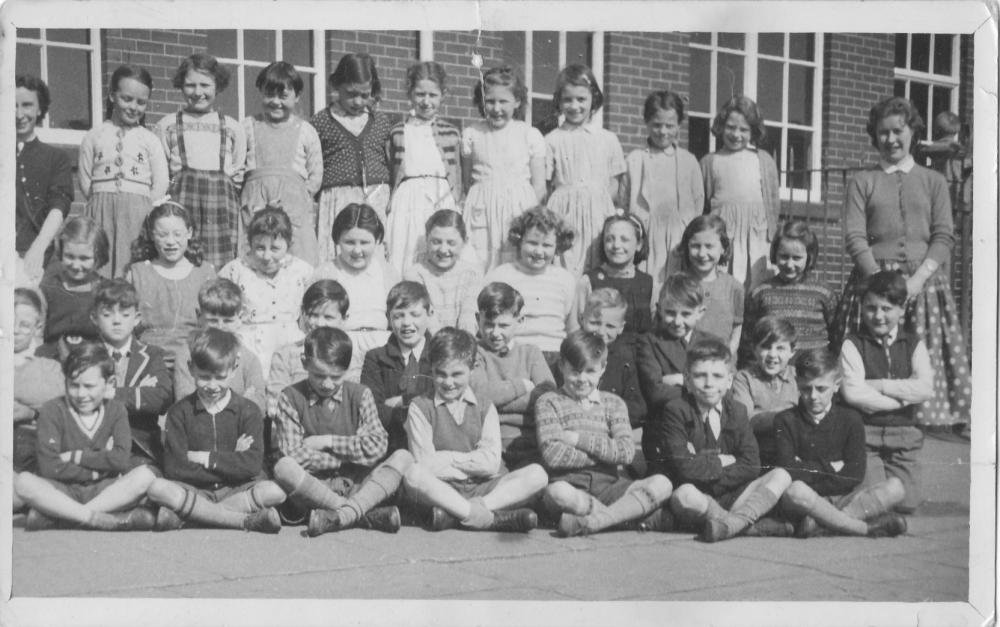 Argyle Street School
Photo: Barbara Dempsey
Views: 9,631
Item #: 6051
Taken about 1956 - Miss Barrow's class.
Isn't it interesting to compare the photos taken in the 20's with this one taken in the 50's. We can see a relatively more prosperous society in this one by the clothing they wore.And in today's society the kids have everything designed for them, millions spent on adverts to attract them and parents who want, and buy, only the best for them.
Comment by: henry7 on 3rd January 2009 at 22:07
Can't see any fat kids on the photo, they all look really healthy, unlike a lot of the kids today!
Comment by: james collier on 31st August 2009 at 18:14
that me 2nd bottom row2rd from wright,blond hair
Comment by: viv hitchen on 3rd November 2009 at 20:34
can anyone tell me if third girl from the right is beryl Hitchen(back row)
Comment by: Barbara Dempsey on 6th January 2010 at 18:03
Think it is Beryl Hitchen
Comment by: Mildred Ackers on 26th February 2010 at 17:06
Viv - Yes, the girl is Beryl Hitchen. Definitely. Next to me, Mildred Ackers.
Comment by: christine singleton ne walker on 22nd July 2010 at 22:28
hi mildred i went to argyle in 1958 left in 62 i lived in hereford rd .my mum worked in woolworth .i live in wigan now .i come to hindley when we have coffee mornings at st johns .when i saw your photo i knew it was you .hope to hear from you christine xx
Iam right at the end of the second row down,beside Carol Daniels.Margaret Gibson.[Lewis]
Comment by: joan pimblett on 13th January 2011 at 20:11
im 4th on left looking down brings back memories
third girl on right of mildred akers is enid paxford
Comment by: hilary unsworth nee meadows on 4th November 2011 at 00:36
hello mildred ackers how are you . Saw joan Pimblet in m&s other day i do remember the photo in fact i have a couple of later ones.Miss Barrow was the best taecher ever still see her in Hindley.
i am next to beryl hitchen glynis lees 4th from the right
Comment by: christine singleton. ne walker on 25th August 2012 at 18:55
hi mildred nice to see you again .long time since we were at school you havent changed older like me did you have a sister who went to argyle i will be 65 in october christine x
Comment by: Hursty on 14th December 2012 at 23:50
3rd from right front row Joe Roughley, each end o front row Malcolm Gibson n Alan Wolstenhome. Second row 5th from left Donald Dootson.
That's my brother jimmy woosey third from left front row
Third row and third girl from RHS is Eileen Ellison now Harvey!
Can anyone remember my mum? Dorothy Halsall Born 1946. In George Street Hindley and went to Argyle Street. Looking for Class pictures. Also looking for a picture of Miss Lleweylin. Can anyone help.
My mum had three sisters Margaret, Jean and Joan plus two brothers Brian and John. Thank you