Photos of Wigan
Photos of Wigan
Album Contents
Album Contents
Wigan Album
BRYN GATES PRIMARY SCHOOL 1959/60
12 Comments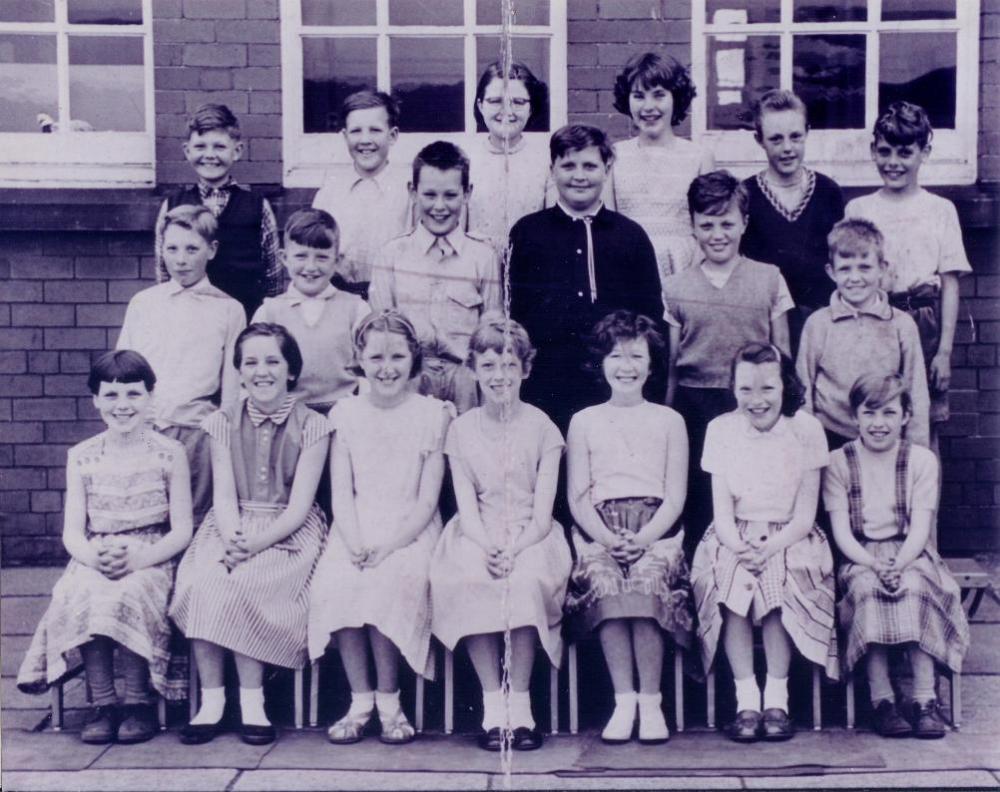 Abram Bryn Gates 1959/60
Photo: Raymond Littler
Views: 5,797
Item #: 5834
Hi, here is another photograph of the class from 1959/60. I believe the class was split for the two photographs due to it's size. (The items in the school windows are the same as in the photo already added).
Front :- David Hilton, Glyn Jones, Unknown, Pamela Drummond, Myself, Robert (Bobby) Kitson.
Middle Row :- Jack Jackson, Philip Hilton, John Harrison, John Holmes, Unknown.
Front Row :- Unknown, Rosemary White, Mildred Wright, Kathleen Parkinson, Unknown Hilton, Unknown, Unknown.
Comment by: DEREK EVANS on 10th April 2008 at 20:45
I THINK THE LAST ONE ON THE FRONT ROW IS SUSAN WILLIAMS
SHE HAD TWO TWIN SISTERS IN MY CLASS IN THE NEXT YEAR LINDA AND ANN WILLIAMS
Comment by: derek evans on 10th April 2008 at 21:02
Hi is the last one in the middle row David (taffy) Jones
Comment by: derek evans on 10th April 2008 at 22:03
sorry its alan jones not david
Comment by: derek evans on 10th April 2008 at 23:11
middle front row is Kathleen Park or Parks not Parkinson
Comment by: barbara bate on 7th May 2008 at 00:07
2nd from right is Rhoda Brett, 3rd from right is Barbara Houghton But can't see Marion her twin.
Top row with crease through face is my sister Christine Potter (now Ramsay). Whole family emigrated to Australia late 1963. Christine and I will be visiting UK in September with our mother Lena and would love to catch up with any familiar faces. Will be attending Methodist Church on September 10.
2nd from the right on the front row is rhoda wilson (my sister ) not rhoda brett(my mum )
Comment by: derek evans on 31st October 2008 at 20:14
faily sure middle row first left is David Howarth
Comment by: Beryl Bowker nee Houghton on 11th October 2009 at 23:50
the girl on the front row is barbara houghton her twin marion was off school with mumps
Comment by: JOHN HARRISON on 11th December 2009 at 16:09
Derek is the one on the left not SHEILA Williams dint she have brother as well as the twins. Mam&dad who had a chippy
Comment by: JOHN HARRISON on 22nd December 2009 at 14:21
second from left Jack Jones he lived next door to me the one on right is les bithel he also lived at beechtree houses.
Comment by: derek evans on 1st April 2017 at 20:04
Glyn Jones back row second from left was killed and it must have been shortly after this photo was taken.
He was electrocuted while climbing a pylon.