Photos of Wigan
Photos of Wigan
Album Contents
Album Contents
Wigan Album
St Judes
29 Comments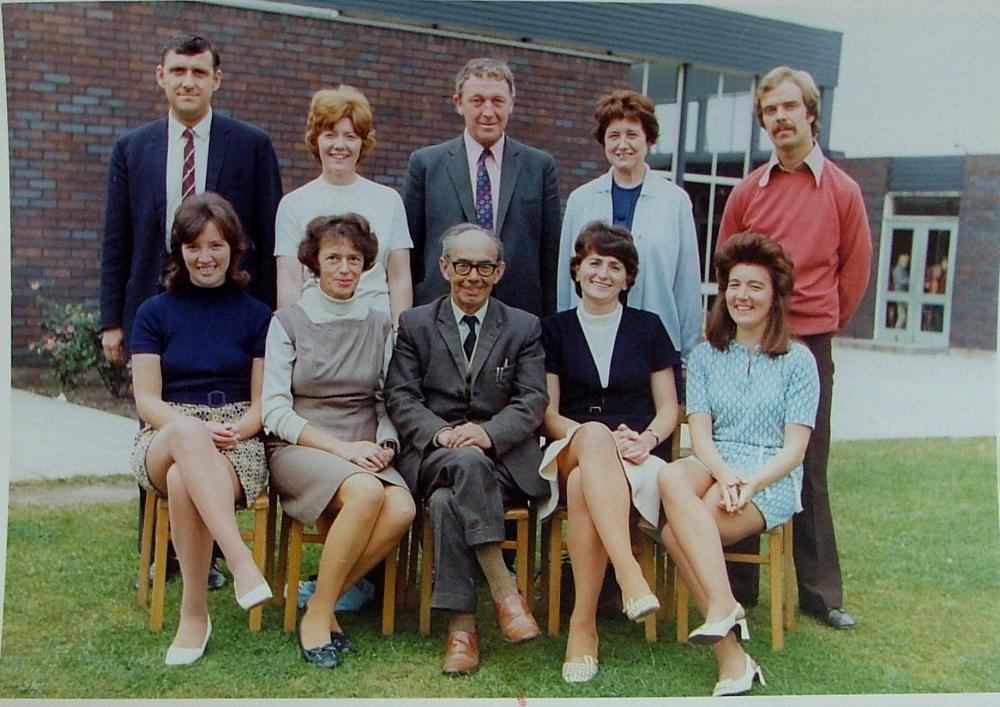 St Judes 70's
Photo: Minnie
Views: 7,599
Item #: 5614
The teachers of St Judes maybe 70's
Comment by: john on 23rd March 2008 at 23:11
the chap in the middle looks like joe moor who lived at blackrod but came from aspull jack moor was his brother .
Comment by: J P Blackrod on 24th March 2008 at 19:48
That was Joe Moore(middle back row).Miss Dunne(back row 2nd from the right) (Front row 2nd left)Miss Darwin.Next to her is Mr Caine.All from St Josephs.
Comment by: david fillingham on 28th March 2008 at 17:59
The teacher on the left of the back row is Ray Unsworth. Used to drive a Ford Anglia.

I can remember a very rude awakening at st Joseph's when Mr Caine slammed down a pencil block on my desk as he was telling the story of albert getting his head bitten off by a lion. It was just after lunch and I was drifting off to sleep.
Comment by: shaun kevill on 16th April 2008 at 23:19
the gut at the back with red jumper used to do sports after school. cant remember his name though.
Comment by: paul on 17th April 2008 at 18:37
second from left back row is that mrs leadbetter who had a daughter called kathryn
Comment by: paul on 17th April 2008 at 18:40
was the man at the back with the red jumper named mr rutter the rugby teacher
Comment by: Dee Radcliffe nee Burgess on 23rd April 2008 at 14:32
Mr Unsworth lovely man, Mrs Leadbetter, Mr Moore once made me kneel all afternoon in hall, Miss Dunne, Mr Mullaney a great guy,Mr Caine (centre) and Miss Hart. Not sure of the others.
The man at the back with the red jumper is Mr Mullaney he took sports with the boys mostly rugby, although I think he did have a teaching role too.
Comment by: paul f on 9th May 2008 at 16:28
do you know if mrs reddington is on this photo
I know most of the teachers, Mr Unsworth, Ms Ledbetter, Mr Moore, Miss Hart (who's my motherinlaw's cousin - I think) and Mr Cain (who's daughter was the school Librarian at Tommy Moore !!

I went to St Judes jrs then on to Tommy more in 76 !!
The man in the red top is Mr Mullaney ... all the girls thought he were right sexy !!! Very 70s !!!! I think all the female teachers fancied him .... ;-)
the teacher on the front row 1st on the left I think is Miss Eccleston, she used to be in charge of the resource area. Mr Caine was the headmaster then I think it was Mr Lynch who isnt on this photo.
i recall Mr Mullany at St Josephs first and then when St Judes opened in 1969. He coached the rugby team, later Wigan School Boys. Also Ray Unsworth. Im sure he had something to do with the match commentry at Central Park. Mr Caine did woodwork and lived near St John Rigby.
Comment by: catherine o sullivan on 30th January 2009 at 15:46
i rember going to butlins with the school and mr mullaney got drunk one night and some of us carried him back to his room and we dropped him in a puddle . those were the days
Comment by: pat walsh on 7th February 2009 at 14:41
Ray Unsworth also taught at St Aidans Winstanley. I see him somtimes at Total Fitness gym
Comment by: Jackie Ivory (nee Brown) on 23rd May 2009 at 14:51
Mr Caine taught us how to score a pattern into a rubber mat using a tool then used an ink roller to print it. I also remember his poem about the boy having his head bitten off by a lion! Mr Unsworth was my favourite though.
Comment by: paul arkwright on 31st May 2009 at 23:56
Was Mr Caine the headmaster with white slaver in the corners of his mouth ?
Comment by: paul scott on 14th January 2010 at 13:31
The teachers names on the front row, left to right are: Miss Eccleston, Miss Darlington, Mr Caine, Miss Hart and finally Miss Groves.
Comment by: dave blake on 1st April 2010 at 22:33
Mr Cain was known to us (70-74) as 'Sappy' due to the sap in h corner of his mouth!! and also when he 'sapped' us (clipped our ears for cutting our fingers on the woodwork tools!!!!!!!!!)
Comment by: Michelle Curless on 13th August 2010 at 13:12
Wow! This brings back memories. Miss Hart my fave teacher. I remember most of my class mates too. Yes all the girls had a crush on Mr Mullaney. Mrs Leadbetter (a bit scary!!) bet she's not really though.
Comment by: Chris Leyland on 16th August 2010 at 23:30
I was in Mr Blackledges and Mr Mullvaney's class and I had a miss Hughes but don't remember her from the photo, and I thought the lady second from left on front row was Mrs Darwin, but perhaps some of the ladies got married and changed names. I also remember Mr Moor who used to make use sing crap old songs and cane people a lot and Miss Hart who had much PMT, the head master was a Mr Lynch when I was there.
Comment by: hannah walker on 30th January 2011 at 11:28
I have just finished at St Judes and none of them teachers were there except from mr Unsworth who is now a governer. B y the looks of it,St judes looks like its changed a whole lot.
Comment by: Julie (was Cain) on 4th May 2011 at 21:15
St Joseph's/St Judes 1965-1971 In order of picture from left to right - back row: Mr Unsworth - used to play Seekers records in class at St Joseph's, Miss Leadbetter, Mr Moore, Miss Darwen - used to cane you on the knuckles with the side of the ruler, Mr Mullaney Front row: can't remember x 2, Mr Kane (Headmaster), Miss Hart (really nice lady), Miss Groves
Comment by: C rad on 28th October 2012 at 23:41
Boy!! does this photo bring back memories.
I go back to St Joseph's. Mr Unsworth was my rugby teacher. Remember Ms Hart, Ms Leadbetter, Mr Kane- well most of them were at St Joseph's. Brings bakc so many memories. Brilliant photo.
Comment by: Susan Blake(Cartwright) on 22nd May 2013 at 23:00
Nice to see comments from people I knew Julie Cain and Chris Radford one from back where I lived and one who was a good mate of my brothers, nice to look back with happy thoughts...
Comment by: jp on 10th October 2013 at 16:04
second from the right i think was miss booth she drove an xr3i very cool
Wow, what great memory jerker. Mr Caine was headmaster when I went to St Jude´s after St Josephs closed.
I remeber Mr Caine used to give you a threepennybit on your birthday. I thought he was lovely. Miss Hart was my first junior teachr and taught me ´joined up´writing.ray Unsworth was a friend of my dads and encouraged me to pass my 11plus. Happy days.Anyone out there from that time?
Comment by: Gillian (Mather) on 9th June 2014 at 21:40
I started st. judes in 1976. I remember Miss Perkins she had a ring on every finger. She must have started after this picture.