Photos of Wigan
Photos of Wigan
Album Contents
Album Contents
Wigan Album
Poolstock Cof E School
6 Comments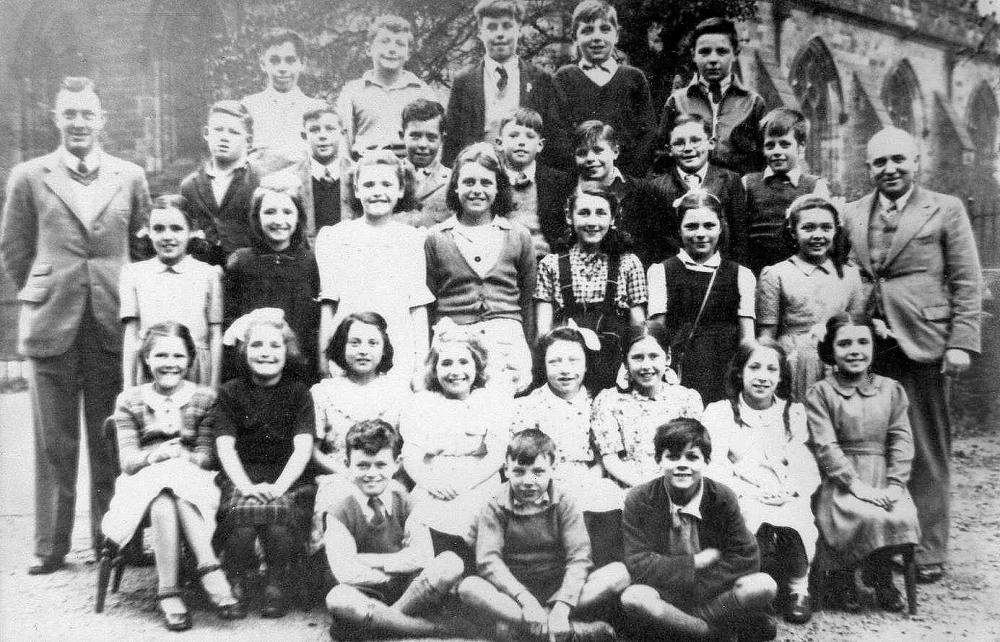 Poolstock C-E About 1946/7
Photo: Douglas Fillingham
Views: 5,112
Item #: 5516
Class standard two or three
back Doug Fillingham, Gordon Harrison, Terance Haliday, Brian Yates,Brian Makin
second row (Mr Smith,teacher)Bob Collingwood, Cliff Morris, Gordon Farrel,??,Brian Platt?, John Kenyon, Ralph Unsworth,(Tom Horrocks Head)
third row, Margaret Aspey, Joyce Gregory, Shiela Prior, Pauline Lucas, Helen Wheatly, Brenda Bond, Joan Harper,
forth row, M Johnson, Gregory??, June Thomas, Jackie Danson, Margaret Stott, Lillian Caulley, Irene Haighton, margaret Garside,
Front row, Allen Fairclough, Brian Lee, Billy Dawber.

Comment by: Jim Latham on 17th March 2008 at 09:29
Dougie, the lad in the middle of the 2nd row, is it Brian Addison?
I'm still working on the other "unknowns."
Hi Dougie, Is the girl second from the left on the fourth row Gwen Gregory? The lad to the right of Cliff Morris is definitely Gordon Farrell and next but one to him is I think Brian Pratt?
I am Bryan Pratt's youngest daughter. He is the 5th from the left in the second row. I have sent this to all his brothers and sisters and they have confirmed he is the 5th boy not the 4th boy in that row. Thank you for posting this photo as I am now able to see what my dad looked like in his younger years.
Comment by: olwen on 13th September 2010 at 11:52
Comment by: doodle on 29th September 2010 at 03:45
Olwen your Lilian was very good friends with my mum ,Joyce Gray ,you lived in chadwick st nearly opposite my grandma.Used to play on the Patch with your Norman.
Comment by: olwen on 4th October 2010 at 18:50
yea i lived in chadwick st across from ur grandma r u stuart jones or david they were good times wish we could go bk