Photos of Wigan
Photos of Wigan
Album Contents
Album Contents
Wigan Album
Abraham Guest
16 Comments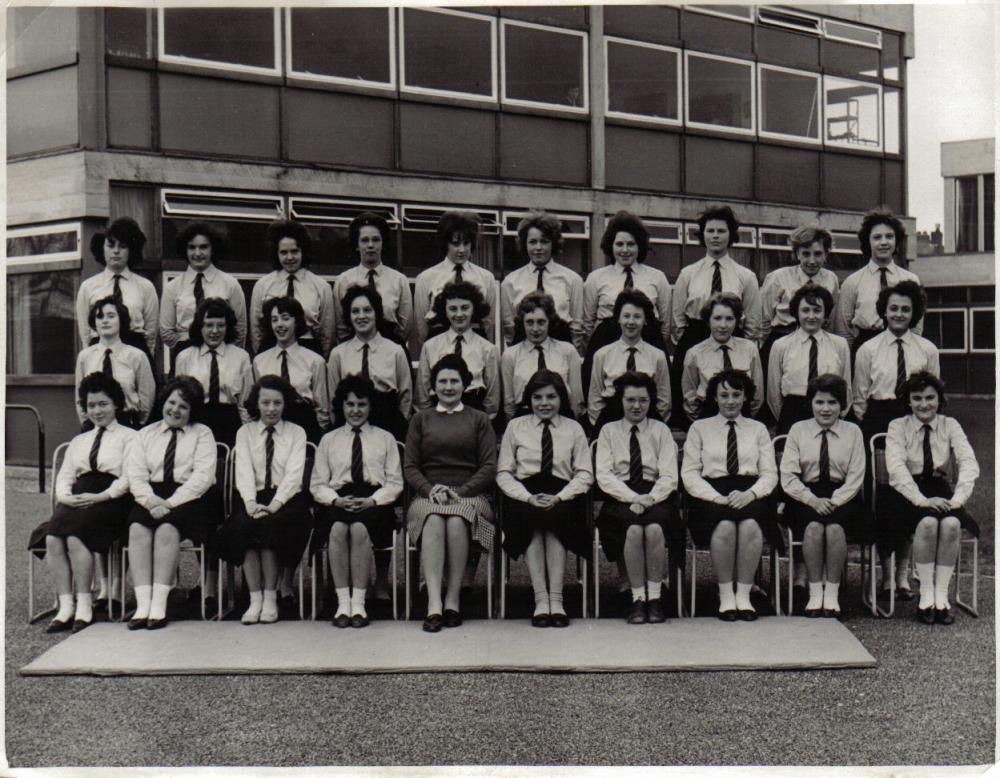 ABRAHAM GUEST 1963 ISH
Photo: NANCY SWIFT/EVANS
Views: 11,252
Item #: 5304
3 FORM LEFT TOP JUDITH STOKES, BRENDA TAYLOR, --- --- --- GILLIAN CAUSEY
MIDDLE ROW --- CAROL GOUGH, PAT? --- CHRISTINE FYLES --- ? HEYES ---ME NANCY SWIFT ---
FRONT ROW JOAN GLOVER JEAN OLLERTON, DOROTHY ? -- MRS STATER JEAN ? --- EUNICE FORSHAW, --- JEAN?
Comment by: pat on 3rd March 2008 at 10:55
i knew jean ollerton she came from a big family,i know shelia and carol her sisters,the girl on the right of jean is dorothy ball ,she lived in our street6p6g8
Comment by: pat on 3rd March 2008 at 10:57
was joan glover who lived on the farm down the backs in orrell
Comment by: pat on 3rd March 2008 at 10:59
brenda taylor did she live in a chippy at pem,if so i used to go to school with her brother brian we used to call him chip
Are you the same Nancy Swift who was a cadet at Billinge Hospital ?
Comment by: nancy evans / swift on 4th March 2008 at 14:34
yes i was a cadet at billinge hospital we were the first intake of cadets at the hospital are you margaret winstanley
Hi Nancy,not Margaret Winstanley but Margaret Houghton.
Comment by: britboy on 23rd May 2008 at 01:19
We used to call the teacher in the photo Nellie Statter, she was the RI teacher(religious knowledge)
Comment by: Rod & Carol on 16th July 2008 at 20:39
Back Row L-R:1-Margaret Melling 2-Sheila Banks 3-Judith Stokes 4-Brenda Taylor 5-Margaret McNamara 6-Christine Day 7-Christine Hitchen 8-Gillian Cowser? 9-Irene Swift 10-*******
Second Row L-R: 1-Kathleen Lee 2-Carol Gough 3-Pat Howarth 4-May Shaw 5-Christine Fyles 6-Ruth Green 7-Eileen Heyes 8-Helen Brimelow 9-Nancy Swift 10-Jean Taylor
Back Row L-R:1-Joan Glover 2-Jean Ollerton 3-Dorothy ******* 4-Hilary Goulding 5-Mrs Statter 6-Carol Rothwell 7-Jean Donald 8-Eunice Forshaw 9-Geraldine Woods 10-Jean Merrin
Ah, Judy Stokes. She was my hearthrob back in St John's Pemberton. We were all of ten years old.!!!!!!
yes Brenda Taylor did have a brother called chip and we did live in a chippy on Ormskirk Rd
Nancy sorry I don't remember you but just to let you know Carol and sheila were my cousins not my sisters.Margaret is my sis and Richard my brother.
Didn't go to Abraham Guest, but knew most of girls on here, as a lot of them went to Lamberhead Green Junior School.
Eunice Forshaw - second from right on front row - was Mayor of Wigan last year.
Kathleen Powell.Did you live next door but one to me in Dean Crescent? chris
For Brenda Taylor...Where is Brian (chip) now? He was one of my best mates at school, I'd love to get back in touch!
Comment by: norleyboy on 17th March 2011 at 15:22
front row right hand side is jean merrin,i was very friendly with her sister.