Photos of Wigan
Photos of Wigan
Album Contents
Album Contents
Wigan Album
Abraham Guest
14 Comments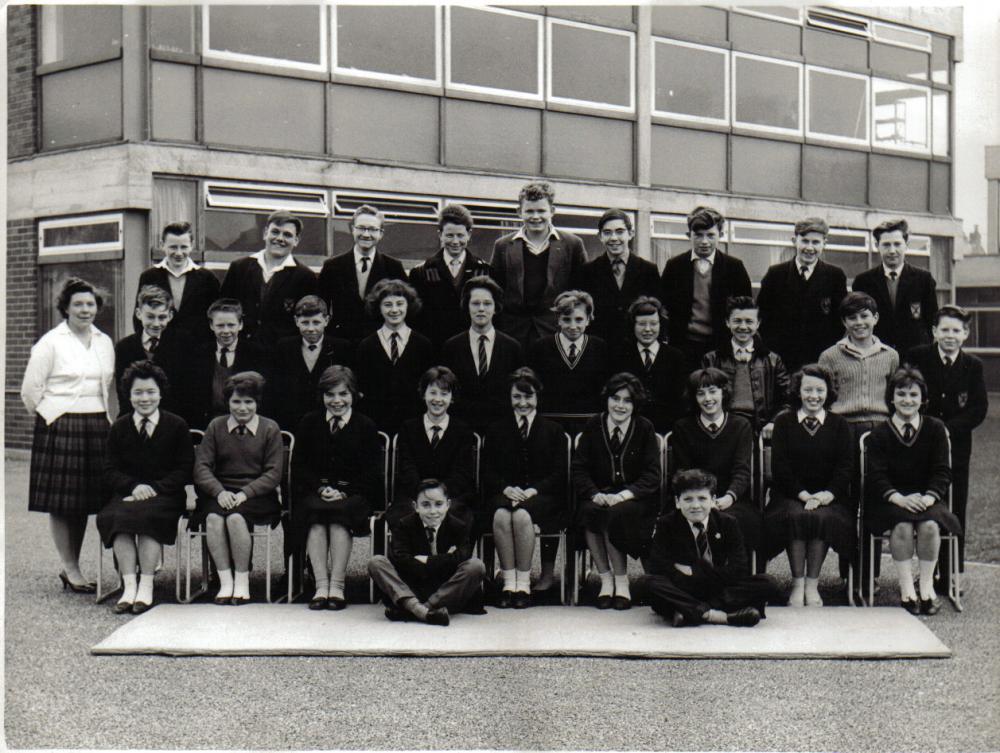 ABRAHAM GUEST SCHOOL 1963 ISH
Photo: NANCY SWIFT / EVANS
Views: 10,299
Item #: 5302
BACK ROW --- BARRY? --- MICHAEL?, PAUL LEDSON,
SECOND ROW 4 FROM LEFT CHRISTINE FYLES, BRENDA TAYLOR, --- CAROL GOUGH, DAVID ?
FRONT ROW JOAN GLOVER ---- ---- ?HEYES, ME NANCY SWIFT, --- PAT HOWARTH, DOROTHY ?, JOAN ?

TEACHER MRS BROWN
Comment by: Rod & Carol on 16th July 2008 at 20:52
Back Row L-R:1-Terry Lenegan 2-Norman Bennett 3-******* 4-Michael Parkinson 5-Paul Ledson 6-******* 7-******* Hodgkinson 8-Alan Moorfield 9-******* Hesketh
Second Row L-R:1-Miss Bisbrown 2-Barry Cheetham 3-Jim Ashcroft 4-Tom Ormesher 5-Christine Fyles 6-Brenda Taylor 7-Irene Swift 8-Carol Gough 9-David Ralphson 10-******* 11-Billy Hagan
Front Row L-R:1-Joan Glover 2-Geraldine Woods 3-Carol Rothwell 4-Eileen Heyes 5-Nancy Swift 6-******* 7-******* 8-Dorothy ******* 9-Jean Merrin
Sat On The Floor L-R:1-Roy Cottam 2-John Worthington
Back row extreme right is Harry Hesford, cousin of my wife Val.
What a great looking bunch. The scourge of the teaching staff. #6 is John Johnstone. #10 is John Derbyshire
Thanx for the Photo, and especially the names. Does anyone know what happened to Irene Swift and Miss Draper (Dom. Science/ Needlework) teacher.
Log on to Friends Reunited, there are a few Abraham Guest students on there from our time. Chris
Comment by: norley boy on 17th March 2011 at 10:47
jean merrin front row right hand side.was friendly with her sister.
Comment by: BARBARA SHEARD (PARKINSON) on 6th June 2011 at 16:22
Fred, you still looking for my cousin Nadine - she did not go to Abraham Guest
Comment by: hazel on 21st July 2013 at 18:27
second row extreme right.....stuart purse
Girl on left front row is my cousin Joan Roberts
Girl on left front row is my cousin Joan Roberts
Aww that's my mum on front left Joan Roberts nee glover
Beautiful xx
nice picture anybody still alive,iam third from left on top row
Hi Barry yes I am still alive and kicking thank you very much,tack care mate Jim ashcroft 😜
thanks jim sorry so long with reply been dead but alright now