Photos of Wigan
Photos of Wigan
Album Contents
Album Contents
Wigan Album
BRYN GATES PRIMARY SCHOOL 1959/60
14 Comments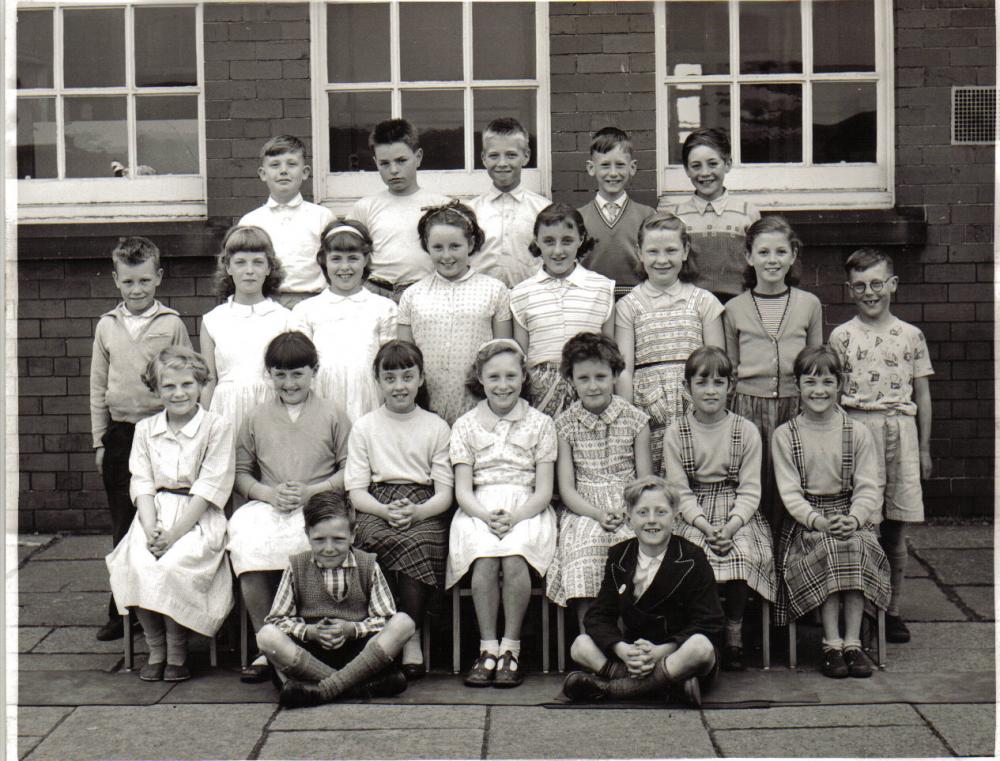 BRYN GATES PRIMARY SCHOOL 1959 / 60
Photo: DEREK EVANS
Views: 6,373
Item #: 5280
BRYN GATES PRIMARY SCHOOL 1959 / 60
BACK ROW FROM LEFT
DEREK EVANS,DEREK INGRAM,KEVIN WHITE,COLIN ECCLES,JEFF HOLDSWORTH
SECOND ROW
RALF BOLTON, POSS YIVON COLLINS,POSS LORRAIN CREASE, LINDA PARKINSON,BETTY PRIOR,DONT KNOW, DONT KNOW, POSS DAVID CARTER
THIRD ROW
DONT KNOW, RITA WEBB, POSS GOULDING, MARGRET WINSTANLY,MARY OPENSHAW, LINDA AND ANN WILLIAMS TWINS,
FRONT ROW DONT KNOW, POSS HARRY WITHINGTON,
Comment by: Mark Calter on 28th February 2008 at 11:42
the girl youdont know on Ralphs row, next to betty prior is Pat Carney Edgar's sister, third row dont know is Collins, and the girl you thought possible a collins is a girl from the lump but cant think of her mums married name
Comment by: derek evans on 29th February 2008 at 10:24
I remember now second row second from left is Margret Boyle
The one front left I think his name might be Raymond ? I think he lived in the council houses near colin eccles.
My brain hurts now
Mary Goulding lived just past the school had a brother Mark
Hello Derek(heavy)that photo brings back a lot of memories.the lad at the front is David Jones.Have had contact with Mark in an earlier thread.
Comment by: derek evans on 1st March 2008 at 15:36
Hi
hozy sorry about the spelling it was never my stong point.
I take it David Jones is the one on the left is the one on the right Harry Withington?
I remember David Jones now.
Is the girl next to David Carter Ann Watkinson.
Do you know where any of the others are.
I havnt see some of them for 50 years.
Not seen you for 40
D
Comment by: JEFF HALLSWORTH on 1st March 2008 at 18:22
Hi Derek,the girl next to MALCOLM Carter is Lilian Withington,Ralph Boulton still lives in Bamfurlong,Kev White lives down south.I am living in Canada and have been just outside of Toronto for the last 27yrs.I think Colin Eccles still lives around the avenue as do my parents.Not sure where any of the girls are.
Comment by: derek on 1st March 2008 at 19:40
I got mixed up with david and malcolm
totaly forgot lilian is that harry on the front row he is the only one now I am not sure of.
I think lorrian died quite young, linda married frank brindle from bryn they live in ashton I worked with them at Barlow handling until quite recently.The twins went to copple I think.
Regards Heavy
No wonder I havent see you for ages nice to here form you.
I still live in wigan at orrell.
Hi my name is Ramond Littler, I to have a photograph which was taken at the same time as this one. I believe that the Class was split up for the photograph due to it's size. From the photograph, the girl first on the front row is Yvonne Collins. I have submitted my photograph which hopefully should be on soon.
Comment by: derek evans on 10th April 2008 at 20:58
Hi Ramond I remember you from shool.
I think that this photo is of the next class.
Some of the children in the other photo are a year older than me. Pam Dumond and Kathleen Parkinson was never in my class.I know most of them.
Hi all, I think Raymond is right class was slit but I think the reason was because the ones in is photo were leaving that year.The first photo is a year or two earlier The Williams twins were younger than there sister SHEILA
Comment by: Linda Parkinson on 13th July 2010 at 13:37
Hi' I wasn't in this class and neither was Lilian Withington. We were in the year below. The second row girls I know are- Margaret Boyle, Silvia Simm, Lorraine Crease, Betty Prior, Pat Carney. Don't know the last girl at the end.
Comment by: Derek on 12th August 2010 at 23:22
sorry Linda a bit of a mix up there.
My memory isnt as good as I thought.
Comment by: ivor collins on 8th March 2011 at 16:24
the girl on the 2nd row is my sister yvonne collins. I remember lots of the names from bamfurlong and bryn gates although they were older than me.
second row third person from left is sylvia simm