Photos of Wigan
Photos of Wigan
Album Contents
Album Contents
Wigan Album
Wigan Grammar Schools
6 Comments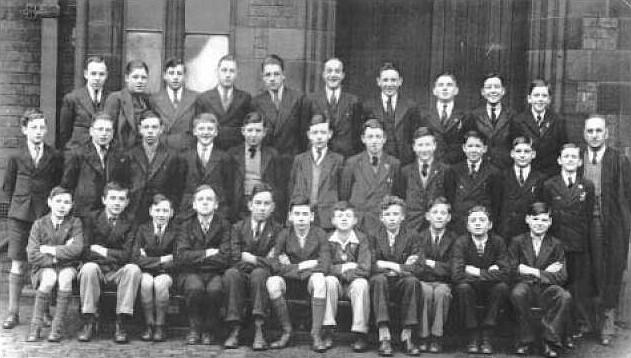 Wigan Grammar School Form 5C, 1935.
Photo: Susan Dainty
Views: 6,535
Item #: 488
Wigan Grammar School Form 5C, Spring Term, 1935.

The form master (extreme right) was W. Williams.
Names in quotes may not be entirely accurate.

Back row (L-R): "Geoffrey" Hampson, Brock Mill Lane; ? Shannon, from the Scholes-Darlington St. area; Sidney Taylor, Barnsley Street area; ? Rothwell; ? Saunders, "Chapel Lane"; Les Gee, "Mesnes Road area"; Jack Fairhurst, Westwood Hotel, Poolstock; "Frank" Finch of Parbold; J.E. Rigby; L.A. Wood.

Middle row (L-R): ? Seddon, "Whelley area"; Tom Stridgeon, Darlington Street area; "Norman" Shallicker, Westhoughton; Sidney Willgoose, Barnslet/Hodges Street area; Arnold Morris, Darlington Street area; ? "Hurst"; Walter Greenlees, Hallgate; George Raymong Unwin, Mesnes Road area; Tom Warburton, town centre area; Edgar Barry, Whelley area; Roland Kenneth Harrison, Parbold.

Front row (L-R): William Guy, Pemberton; Eric Neild, Clayton Street area; ? Winstanley, Orrell; William Smallshaw, Seven Stars Road; John Melling, Darlington Street area; ? Pughe; Leslie Hewitt, Queen's Hotel, Wallgate; Roger Taylor, 18 Poolstock; "Stanley" Greenough, Scholes area; "John" Lynch, Scholes area; Roy Ellam, Gidlow Lane.
Very good to see this old school photograph of my uncle,Jack Fairhurst. He was killed in Imphal,India in May 1944. His sister,my mother,Georgina Turton nee Fairhurst,who died in 2005, left behind some interesting memoirs of her childhood at the Westwood Hotel,Poolstock, and of her schooldays at Notre Dame Convent.
nice one Susan nice to see an old grammar school pic and with names and where they live Waw! nice one Sue.
Comment by: Alison Orsborne on 8th April 2009 at 17:05
My Dad, Roger Taylor, is in the front row. He died in 2006. He looks just like the kind of pupil you wouldn't want in your class!
Comment by: Anita Richardson on 25th January 2011 at 22:21
My Dad, Les Gee is there, middle back row,grinning like a Cheshire cat.Dad died 33 yrs ago aged 59.Does anyone remember him?
Edgar Barry was my uncle and lived in Coppull Lane, unfortunately he died approx 17 years ago aged 72. He was a Weights and Measures Inspector in Wigan Market hall and later Bolton having also worked at Pilkingtons. In WWII he served in the RAF as an Observer Navigator in East Africa, the middle east, India and Burma having trained in Florida with Pan-Am on seaplanes. He was a member of the central Conservative club and Dean Wood golf club for many years. I would welcome any further information about him.
Roland K Harrison was my step-cousin, my Dad and his mother were half siblings, we have the same grandfather. He was an academic, he has written several books. he emigrated to Canada in 1939. He was a Hebrew specialist and helped to translate the Dead Sea Scrolls. He was a clergyman but worked at Toronto University...The Red Dr. Prof. RK Harrison. He died quite a few years ago. An eminent alumni of Wigan GS.