Photos of Wigan
Photos of Wigan
Album Contents
Album Contents
Wigan Album
Ashton Grammar School
13 Comments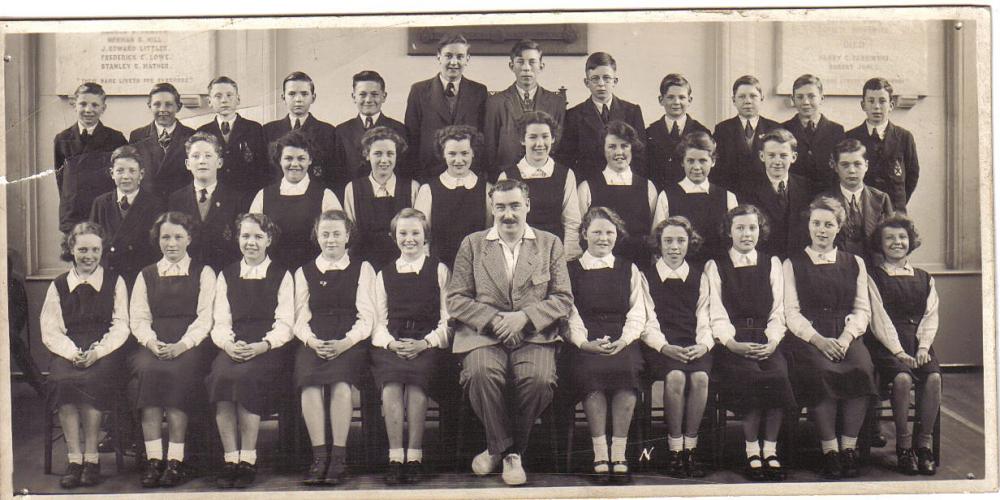 Ashton Grammar school
Photo: aitch
Views: 6,390
Item #: 4860
Photo of my Form in the early 50s
the lad fourth from the right,back row is Clifford Smalley he's the only one i can remember
that's me back row,fifth from the left,middle front row is mr.kitchen
bridge-br-4th from left.scoffham?.doreen bond-fr-5th left.wright? duckworth-br-6th left.hughes? maskery-mr-2nd right. swan-mr-1st right.
Comment by: aitch on 16th May 2012 at 10:03
Middle row first on the left is Roy Ashurst, sadly no longer here, bottom row first on the right is Olive Rawson, the reason I can remember those 2, was because we all cme from Ince
Comment by: Tony Peet on 3rd June 2013 at 22:53
Second row 4th from right-Margaret Crouchley, sadly she is no longer with us!
I am the one on the front row on the left hand side
Comment by: Marjorie Tinkler on 29th August 2018 at 11:23
That's me,Marjorie Wilcock front row 2nd left I remember most of the names in that class Top row from left Whittle,Roy Bridges,Maddox,Duckworth , Lewis,Woolley,Smalley,
Middle 2nd from left Maureen Millet,Pat Nield,Nora Jackson,Eileen Hamilton,Brenda Sudworth, Maskery ,Swann
Seated Gwyneth Hurst, Marjorie Wilcock(me) Dorothy? Nancy Pennington, Sylvia Ince, Doreen Bond? Jean Pennington,Margaret? Olive Rowson/ ,
Sorry had to refer to boys by surname only but very rarely used their first names Message for a jean pennington ,do you remember Brenda Berry from Jeffrey st Ince We both married Chester boys and are close friends
Comment by: Jean Minett nee Pennington on 5th September 2018 at 11:52
How lovely to be reminded of the students I went to school with.Of course I remember Brenda Berry who went to Hindley grammar school and who was in my primary class from1943-1950 when we both passed the 11 plus.What a coincidence Majorier I now line in a small village near Valencia in Spain having been an inspector of examinations for Cambridge Exam Board. Have had a super career .All due to the good education at primary and secondary level.Keep in touch.
Comment by: Jean Minett nee Pennington on 6th September 2018 at 11:14
I wonder if Brenda remembers my first husband, who went to Hindley grammar School? His name is Raymond Howarth. He had a head of blonde curls!!!We were married in 1960 until 1989 after which I married my present husband Barry from Ely.Ray and I had 2 daughters. No children with Barry but he has a son. Brenda had a friend ---- Wilford? There are photos of them both together in one of the Walking day photos.
So pleased to hear from you Jean via Brenda Would love you to get in touch via my e mail so that we can enjoy a few reminisces I hadn't realised you had responded until I saw Brenda this evening . I started my working life in the Bank and eventually went to college and spent twenty years teaching English in a further ed college in Liverpool. I would like to think that a few more who are on that photo might respond .the only one that I ever came across from that photo was Doreen Sudworth We were both very pregnant and met each other in Owen Owen's in Liverpool .A long time ago !!
I worked with a girl named Doreen Bond who went to Ashton Grammar in the early 50s.Does anyone know anything about her? Unfortunately we lost contact when I emigrated to Australia in 1966. I'd love to re-connect with her.
Hi just like to say that I am the daughter,of Dorothy Hesketh ,she married and became Dorothy Hurst, sadly she died in 2019, she had 2 boys Michael and Brian, I just happened to look at the Grammar school photo, it was my mother