Photos of Wigan
Photos of Wigan
Album Contents
Album Contents
Wigan Album
Wigan Grammar Schools
37 Comments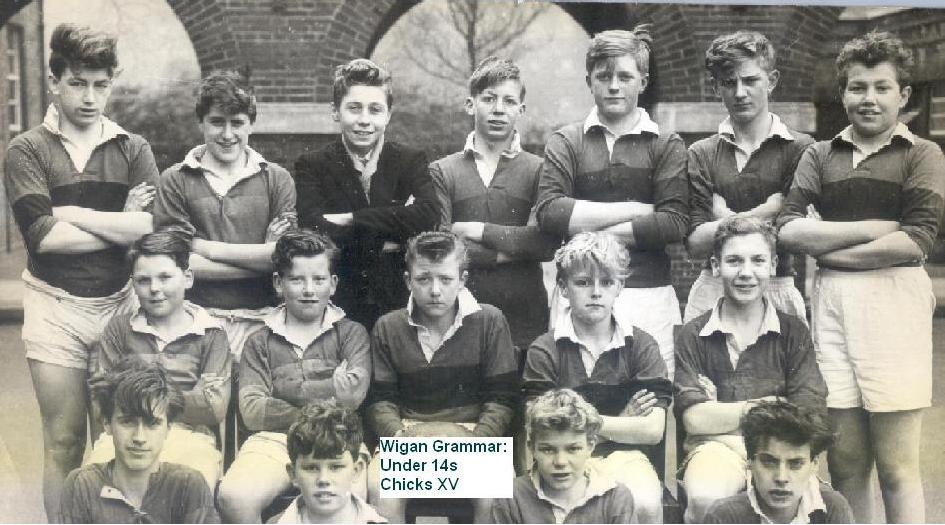 Wigan Grammar School 1960s Rugby XV.
Photo: C. Evans
Views: 10,109
Item #: 486
Wigan Grammar School 1960s Under 14s Rugby XV.

Back Row: Dick Padget, Horace Garsfield, Tony Worsick, Billy Sharpe, Jack Worthington, Abert Hodswaithe, Chris Evans.

Middle Row: Barry Ashurst, Nigel Sumner, Billy Ashurst, Joe Hill, Oswald Parr.

Front Row: Nobby Hager, Pugsley Parr, Jemmy Johnson, Joe Fairhurst.
Comment by: Jonty on 21st July 2008 at 20:07
Thats not Oswald Parr - its Graham Parr.
Comment by: Crispin Potter on 24th July 2008 at 16:44
Thats not Dick Padget. Its Mick Padget.
Comment by: R. Taylor on 25th July 2008 at 09:04
Several of the names are wrong. If my memeory serves me well Chris Evans left the Grammar School when his parents moved so maybe his memory of the names is vague. I think the guy called Garsfield has the wtrong name but I can't recall his true name.
Comment by: Betty Tute on 27th July 2008 at 12:21
I knew the lad called Garsfield. His real name is Garswood but cant remember his first name. It may be Richard or Graham.
Jonty??? Is that you, John Johnson from Lamberhead Road...Ay, begorrah lad...What happened to Hager and JG.? I am alive and well and living in God's country....Lake District.
wow, 50 years ago! wonder whats happened to everybody.I now live by the coast at morecambe - so exciting (traffic lights change twice every day nowadays)
Comment by: Knowlsey on 9th November 2008 at 15:25
I wasnt on the team but I know Bill Ashurst and Joe Hill still live in Wigan. Dave Sumner lives in Chorley. Gaz lives in Standish. Jon "Tips" Worthington is still about but I dont know where he lives. Theres a pic on the next page that says (unfortunately) Tony Worswick is no longer with us.
Comment by: B. Ashurst on 24th January 2009 at 14:03
Garsfield is not his name. It is Garswood but I can't recall his first name. I think it was either Graham or Richard does anybody remember?
But you weren't very good,were you-at least as I recall it.
Comment by: Knowlsey on 1st February 2009 at 12:55
Well obviously I didnt play but listening to the results in assembly on Monday morning they won most matches. Anyway - to quote a song "who are you?" - I dont recall your name. You're most probably a numpty Linacre lout, in which case you would know nowt.
Comment by: Bob Lowe on 1st February 2009 at 15:27
I played with some of these lads in the Royal Oak RL team. If my memory serves me well Tony Worswick played stand off, Joe Fairhurst loose forward and Gaz Garswood played centre. Two older Grammar lads also played. Joe Payne played centre and Gordon Ramsdale was second row.
Comment by: C. Peters on 3rd February 2009 at 15:13
Pretty cheap shot Mr Worthington.
Comment by: Chris on 9th February 2009 at 11:12
I have been waiting for an appolgy from Mr Worthingtn but he doesn't seem inclined to make one, therefore I will put the record straight.
These lads were a very good team. They invariably beat the teams from the non-traditional rugby leaugue areas, such as, Ormskirk, Chorley, Preston, Blackpool, Southport and North Manchester. Like all the other teams they found teams from Leigh, Widnes and St Helens much tougher. On their day they could have beaten any of the opposition with the possible exception of Wade Deacon GS. They were perhaps the smallest team but played good open rugby in league style. They played with a great sense of fun.
yMr Worthinton is possible, due to his age, suffering from memory loss or is mentally challeged.
Or perhaps he is writing form a home for the mentally challenged. You never know who you are dealing with - that's the beauty of the Web folks.
Comment by: jasholding on 8th March 2009 at 21:04
b.ashurst,,,is that you bill,,,give us a clue where you might be,,,long time no see,,would like to catch up
Comment by: Crispin Potter on 9th March 2009 at 10:47
May be Barry Ashurst, Jim.
Comment by: charnock on 30th January 2010 at 16:00
Horace Garsfield is Richard Graham Harry Garswood born 1946. He is my cousin and is alive and well, and living in Standish.
Comment by: Charnock on 30th January 2010 at 16:04
Richard Garswood is also in the centre of the 1957 WGS 1st year picture of the prospect park cross country group.
Comment by: Crispin on 30th January 2010 at 19:25
Glad to hear Gaz is well Charnock. Heard he had a bad accident but won a radio quiz and is now on a 3 month cruise prize in the South Pacific.
Comment by: T. Dickens on 2nd February 2010 at 13:27
Bill Ashurst played scrum half for Wigan RL school boys when he was at St Marys.
Comment by: jas holding on 21st February 2010 at 00:57
Terry,,have you seen owt of bill these past few years,,would like to catch up with him ,,for old times sake
Comment by: Terry on 26th February 2010 at 12:03
Not seen Bill since I was a lad Jim. Sorry no idea where he is. If I see him on my travels I'll let him know. All the best.
Comment by: Quinzer on 6th October 2010 at 16:04
I recall Bill Ashurst used to go for a smoke after school in front of Fanny Orgills shop. It was in one of the back streets between Frogg Lane and Hallgate. You could buy single fags and half fags.
They were mainly Linacre Lads who were there.
Bills mates were Tony Doran who moved from Diddle St to Marsh Green where Bill lived and Kevin Bond who also lived in Marsh Green.
There were always a few Linance Lads there. Roy Painter and Ray Dowling from Bamfurlong. I remember Roy cos he was a good footballer and a had a similar name to Ray Pointer who was Burnley's and England's centre forward at the time.
Other Linance lads there were Nobby Naylor and Gent.
Comment by: Jonty on 7th October 2010 at 10:22
Hi Quinzer ,, are you Chris Evans? Yes Bill Ashurst lived in Marsh Green. He used to live in that little street under the bridge next to the old Robin Park in Newtown. Near the tennis courts. He was good at most sports. He played RL for Wigan schoolboys.
Comment by: Joe Fairhurst on 11th November 2010 at 15:58
I recently met Joe Hill in the Brocket in the company of Bernard Dowdall. Bernard hadn't seen Joe since leaving school and whilst waiting for Joe, Bernard constantly asked me what he looked like – was his hair blond or grey?
"Bernard, Bernard – I haven't seen Joe for nearly 30 years".
Joe was a very good hooker – can't recall him ever losing the scrums. Joe joined the Army shortly after leaving school and managed the Young Soldier of the Year award on one occasion.
He played rugby for the Army at hooker. On leaving the service he was offered a trial by Wigan RL but turned it down for family reasons.
These were a good bunch of lads. The times we had playing rugby and my experiences in our crazy class sadly are all the fond memories I have of WGS.
Comment by: Raz on 13th May 2012 at 19:21
Someone told me that Sid Taylor, same year as these lads had recently had a book published in which he makes a reference to John Parr. Here wrongly identified as Pugsley Parr.
Comment by: Clooge on 21st May 2012 at 08:49
Raz, I think the bloke to whom you refer is John Taylor. Someone in that year gave lots of lads different names. Like Geoff "Elmer" Hardman, John "Puggy" Parr, Graham "Ozzy" Parr and Peter "Frank" Cartwright. So John Taylor got Sid. He calls himself John Sharrock Taylor these days and the book is called a Wigan Childhood. I haven't read it. Someone told me about it. Not my cup of tea.
Comment by: Jon Simm on 4th July 2012 at 16:55
William, were you in the same class as Ian Whitaker at St Marks. If so have you any idea what happened to him?
Comment by: Jenny Rose on 5th July 2012 at 22:40
No one seems to have commented that Dave Sumner on the pic above was identified as Nigel Sumner. Will David not be pleased at that!
The Welsh rugby players used to refer to the English as Nigels.
Doubt if they do now.
Comment by: Norris Gripweed on 6th July 2012 at 14:05
Surprised we've not had examples of Dave Sumner's acidic wit on this photograph.
Comment by: N. Bradshaw on 22nd January 2013 at 11:18
Hi Raz. Just a small point, as the Actress said to the Bishop. It's Gordon Parr not John or Pugsley.
Comment by: dorothy clarke (nee sharpe) on 2nd April 2013 at 01:38
thank you Chris Evans for putting up this photograph. Bill sharpe is my brother. I was very happy to see this picture. i dont have any of him at this age but it is how i remember him from those days, he was a great brother to a bothersome little sister.
Comment by: G.B. on 7th May 2013 at 11:52
Sorry to hear about Bill. Didn't know him well but he was a decent lad at school.
A lot of these chaps are no longer with us: Mick Paget died in an automobile accident on the M6 about 20 years ago; Tony Worswick died of a heart attack in Benalmadena about 8 years ago and I heard that Tom Hager passed away a couple of years ago.
A friend told me that he read that Gordon Parr had passed away. He read it in a book apparently by John Sharrock Taylor a contemporary of the lads on the photo. I think, if my memory serves me well, he was better known as Sid Taylor.
In fact I only know for sure that two of them on the photo are still around. I saw Richard Garswood and Joe Fairhurst recently and they seemed in robust health.
Comment by: dorothy sharpe on 16th May 2013 at 11:45
hello G.B. Bill sharpe (my brother) is still alive and well. (the past tense was referring to the old days not Bill)
(my fault, sorry Bill).
So sorry to hear of the lads that have passed away, especially Tom Hager and Tony Worswick...good mates at WGS.

GOD Bless 'em, R.I.P.
Comment by: jas holding on 22nd May 2014 at 14:13
Bad news i,m afraid,,, Bill-Tash- Ashurst (middle row 3rd from left holding ball) left us last week, have spent many happy hours fishing with Tash and indeed holidays in our youth,I do regret that i never got the chance to catch up on old times .My feelings go out to his wife and family in these sad times. RIP Tash
Comment by: Peps on 6th June 2014 at 10:49
I was very sorry to hear about the demise of Bill Ashurst. I recall first seeing him at our first rugby games time at Prospect Park. As soon as I saw him I knew he was from St Mary's. He had an aggressive, dominant attitude. He was a typical RL scrum half in the Andy Gregory sense. Holding the ball in both hands he dummied to the right and to the left, his body bent forward, reverse dummies on this side and that, a deft hand off, a soft shoe shuffle, all in quick fire motion, a little grubber kick or occasionally an attempted drop goal. This was Bill's choreography often mocked by the other lads - when he wasn't looking.
He was good at all sports rugby, soccer, cricket etc. I think he represented Wigan at RL when at St Mary's. He once bowled out the French teacher, Taylor, with three consecutive balls, on the Mesnes cricket field. We played the soccer lads at Robin Park one day when Prospect Park was unfit (when was it ever), we won 3 - 1. Bill made two and scored the other.
Good on you Bill where ever you are.
Comment by: Keith Fox on 28th March 2015 at 13:06
does any body know where Graham "ozzy" Parr is these days.