Photos of Wigan
Photos of Wigan
Album Contents
Album Contents
Wigan Album
St Oswald's R.C., Ashton
14 Comments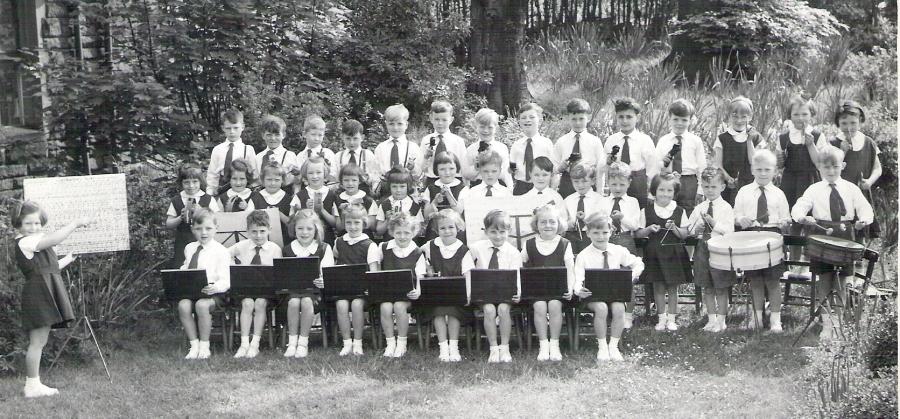 St Oswald's RC Infants School Band.
Photo: Phil Owen
Views: 6,780
Item #: 4594
From about 1958.
Comment by: Vitaus Pecekajus on 15th January 2008 at 00:53
Must be the best year at that school! I'm on the back row, 4th from left, a whiz on the triangle.
Comment by: Phil Owen on 15th January 2008 at 10:01
I remember you Vitaus, although I would not have been able to spell your name! I'm the one on the big white drum. We were a very advanced school: the ones on the front row had laptops and some of the ones at the back appear to be texting.
I recognised you immediately Vitaus, though I don't remember the musical skills.
We didn't used to look as smart as this most days, where is Sister Edna?
I recognise a few. Front row Mick Lyons, Alan Topping, then 4 girls, me, Eileen Kyle and Paul Marsh. Back row 6th from left Sid Pennington, 8th Andrew Ferns and 10th the Ice Cream Baron Frank Fredericks.
Comment by: Phil on 30th September 2008 at 16:53
OK. I will try to come up with some names. I think I know all the boys, but not too many of the girls. Sorry for any I get wrong!
Back row, left to right: Michael O'Halloran, Frank Smith, Gerard Heaton, Vitaus Pecekajus, Anthony Fitzpatrick, Sidney Pennington, Billy Hilton, Andrew Ferns, Dominic Gara, Frank Ferderick, Peter Goulding, Susan Carney, ?A, ?B.
Middle Row, l-r: Mary Walsh, ?C, June Johnson, ?D, ?E, Pauline Ogden, ?F, Paul Clark, Kevin Murtagh (deceased), Leslie Ellis, David Woodward, ?G, ?Hopkins, Philip Owen, Michael Mitchell.
Front row, l-r: Michael Lyons, Alan Topping (deceased), Anne Isherwood, June McCarrick?, Barbara Brindle?, Patricia Sharples?, Peter Corcoran, Eileen Cahill, Paul Marsh.
Conductor: Barbara Lyon.
Can anyone fill in the ? ones or correct any mistakes?
Phil, I can now recognise two of the girls - Margaret Harrison (second from right Back Row) and Anne Livesey (4th from left Middle row). I didn't realise that two of the lads are deceased.
I used to be in this band around 1948-50 and went to a reunion back in UK four/fiveyears ago held at the New Pro. I live in NZ and have done for the last 40 years but keep in touch with some of the 'old' band members
Comment by: Kathwal on 23rd May 2011 at 00:04
I notice Peter Goulding on this photograph, who I think came to Holy Family School in his later primary years. I did hear that he had sadly passed a few years ago, could anyone confirm? He was a very quite lad who had been born in Malta, due to his father being in the Armed Forces when he was born. He had two younger sisters I remember Margaret and Christine.
Comment by: Barbara Whitfield (Lyon) on 31st January 2012 at 23:08
There must have been another Barbara Lyon there besides me as I was only 2 when this photgraph was taken.
Comment by: paul gadd on 18th October 2012 at 15:38
i remember jimmy savile was expelled cant think y.
Comment by: Michele Somers on 3rd October 2013 at 21:57
I remember Una. She was in my class. Is she your sister?
Comment by: Michele Somers on 3rd October 2013 at 22:06
I was in the school band, sometimes playing tambourine, triangle or dulcimer?? I may be 3rd girl from left in the middle row. I,ve changed a bit since then!
what a wonderful picture...the little girl 4 th in from the left is Jean McCarrick my sister