Photos of Wigan
Photos of Wigan
Album Contents
Album Contents
Wigan Album
St Thomas More, Newtown
19 Comments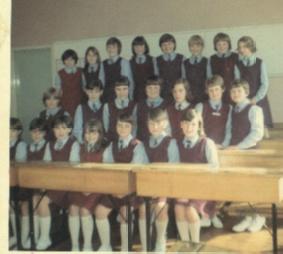 St Thomas More RC School, 1967.
Photo: Eileen O'Hara
Views: 14,536
Item #: 426
Students of 1y class of 1967 at St Thomas More RC Girls School, Newtown, Wigan. I'm top row, third from right.
Comment by: elizabeth on 1st October 2007 at 17:04
is that eileen that went on to work at jones and park!!!!
Comment by: tina charnock on 5th February 2008 at 13:49
is this eileen o'hara who was in my class tina charnock from worsley mesnes
Comment by: Carole (nee Finney) on 8th February 2008 at 19:05
Comment by: susan unsworth on 10th February 2008 at 19:44
that is me middle row 4th from left hope every one is well
Comment by: Judith Holgate on 12th February 2008 at 18:15
Back row:
not sure, Christine Hughes, Carole Finney, Judith Holgate, Julie Dermot, Eileen O'Hara, Susan Sweeney,Sharon Prescott
Middle Row:
Tina Charnock, Maureen Slavin, Joan Barrie, Susan Unsworth, Elaine Gallagher, Mary Rigby, Pauline Clark.
Front Row:
not sure, Alice Gordon, Joan Meehan, Susan Topping, Winifred Hankie, noe sure, Eileen Robinson.
Can anyone fill in the three I do not remember?
hi eveyone has anybody got any more photo from school either thomas moore 1967 0r st josephs junior school from walking days crowning group
Comment by: june fairclough on 4th June 2008 at 21:46
eileen griffin sat next too eileen robinson
Comment by: Judith Holgate on 4th June 2008 at 23:46
thanks June my memory not as good as it used to be.
Comment by: Dave on 24th June 2008 at 20:36
Comment by: j on 3rd July 2008 at 14:14
Comment by: Dave on 3rd July 2008 at 17:50
Any idea where Viv is these days?
Comment by: lynne kirk on 8th July 2008 at 23:07
last time l heard vivian hand was living in canada.
Comment by: susan unsworth on 14th July 2008 at 13:57
mary leigh, lorna moran first row left
Comment by: catherine on 19th September 2008 at 19:50
hiya eileen do you live in australia now?
Pauline was my mum who sadly passed away 1st Dec 2005 (49) Anyone have a bigger version of this pic ? i would be most grateful
Comment by: mary leigh on 16th February 2009 at 17:35
HIi everyone, its great to see this photo of all my former schoolmates, hope everyones well.
Comment by: wigan wench on 5th March 2009 at 14:03
hi is it eileen that went to work at jones and park with carol speakman who lived in highfield at one time with a couple 'hippy type' who had ababy
Comment by: DONNA BELZ USA on 1st October 2009 at 15:20
Hi anthony,so sorry to hear that your mum passed.knew her whole family from infant school to 5th grade.Hope all the family are doing well.
is second from left front row angela boardman