Photos of Wigan
Photos of Wigan
Album Contents
Album Contents
Wigan Album
St Thomas's C of E, Wigan
19 Comments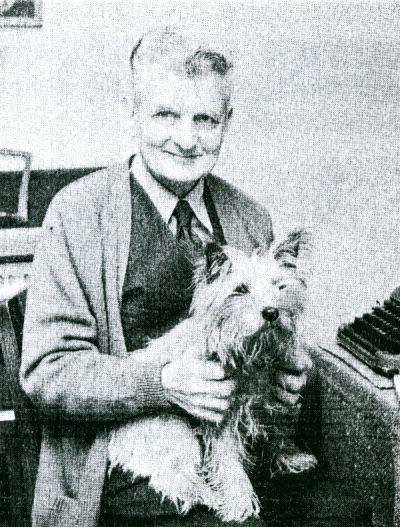 Teacher Mr. T. H. Ascroft.
Photo: Joyce Dennis
Views: 3,368
Item #: 425
Teacher Mr. T. H. Ascroft.
My favorite teacher, surely this must be a photo of him later in life.
Comment by: Carole Aspey on 22nd September 2007 at 19:22
He was also my favourite teacher! :)
Comment by: John Harrison on 17th October 2007 at 18:16
Just stumbled on this photo of my favourite teacher of all time, Mr Ascroft and concur with the two previous comments, it was a great pleasure to know (1961-1968), this wonderful teacher and most honourable gentleman.
Comment by: Derek Bissell on 20th December 2007 at 10:58
Mr.Ascroft was my favourite teacher, remembered with great fondness along with Mr.Hedley who was also brilliant.uss
Comment by: Denise Wood (Twigg) on 21st July 2010 at 20:50
He was a great teacher he always made his lessons interesting. I really enjoyed my time at St Thomas's before going to All Saints. Does anyone remember the country dancing and having a May Pole in the hall?
Comment by: les gaskell on 24th April 2011 at 20:36
ha ha was only on about that may pole other day to wife she did nothing but laff about me dancing around it ,ha ha ha . i remember a denis twig if in name only also paul banks john newton
Comment by: les gaskell on 26th April 2011 at 17:27
it was a dennis twigg i remember
Comment by: thomas crossland on 26th December 2011 at 05:39
i remember you denise you were in the same class as me along with dorothy davenport ,margret bridge ,florence pritchard,anne gregory,george monks ,barry hibbs,john earlam ,suan atherton,but to get to the point mr ashcroft was the best teacher i ever had , a really decent man
I remember dancing round the maypole and the country dancing in the hall. Am I right in thinking we had to dance to the music played on an old piano?
Comment by: les gaskell on 15th August 2012 at 11:15
ha ha yes played by mr hedley , can see him now in his tweed suit n brown brogues n his spiv tach lol
Comment by: Kath Clarke (Holden) on 13th December 2012 at 14:07
Oh my god can't believe I've just stumbled on this fab photo of Mr Ashcroft, think he was everyones fav teacher.
Remember all the names on Les gaskell and sue hollands. I always remember when Mr Hedley spelled ur name wrong on ur swimming certificate les lol & loved the dancing on friday aft.
kath ha ha ha never seen anyone form that school since i left mesnes ,prob wouldnt reconise any one now tho lol got be 40 years now how old dose that make you feel take care xx
Comment by: Karen Critchley(Roberts) on 6th February 2014 at 14:30
Mr Ashcroft what a lovely man I always remember he had a stash of Murray mints in his pocket, does anyone remember Mr&Mrs Berriman that use to teach art?I remember Les Gaskell, Kath Holden, Mary Wynne, John Newton n many more.
Comment by: alan bland on 20th April 2014 at 21:34
I remember this teacher he was a gud un
Just happened upon photo of Mr Ascroft. My favourite teacher ever. I loved my days at St Thomas's. I was Hazel Lindsay then. My sister Christine and brother Ian also attended after me. I enjoyed my days there so much better than my time at Wigan Girls High School. Thank you to all the staff.
Comment by: Kath Clarke was Holden on 20th January 2015 at 21:04
I remember u too Karen Roberts. Saw Mary Wayne in town last year.hasnt changed much. Shame about poor old Lynne Brooke's died a few years ago. Best mates for years.
Comment by: les gaskell on 24th April 2015 at 17:42
sorry about lynn brook and john newton
Comment by: Vivienne Brooke's on 7th November 2015 at 00:36
Omg Can't believe I'm looking at Mr Ashcroft I'd say he was one of the few good men pity there's not more like him.i loved him.He once sent a poem of mine to Poets Corner in .the Observer .and they published it always felt guilty cos I got it out of a book seeing him , I have no words to describe how I feel my two sisters also attended here Angela and Lynn Brookesi i, I remember loads in my class, Janet jones,jean sherry Eva musgrove Lorraine winter Kieth Carter , Kevin Banks, Derek Bissel Graham Newton,Bobby Halsall, Paul Holding I could go on forever,,it was so brilliant and remember my schooldays with fond memories thanks to you all. Bye
Comment by: Vivienne Brooke's on 7th November 2015 at 00:41
Omg Can't believe I'm looking at Mr Ashcroft I'd say he was one of the few good men pity there's not more like him.i loved him.He once sent a poem of mine to Poets Corner in .the Observer .and they published it always felt guilty cos I got it out of a book seeing him , I have no words to describe how I feel my two sisters also attended here Angela and Lynn Brookesi i, I remember loads in my class, Janet jones,jean sherry Eva musgrove Lorraine winter Kieth Carter , Kevin Banks, Derek Bissel Graham Newton,Bobby Halsall, Paul Holding I could go on forever,,it was so brilliant and remember my schooldays with fond memories thanks to you all. Bye