Photos of Wigan
Photos of Wigan
Album Contents
Album Contents
Wigan Album
St Thomas's C of E, Wigan
14 Comments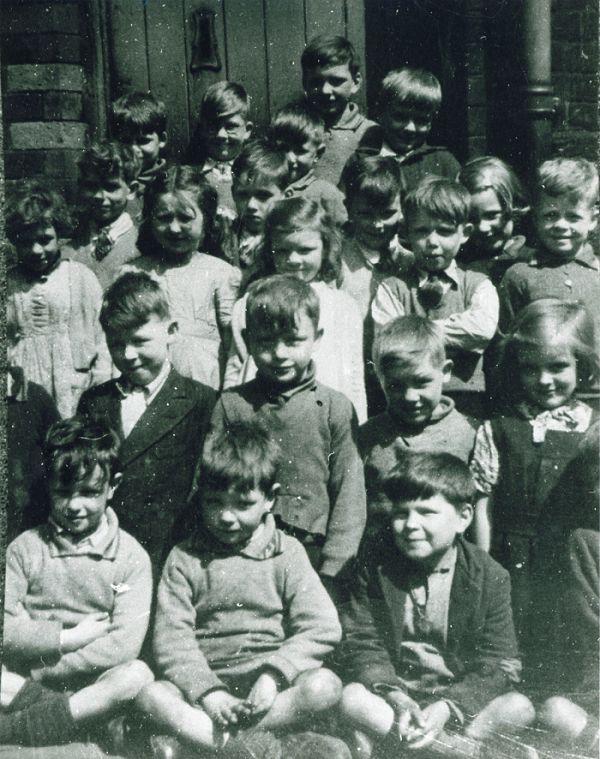 Pupils, c1948.
Photo: Joyce Dennis
Views: 5,054
Item #: 424
Pupils, c1948.

Some names include Peter Molyneux, Tommy Blinkhorn, Anita Holland, Audrey Atherton and Tony Grimes.

If you can help with more names please contact me, thank you.
Comment by: roy Rothwell on 28th December 2007 at 18:36
The boy at the back with the fair hair, standing in the doorway on the right hand side I think is me. I don,t remember the photo being taken, but I do recognize the names, in particular Tommy Blinkhorn. I was there from 1945 to 1950.
Comment by: catherine on 10th February 2009 at 14:51
think the one in the black coat is my brother tommy woodcock
Comment by: les gaskell on 6th July 2010 at 19:48
that door at the back looked a lot bigger as a kid lol
Comment by: GRAHAM JOLLEY on 24th August 2010 at 20:33
The little lad third row up, second one in, is me. I used to love that school. Anybody remember walking down to Caroline street school for dinners ????
Anita Rigby is my Mum - unfortunately she died in 2003. Does anyone out there have any old photos with my mum in - or of the Caroline street area in general
Comment by: lesgee on 25th February 2011 at 11:28
i remember walkin past st joes school to the back of it to dinner halls can still smell the cabage yet lol , they separated us from st joes they where at one side n we at the other same building diff food lol , why we where all kids , d60y5
Comment by: berni on 8th March 2011 at 21:52
Tommy Blinkhorn the one right at the back was my Uncle, sadly he died in 2003
Comment by: les gaskell on 24th April 2011 at 20:41
i remember that door way looked massive then the bell was kept on the left hand side in the window to it if i remember right and the milk was left under the stairs n used to freeze when was icey ,pic was well before i was born ,great pic tho
Comment by: frank on 5th August 2011 at 20:19
I saw Tony Grimes in Wigan yesterday. Still plodding along.
The little blonde haired girl on the second row behind the front row could be my mum Alison Meadows...can anyone confirm that? The girl looks just like my youngest sister at the same age.
Thought the handsome guy in the back row looked familiar. Can't remember any other names, but would like to hear from Tommy ,Tony & Audrey. Living in Jhb RSA
My grandma Audrey Monks now Audrey Valentine was in this class, im searching the internet for all old pictures now.
Comment by: Thomas Anglesea on 26th April 2020 at 18:01
Yes the blond haired girl is definitely Alison Meadows on the second row up.thats look like me in the the black coat