Photos of Wigan
Photos of Wigan
Album Contents
Album Contents
Wigan Album
St Thomas's C of E, Wigan
5 Comments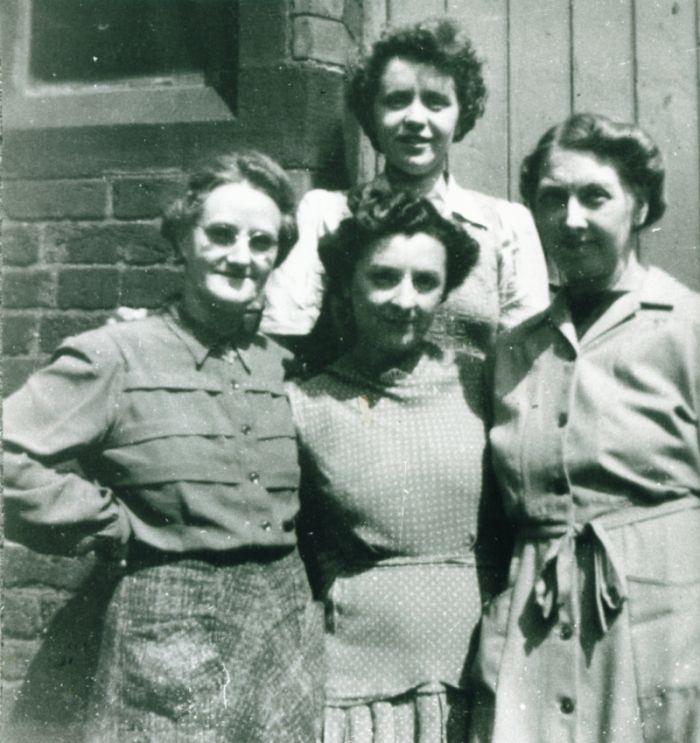 Teachers, c1948.
Photo: Joyce Dennis
Views: 4,108
Item #: 422
Teachers, c1948.

Left to Right: Miss Anderton, Mrs. Sheargold, Miss Ellison and Miss Davies (behind).
Comment by: Jean (nee Middleton) on 13th July 2009 at 19:03
I started school at St Thomas's, Caroline St, in 1948 after attending St Thomas's nursery school in Clayton St. I don't remember Mrs Sheargold but I do remember the other three teachers who all taught in the Infant Dept.
Miss Ellison taught the reception class. She was very strict and would slap your leg if you were naughty. If you were really good you were allowed to drink the free school milk from a plastic cup and saucer rather than via a straw from the usual little milk bottle.
Miss Anderton taught the middle infant class and was also Head of the Infant Dept. Miss Davies taught the top infant class.
I do remember that, every day, the whole school walked crocodile style to Clayton St School for lunch. Clayton St School had been used to teach The Bevan Boys who worked in the mines.
I remember being taught in the Junior School by Miss Dawber, Miss Brown, Mr Ashcroft and Mr Jackson(The headmaster.)
I loved Mr Ashcroft. He used to get us to write to 'Cousins?' Corner in the Wigan Observer newspaper.
When we were in Mr Ascroft's class some overseas students from Africa and India came to the school and they were the first overseas people we had ever seen.
During assemblies and when plays were being performed, partitions between some of the classrooms were rolled back via tramlines in the floor and ceiling.
The boys at St Thomas's had a separate school entrance to the girls and the boys and girls played in separate playgrounds.
St Thomas's church bordered the playground and during funerals we were told to keep away from the church building.
In those days there was a real community and our lives revolved around church, school and Sunday school.
Hello Jean Middleton

Do you remember me from St Thomas's. Our birthdays were on the same day. My memories of St. Thomas's are exactly the same as the ones you have.

I have lived in Australia since 1969, emigrated with Tom, my husband and two sons. We were over in Wigan in May this year, (2010) and met up with some of the girls I have stayed in contact with. Rita Bromilow and Marion Parkinson, in particular. Rita keeps me up-to-date with lots of the old girls. Had a reunion when we were all in our 50th year - mostly All Saints girls. Irene Mills was there from St Thomas's. If I remember rightly, your brother married Joyce Worthington, Lilian's sister, if you see Lilian, please give her my best wishes and obviously I send the same to you.

I remember Mr Jackson really well. He kept us enthralled with the stories he read, always leaving off at the most interesting spot. I also remember my first day at school when Miss Ellison took me from my Mum and I cried so much. Have lovely memories of St Thomas's.

Take care Jean, hope we can chat. I have only tonight picked up your name on the net.
Hi Joyce and Pat,

Can either of you remember a girl called Alison Meadows. She would have been 5 in 1947. She remembers Miss Davies as her favourite teacher. My mum says she was really naughty at school but no one realised she was deaf until she was 14. Would love to know if you can point her out in the photo of school children.
Comment by: mary myler nee hinds on 30th December 2013 at 20:26
hi pat do you remember me i went to st thomas's and lived near you in chaple lane
yip miss ellison/ miss anderton/ mrs brierley/ miss dawber,miss davies dennis/mr ashcroft and headmaster mr jackson went there between 51/58